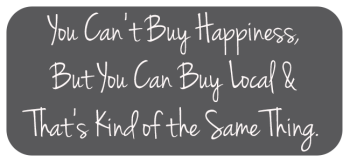 Shop Local, Shop Small
Make a BIG Difference!
We are proud to be a part of the local community and are dedicated to ensuring
that runners, walkers and fitness enthusiasts of all levels are fit with the
proper footwear and other essentials to keep them active and injury-free.
So, why support us?
Why support small, local business?
Improve local infrastructure.
When you shop locally your money stays in the local community allowing
improvements to be made, such as maintaining roadways.
Support local schools.
By shopping locally, you are investing in the growth
and development of your local school system.
Support local protective services.
Funds that remain local are used to support
the growth of police and fire protection.
Support community groups.
Non-profit organizations receive an average of 250%
more support from smaller business
owners than they do from large businesses.
Get better service.
Local businesses often hire people with a better
understanding of the products they are selling and
take more time to get to know their customers.
Locations
Murfreesboro
544 N Thompson Ln, Suite C
Murfreesboro, TN 37129
M-F: 10am - 6pm
S: 10am - 5pm
Su: 1pm - 4pm

View Store
Mt. Juliet
630 South Mt Juliet Road, Suite 320
Mt Juliet, TN 37122
M-F: 10am - 6pm
S: 10am - 5pm
Su: Closed

View Store