Invention Of The First Sports Bra - An Interview with Lisa Lindahl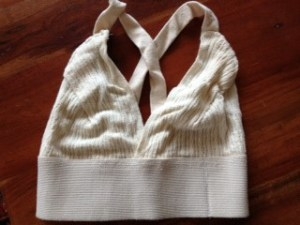 (jogbra prototype)
Ever wonder how the sports bra came to be? Or what it was like to run before it was invented? Fleet Feet Mount Pleasant Fit Specialists Sara Pettapiece and Jennifer Roberts recently sat down (via Zoom) with Lisa Z. Lindahl who invented the original Jogbra in 1977.
Lindahl recently released a book "Unleash the Girls: The Untold Story of the Invention of the Sports Bra and How It Changed the World (& Me)" (September 2019) where she shares fresh insights about her creative journey and her invention's worldwide impact. As she and her business partners were working on their creation, they had no idea the sports bra would become a feminist icon.
The creation of this new bra that would revolutionize women in athletics came just a few years after the United States passed the 1972 Title IX Law – a new law prohibiting discrimination in any federally funded education program on the basis of sex.
As Lindahl reflects, even though she was simply trying to find a comfortable way to participate in an activity that she enjoyed, they created the "right product at the right time".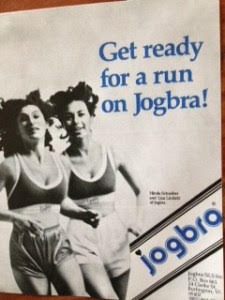 (jogbra magazine ad)
In her own words, she was not a "sporty girl" growing up, but discovered the importance of being active in her 20's when she began running.
When asked what it was like to run and do other activities in a regular bra, Lisa responded "it was uncomfortable…some people even wrapped Ace bandages around their chests…while others wore two bras (but that was too hot)."
Another frustration when she was running with a male running buddy in August in Vermont, he was able to "whip off his shirt and tuck it in the back of his shorts. I dreamed of being able to do such a thing! Ha!" I thought that there must be something I could do to be more comfortable while running.
What to call it? Jockbra?
It all started when her sister joked, "Why isn't there a jock strap for women – just a different part of the anatomy!" This challenged Lisa's creative mind, but she didn't sew. Undeterred, Lisa enlisted the help of her friend Polly (a costume designer and excellent seamstress!) to help figure out how to make this idea work. And so the creation of the what was to become the Jogbra began. An early prototype was, in fact, two jockstraps sewn, upside down, together. When Lisa tried out this early clumsy version it worked! But it needed much refining. Polly found the right material for the job in a then new textile material called cotton Lycra® (by Dupont).
Now they had a prototype. Polly's friend Hinda, took the prototype and found a small "cut and sew" garment factory in South Carolina. A start-up themselves, they figured out how to mass produce the new-fangled bra. Hinda's father gave them capital to create a test run, and so it began. Lisa and friends would supply the cloth, the factory owners in South Carolina would cut and sew the bras, and then ship them to Lisa's apartment in Vermont.
Lindahl was clear that her product, although technically a bra, was not lingerie but athletic equipment and should be sold in sporting goods stores where women could get it right along with their running shoes. So she bought a little advertisement (with no photos) in a running magazine with her home address and phone number on it. She envisioned a small mail order business to make a little extra money. Little did she know how many orders she would receive in a very short time. As she mentioned in the interview, "My living room was the warehouse and my dining room was the office." It became quickly apparent that they would outgrow the apartment and need move the business into a rented facility in Burlington.
With no business background, Lisa learned as she went how to draw up a business plan, apply for an SBA loan, and incorporate the business. It wasn't always easy, but Lisa learned from mistakes along the way and came out stronger for the lessons learned. This, she says, is in great part what her new book, "Unleash the Girls" is about.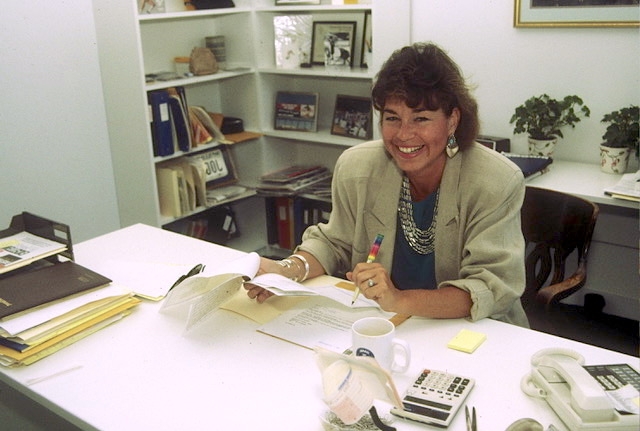 (Lisa in her office circa 1990)
Fast forward 12 years:
From it's simple beginnings Jogbra grew an average of 25% per year, financing this growth internally and always making a profit – something the ladies didn't realize at the time was not the norm in business. After 11 years, they knew that in order to continue such growth the business they would have to go into serious debt – something Lisa did not want to do. In 1990 Playtex Apparel came calling and offered to buy the company. And so Lisa did sell it. One and a half years later, Playtex then sold Jogbra to Sara Lee (the parent company of Champion).
Over the years from the first Jogbra to now, the market has continued to grow as more and more women were active in running and other sports. As a result, there has been "room for everybody to get into the game", as Lindahl put it.
Cited as a "revolutionary piece of athletic equipment" original Jogbras are housed in the Metropolitan Museum of Art's Costume Collection in NYC, as well as in the Smithsonian's National Museum of American History. As Lisa says today, "Who'd have thunk it?!"
Thank you Lisa!
Sara and Jennifer feel pretty confident that we speak for all women athletes when we say thank you to Lisa for her invention. We cannot imagine sports without it. When asked what "take away" she would like to make sure other people hear in her book, Lindahl replied, "Being active as women – whether competing or not – is so important for women to understand their power and strength…and their vulnerabilities. Only by living through and learning from our vulnerabilities that we can honor our powers and abilities."
An aside:
Fleet Feet stores sold Jogbras back in those early days.
If you are interested in purchasing the e-book version of "Unleash the Girls: The Untold Story of the Invention of the Sports Bra and How It Changed the World (& Me)", on Saturday, July 18 only, you can purchase the e-book for only 99 cents wherever e- books are sold.