Sponsored By BROOKS RUNNING

Ready to take on 13.1 miles? First timers and seasoned half marathoners are welcome in our half marathon training program!
Our Half Marathon Training Program is designed for runners who can comfortably run 5 miles in less than 60 minutes (12:00 minute pace).  The combination of speed and long-distance training in this program will prepare you whether you are a seasoned half marathoner or a first timer with the goal to finish!
Fleet Feet Sports Half Marathoners are broken into various pace groups based on running background as well as goals. These pace groups are designed to help you train in a safe and effective manner as you build up your base mileage. Speed workouts during the half marathon program are an opportunity to work with your pace group to push yourself and to train at your target race pace. These workouts are combined with core and upper body strengthening to ensure a complete fitness experience.
Our half marathon program is designed to challenge you, encourage you, and to help you have a healthy training experience as you build up mileage and speed in preparation for the 13.1 mile race. Get ready to cross the half marathon off your bucket list... and be prepared to have so much fun doing it that you decide to come out for the program again!
Half Marathon Training Details:
This Fall, our 12-week half marathon training session is perfect for racing the Rock 'N' Roll Savannah on Saturday, November 7 or Sweet Tea Half in Summerville on Saturday, November 14, 2015.
Kick Off Info Meeting: Tuesday, August 11 at 7:00pm at Fleet Feet Sports Mount Pleasant
Program Start Date: Tuesday, August 18
Weekly Workouts: Tuesdays at 6:00pm and Saturdays at 8:00am 
Race Date: Rock 'N' Roll Savannah on Saturday, November 7 // Sweet Tea Half (Summerville) on Saturday, November 14
Cost: $85 (does not include race entry)
This registration link is for the Mount Pleasant location. If you are looking for Summerville's Half Marathon program, please go here.
The Perks:
Customized training schedule
Brooks participant tech shirt
Experienced coaching and pace groups at all group workouts
Education on proper form, fueling, pacing, stretching and more
Free access to Les Mills group fitness classes at the store
The Workouts:
Tuesday nights you will be challenged with a combination of hill work, form drills and speed workouts. Designed to help you run faster and more efficiently, you will be amazed with your improved overall fitness from these challenging and fun sessions.
Saturday mornings, we will go the distance. Saturday runs will be done at a slower pace to increase the amount of time on your spent on your feet and to encourage a quick recovery. Long runs will be combined by the marathoners and will be done with targeted pace groups. Saturday long runs will be crucial to your success in the marathon as they help you to build up cardiovascular, muscular, and skeletal strength for the endurance to finish the entire event.
Pace groups will help you to challenge yourself while giving you a consistent group for training. Your registration information sheet and our first group practice will allow us to appropriately place you in your group. Your schedule will be tailored for your group and you will work together throughout the program to help one another reach the next level in distance and speed. Each pace group will have an assigned volunteer coach with them on the run.
TESTIMONIALS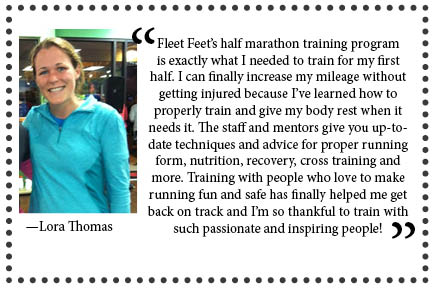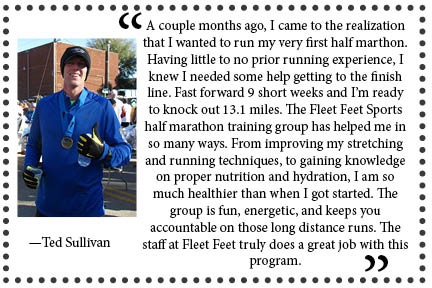 FREQUENTLY ASKED QUESTIONS:
Q: What is the cost of the registration?A: The cost is $85.00.  This includes a technical shirt and also included in the fee is RRCA insurance, exclusive clinics (nutrition, injury prevention, etc.), prizes, giveaways, coupons, offers incentives, expert coaching and mentor assistance.
Q: Do I have to be running the same goal race as the program is designed for?
A: No, you are more than welcome to run ANY race and still train with us!  Just make sure that you get with the coach beforehand and talk about your dates and tapering needs.
Q: I am a very slow runner.  Is this still the right program for me?
A: Absolutely.  We want to inspire and educate runners of all levels, regardless of pace!  We will always have trainees and Mentors to run alongside you, so you need not worry about being alone on the runs.  Just make sure you are meeting the mileage requirements as posted on the registration page before you sign up.
Q: If I have already run an endurance event but I am looking for a group to train with is this program right for me?
A: You are always welcome to join in on the fun and reap the educational and motivational benefits that the program provides!  This program should challenge even more advanced runners, so there will still be many obstacles presented to you.
Q: If I miss workouts, or I have to consistently miss one of the days of our weekly meetings does that mean I cannot be involved in the program?
A: Of course you can still be involved!  We would love to have every trainee at every run, but understand that life and obligations may get in the way.  Just make sure that you are completing your training runs independently so you don't fall behind on your progress!  Also, let your coach know when you are expected to miss so we don't worry about you!
Q: What if I have to miss the informational meeting?
A: No big deal!  The informational meeting is not mandatory.  Just come to the first workout and we can get you up to speed then.  Or e-mail the Training Program Coordinator what day you are planning to attend and she can give you a run-down, send you the informational handout via e-mail and walk you through registration.
Q: Can I come to the first workout before deciding to register?
A: Of course!  We are confident after you see what the programs are all about that you will want to get involved!
Q: What does the training schedule look like?
A: We will be starting at smaller mileages and building over the course of the program.  It will never change suddenly or dramatically and you will always be well prepared for any increase distance.  You can also expect track workouts, hill workouts and trail runs on a fairly regular basis.
Q: Where do we meet?
A: The training locations will be at the store and any changes to this will be announced well before the practice.