Khouri Chiropractic
Stephan Khouri, D.C.
1 Unity Alley Suite 100, Charleston, SC 29401, 843-853-2225 
260 W. Coleman Blvd. Suite A, Mount Pleasant, SC 29464
The friendly and diverse team focuses on innate healing powers of the body. We promote this healing through the finest Chiropractic care, massage therapy, neuromuscular re-education, acupuncture, and more.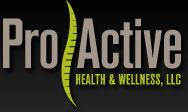 Pro Active Health and Wellness, LLC
Dr. Andrew Partridge
759 Johnnie Dodds Blvd., Suite B, Mount Pleasant, 843-388-8813
Our clinic is dedicated to helping our clients maintain a healthy lifestyle without the use of drugs or surgery. Our chiropractic approach focuses on removing interference in your nervous system to improve flexibility and function while decreasing pain and tension. In addition to gentle and effective chiropractic care, our health center offers myofascial tissue release, clinical massage therapy, physiotherapy, and clinical nutrition.