We've had lots of customers in and out of the store this week gearing up for the Charleston Marathon, and our own half marathon training group will be taking on the race as well. With the temperatures dropping lower again this weekend, it seems like everyone is still debating the big question...what to wear race day morning? Most of us in Charleston aren't used to 36-degree start times, so we thought we'd ask our staff for their input on this wardrobe dilemma. 
The first rule to keep in mind when choosing running attire is that once you start moving, you're body temperature will rise making it feel 20-degrees warmer than whatever the weather thermometer says. Keeping this in mind, and after much debate over pants vs. no pants, the following outfit represents the consensus of the staff on what would be comfortable to wear while racing a marathon in 36-degree weather (as modeled by the wonderful Jason Bryan.)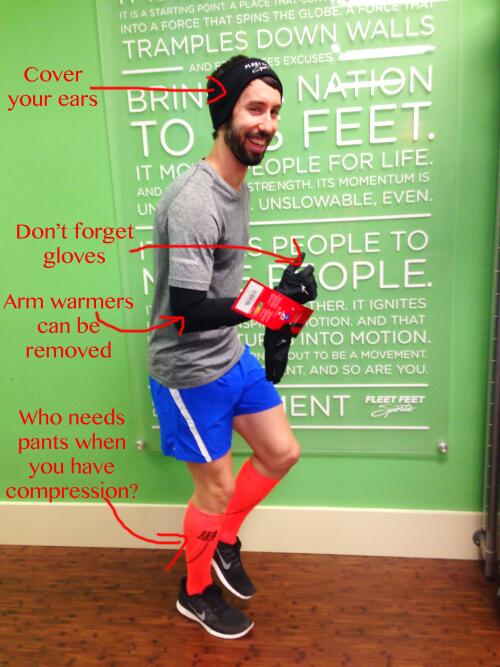 Now, there are a couple add-ons that would be important to remember with this outfit:
1. Throwaway jacket: That's right, we're giving you permission to shop at the Thrift Store. Pick up something cheap that will keep you warm while you wait at the starting line, but you won't be sad to lose when you toss it. If you don't want to spend any money, try a black garbage bag. 
2. Party pants: If you're not going to wear pants during the race, you might wish you had some for the after party (we heard there's going to be shrimp and girts!) Pack some pants you can slide on over your shorts after the finish...and maybe another coat or jacket, too. 
So, do you agree with our staff? What do you plan to wear for these temps in the Charleston Marathon this year?