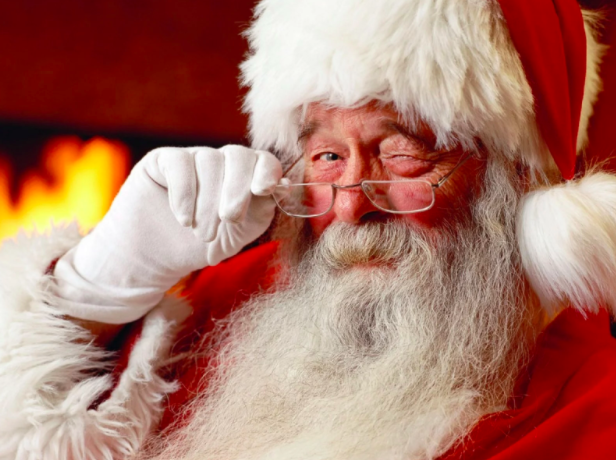 Wear My Shoes:  Holiday Edition
For this edition of the Wear My Shoes blog, we took a moment to chat with the one and only, Santa Claus. 
Of all the shoes you wear, which are your favorite and why?
I like the Hoka Clifton because of their soft cushiony marshmallow feel that reminds me of my favorite Ho, Ho, Hot Chocolate!  But of course, my most favorite shoes are my Santa boots because they're wrapped in Christmas magic.
Have you ever had a nickname?  What is it?
Oh my!  Ho, Ho, how many nicknames I have! Kris Kringle, Father Christmas, Jolly Ole Elf, St. Nicholas, Papa Noel…
What was your first job?
I was a toy maker for a very long time before I started delivering gifts to all the good girls and boys.  My specialty is Ho, Ho, Homemade toys, but kids nowadays like more modern gifts.  Either way, toys bring joy to all!
What's your favorite family tradition? 
The Ho, Ho Holiday time is a very busy time of year for our family, but coming home to Mrs. Claus on Christmas morning and relaxing with a cup of Ho, Ho, Hot chocolate next to a cozy fire is my favorite tradition.
Aside from necessities, what's something you can't live without? 
Rudolph's Ho, Ho, Homing ability is usually spot on, but we have a lot of Ho, Ho Homes to visit on Christmas and use our sleigh GPS to make sure the presents are delivered to the correct children.
If you only had 30 minutes of free time, what would you do?
I have lots of Ho, Ho Hobbies, but with only 30 minutes, I'd be next to the fire with a good book to read.
If you were Waldo, where would you be? 
Well this one is easy!  I'd be Ho, Ho Home with Mrs. Claus at the North Pole.