Wear My Shoes is a special feature to highlight the local community.  Not just for runners, but anyone who wears shoes!  Get to know your neighbor and take a minute to wear their shoes.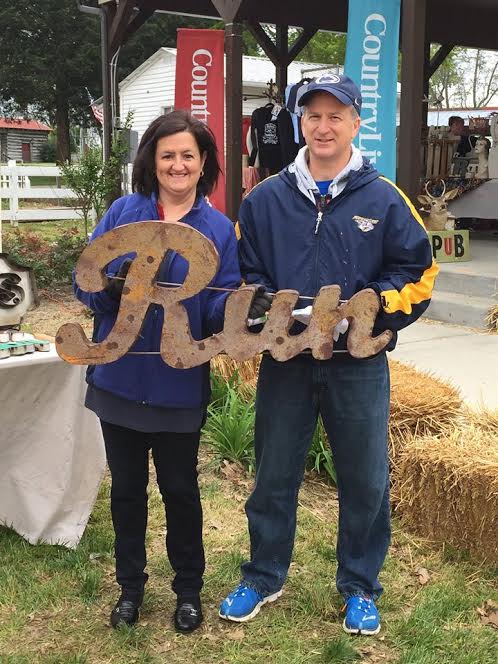 "My name is Cindy Salyer   If you ask me what running has done for me, you may need to take a seat because I love to talk. I started running to get in shape and improve my overall health. I always say I run for my health because I am not competitive when it comes to sports.  Running has also introduced me to so many wonderful friends and honestly that would be the thing that I love about it the most. The running community is awesome and very supportive. I do have a life outside of running.  My life revolves around Ed and our pets Samantha and Holly and volunteering.  Volunteering is my passion especially when it helps someone in need. Also it is great way to meet people and I love to meet new people.  Other things I love to do is dance, read and watch football and hockey(my two favorite sports). Of course if you know me, you know I am a diehard 49ers fan and have been since the days before Joe Montana.  Hope to see all of you at a run!"   
 1. Of all the shoes you wear, which are your favorite and why? 
Cindy:  For running shoes, it would have to be the Brooks Pure Cadence.  However, I have never been a fan of sneakers(I only wear them for running).  So favorites would be my black boots.  I love boots and black is a neutral color so I seem to grab them all the time. Kind of boring.
Ed: For running shoes, it would have to be the Brooks Pure Flow with Hoka Clifton a close second for a switch-up.  However, after a race or hard run I like my Oofos OOahh Slide Sandals. 
 2. Have you ever had a nickname?  What is it?
Cindy:  I have had two.  My papaw gave everyone a nickname and never called you by your given name. He called me either Shorty or Cat girl.  Shorty because well growing up I was short compared to my cousins and I still am.  Cat girl because I was determined to catch all the stray cats and kittens on his farm and tame them.   
Ed:  When very young my dad used to call me Skeeter because I could quite say "mosquito".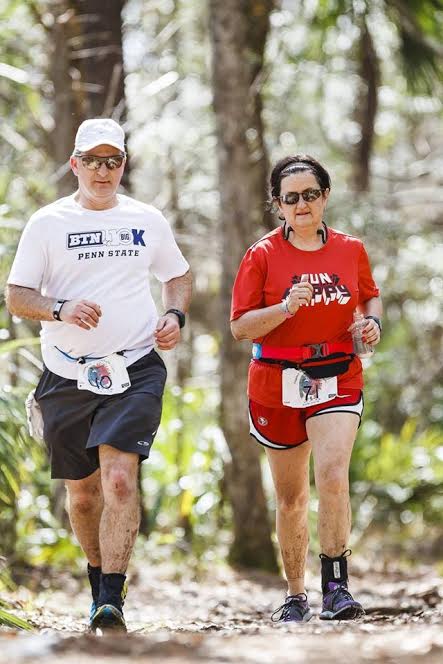 3. What was your first job?
 Cindy: In the 9th grade, I got a job as a waitress.  I loved that job and it taught me many things on dealing with the public. Waitressing is not easy so always treat them with respect. I was also very lucky that the owners of the restaurants truly cared about their employees and customers. So my first job was a great experience.
 Ed: Cook at Shoney's. 
 4. What's your favorite family tradition? 
Cindy: Even though I may groan about it at times, it would have to be putting up Mom's Christmas tree during Thanksgiving each year.  For some reason, I got stuck with this task many many years ago.  However, as long as I am putting up Mom's tree that means she is still with us.  Many good memories with Mom during this tradition.  She likes to sit on the couch and give me instructions on how to decorate the tree every year.  Lol.
 Ed: Holiday meals.  Roast beef and Yorkshire Pudding for Christmas dinner.
 5. Aside from necessities, what's something you can't live without?
 Cindy: Music. I love listening to music.  It motivates me. I love to dance and you got to have music to dance.
 Ed: Tough question, my watch, I feel incomplete, naked without one.
6. If you had 30 minutes of free time, what would you do? 
 Cindy: Read. I love to read and seem to never have time for it.
 Ed: Either read a book or surf the web, always something interesting to discover.
 7. If you were Waldo, where would you be? 
Cindy: In the mountains.  I am a mountain girl by heart.
Ed: Fishing or hiking, being outdoors - off the grid.