Fleet Feet caught up with Stephen Causey from Summerville who's training to compete in the Ironman Chattanooga at the end of September.  We will be cheering you on Stephen!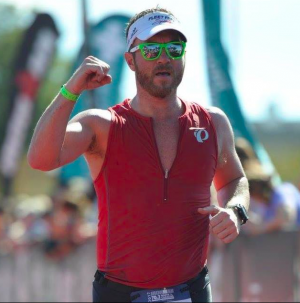 Fleet Feet: Of all the shoes you wear, which are your favorite and why?
Stephen: By far my favorite shoes are my flip flops! I wear these 90% of the time when I'm not running and pretty much year-round. Growing up as a beach bum, it's hard not to! But when I'm running, right now my go to is the Brooks Levitate. These shoes are light, with enough padding to be versatile. You can also where them with or without socks with no issues. Definitely my favorite running shoes right now!!
Fleet Feet: Have you ever had a nickname?  What is it?
Stephen: So, growing up, all through high school and college, my "nickname" was always my last name. I'm not real sure why it stuck like it did, but it did, "Causey." Until I started F3 about a year and a half ago that's all I knew. Now, I'm known as "MA BELL" because I work for the phone company!
Fleet Feet: What was your first job?
Stephen: So, my first job was working for my dad sweeping the floors after school at his shop. He was a welder, so these floors weren't your average dirty floors. These things were horrible. Our dust pan was a snow shovel. I also worked from Thanksgiving to Christmas on a Christmas tree farm.
Fleet Feet: What's your favorite family tradition?
Stephen: My favorite family tradition would have to be holiday meals. Thanksgiving, Easter, Christmas, whatever the holiday, we like to celebrate it by eating! I mean who doesn't like to eat right?!?!
 Fleet Feet: Aside from necessities, what's something you can't live without?
Stephen: My watch. I feel like I always have to know what time it is. I'm not sure why, but if it dies because I forgot to charge it, it drives me crazy. I wear it 24/7 unless it's charging. It's my crutch I guess. But I definitely would feel lost without having it on.
Fleet Feet: If you had 30 minutes of free time, what would you do?
Stephen: Between training for an Ironman, a 5-year-old, and an 8 month old, if I have 30 minutes of free time I'd take a nap.
Fleet Feet: If you were Waldo, where would you be?
Stephen: I would love to go to Australia. I've always wanted to go there, and very few Americans will ever go. I'd love to experience the culture, and go surf some of their beaches.