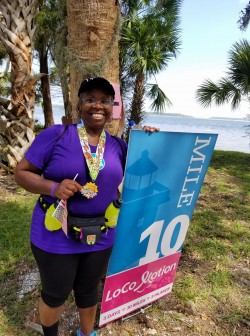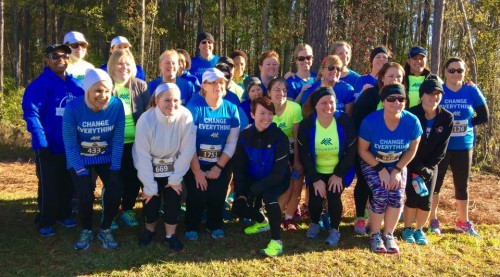 Sherry Roberts - Cancer Survivor - Runner - No Boundaries Mentor!
Ask Sherry about her journey with cancer and she is quick to tell you that what was supposed to be a simple lumpectomy turned out to not be as simple as that.  Now she is cancer free, but only after a mastectomy, partial reconstruction, 1 year of chemo, 33 radiation treatments, wait a year and then complete the reconstruction.  Then 5 years of Tamoxifen and 2 years of Femera. Whew! Talk about a marathon. 
How she got into running in the first place?  Well......we will let Sherry tell you in her own words!
"Near the end of my journey, I decided it would be a good idea to sign up for a marathon. I signed up for the Air Force Marathon, thinking it was in Charleston. Little did I know it was in Dayton, OH.  But I was signed up so I went. I really had no idea how to properly train, but I still made it 20 miles. Training for and getting to the marathon is a story in and of itself. But maybe we'll talk about that later.  Shortly after this, I met this amazing lady named Anni Tuten, at Fleet Feet in Mount Pleasant. Not only did she fit me for running shoes properly and laugh at my marathon story, she convinced me that running with a group was fun. Hesitantly, I signed up for the first No Boundaries program in Summerville. I've only missed one session since the inaugural session. I've learned so much from Fleet Feet, the coaches, the mentors, the guest speakers and fellow runners. I've been a mentor for almost every session.  I am always inspired by what is achieved by new participants. It literally brings me tears of joy to watch people who thought they could not do this at all, exceed all expectation. I mentor for the joy of watching others cross the finish line. 
"I crossed the finish line with breast cancer something some are not blessed to achieve. With every graduation run I am reminded that the struggle is real, but it is not insurmountable. Running first alone and then with the wonderful people that are and will be Fleet Feet/No Boundaries I am constantly reminded that victory is possible and that it is so much more fun and meaningful with the support of others. I try to be that support to people new to the programs and people I meet in general.  I see potential in everyone I meet, my goal is to make sure they see their potential as well."
When asked about any words of encouragement Sherry had to give, here was her response.....
"The attitude that you face each challenge with determines not only how you handle the challenge but how those around you handle the challenge.  Be your own best advocate, keep the faith, follow your instincts on what is best for you. If I had not followed my instinct and listened to my physicians best judgment I would not be sharing with you today, because I'd be deceased. Physicians are a blessing from God, but they are humans. Know your body and work with your doctors to achieve your best outcomes. Attitude, Exercise, Faith, and Nutrition for me these were the keys. Attitude and Faith = my spiritual well being. Exercise and Nutrition =  my physical well being. I never had to miss a treatment due to low blood counts I paid close attention to what I put into my body. I never battled depression during this time, my faith and my exercise/running community kept my endorphins high. I was often asked if I was sure they diagnosed me correctly, because I looked so healthy.  Release your inner warrior and kick cancers' butt!"
Sherry - We are glad that you found Fleet Feet, and we are proud to call you one of our own!