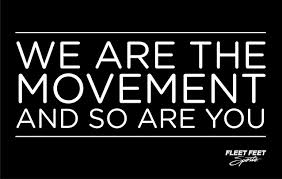 This year we were excited to offer our very own Bridge Run training program. Over the past 10 weeks, we've had a group of runners working hard toward getting over that bridge this weekend. As the race is now approaching, we'd like to introduce you to a few of the participants who have made this training program so great. We are proud of each and every one of them and the hard work they've put in. We're happy to call them part of the Fleet Feet family. And now they are officially part of The Movement! 
I AM THE MOVEMENT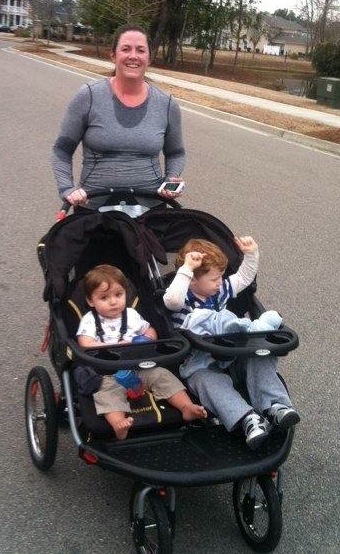 Name: Kerry Welch          
Age: 34
Occupation: Domestic Goddess or, realistically, a stay at home Mom
How are you involved with Fleet Feet?: I am participating in the 10K Bridge Run training group.
When did you start running and why?: My girlfriend Stephanie and I used to do Stroller Strides together and when that ended she told me about the 5k No Boundaries program.  She tried to recruit other mothers from our group but it ended up just being her and I.  It allowed me to stay active and I was able to bring my youngest child with me.  It also encouraged my husband to take up running so now we run together as a family.
What's your motivation for staying active?: I have two young boys, who are a handful.  I need to be fit for them and set a good example.  I want them to see me run and say "I will do that too."  Also, it makes me feel less guilty when I drink a beer because I know that I earned it. What's your favorite thing about running?: Finishing.  I'm not your typical runner.  I do not enjoy running but it is a necessary evil.  You can often hear me complain and say after a run that it was awful.  LOL!! But when I'm done, I feel very accomplished and that makes it all worth it.
Why did you decide to join the Bridge Run training group?: After finishing the 5k No Boundaries group I needed to stay motivated and active.  Amy and Anni encouraged me to do the bridge run. It just made sense and kept me accountable.
What hurdle are you the proudest of overcoming?: Being able to run 5 miles without stopping.  I never thought I would be able to do that.  It is so rewarding to know that I have improved and built up my stamina.
Gear you can't live without?: I don't know if RunKeeper is considered gear but I love that app.  I also can't live without Nuun.  I think I'm addicted to it.
Hopes for race day?: To finish the race in 65 minutes.
Goals for the future?: To continue running and possibly train for a half marathon.  No promises though.
Favorite thing about Fleet Feet or their training groups?:  The coaches are great! Anni and Amy are so fun and are very encouraging.  Everyone at Fleet Feet is great and the people in the training group are so nice.  It just makes training seem like you aren't training because you are having fun.
Best Bridge Run advice: Start off slow and steady so you can make it up that damn bridge!!!