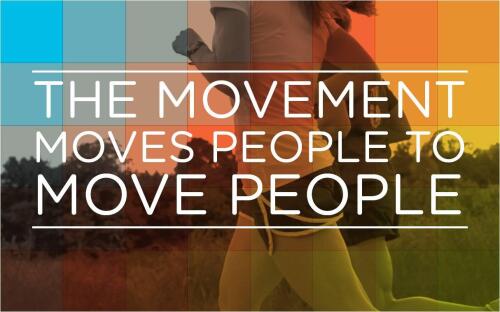 Meet another one of our half marathon training rock stars...Ed Holton. He and Cindy have been a great addition to our group and we're glad to call them part of the Fleet Feet movement. Looking forward to seeing those finisher medals around your neck, Ed and Cindy. Congrats on all your hard training!
I AM THE MOVEMENT 
Name:
 Edward Holton (Ed)
Occupation

:
Town Planner / Zoning Administrator 
How are you involved with Fleet Feet:
 a customer and a participant in the half marathon prep clinic for the Charleston Half Marathon.
When did y

ou start running and why:
 Two years ago, my girlfriend and I entered MUSC's Healthy Charleston Challenge (HCC) because we were overweight and sedentary.  Our Trainer was Tyler Cross.  Janice Newton, Director for the HCC program and the Elite Runners Coordinator for the Cooper River Bridge Run, announced in our session that she'd like to see everyone sign up to do it as a "kick off" for life after HCC.  So we did it.  Since March 2012, we've ran 36 (?) - 5k's, 3 - 10k's and now graduating to the 1/2 marathon distance.
What's your motivation for staying active

:
 Being healthy enough to survive... whatever may come along, death.  
What's your favorite thing about running

:
 Camaraderie - meeting people and making new friends. 
Why did you decide to join the half marathon training group

:
 I was ready to tackle the half marathon distance and believed "group" training is motivation enough to do it.  It's two fold:  first, paying to do something, I want to get the most value out of it that I can; and second, group settings are helpful with motivation.
What was the hardest part of taking on a new distance:  The half marathon is my longest distance, so building up the milage on the legs was the hardest thing for me.
What hurdle are you the proudest of overcoming:  Settling in to a pace and being able to run comfortably.
Gear you can't live without:  My Garmin 210 watch.
Hopes for race day:
  I hope I have warmed up and stretched enough to minimize/eliminate pain; when it's over, not to second guess or run the race over in my head to analyze where I could have pushed more to obtain a faster time
.  
I hope (expect) to finish under two hours thirty minutes, really hope for under 2:15. Seriously, just completing it and feeling good overall will satisfy me.  
Goals for the future: 
 Get faster times in all distances; run a few more half marathons; maybe run a full marathon?
Favorite thing about Fleet Feet or their training group:  Just one? Chris and Tyler are so knowledgeable and supportive during training runs.  The group was motivational.  The Fleet Feet store's staff are all so friendly and helpful, which added to the positive experience.  So much so, I will probably join up in the next half marathon training.  
Advice for others deciding to train for their first half marathon:
  Join Fleet Feet or some group. 
It will be much easier and more fun if you join a group.  
If you're ready to take on the half marathon distance like Ed, our next half marathon training program begins Feb. 4!