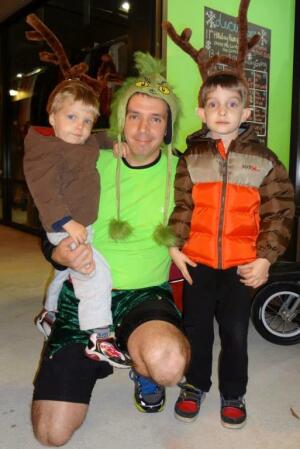 Our fall training programs kick off this month and no one is more excited about getting started than the coaches! We have a great group of coaches and mentors that are experienced, passionate and most of all FUN! We thought we'd introduce you to a couple in the coming weeks. And don't forget to sign up for the training program of your choice soon…your coach can't wait to meet you!
First up is our super awesome half marathon coach Kevin Brokes! Kevin has been a mentor with the program during the past two seasons and has gained quite the following. Not only was he our infamous Grinch at our holiday pub run last year, he also took the half marathon "orphans" under his wing between training sessions to make sure they stayed active and motivated. Here's what two of the past participants had to to say about him:
"
His dedication to the Fleet Feet runners has been apparent throughout the half marathon training programs so far, and I know it will only get better with him as the coach. He stuck with me on a long run when I was at the back of the pack during the first group and he has taken us orphans under his wing in between training programs. I look forward to what he has in store for us with this next session!" --- Jess Aston
"

Kevin has been an awesome training partner/coach/mentor/friend. He'll run up front, in the middle, or in the back, and never have a problem with it. He's incredibly easy to talk to, unless I guess you're Sarah Palin, at which point, I'd be wi

lling to bet he'd at least still be cordial. Kevin knows a lot about the sport, has tons of experience, and can impart extremely helpful advice whenever you ask. Besides all of that, he's a fantastic Grinch. Top class. Would give 5 stars on Amazon." --- Arden Lowndes
We couldn't think of a better coach for the half marathon program this fall! Learn more about Kevin in his profile below:
 MEET HALF MARATHON COACH KEVIN BROKES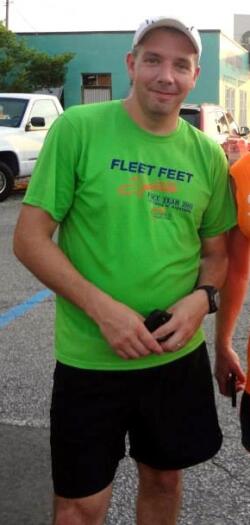 How long have you been a runner?: I ran for 6 years in high school and college, then I took 15 years off, and I have been running again for 4 years
Why did you get into it?: I had always wanted to run a marathon and a friend challenged me to do one with her.
Why do you keep doing it?: I am a competitive person and I will race the clock if there is no one to race.
How many half marathons have you run?: At least a dozen
Favorite race you've done and why?: Save the Lighthouse- Folly Beach,  It is a small local race with great scenery and it is for a great cause
Favorite thing about helping others reach their running goals?: Running has changed my life and it is always great to see others take up running and begin to change their lives for the better.
Hardest thing about training for first half marathon?: I couldn't run a full mile when I started and that was frustrating because I had been able to run over ten mile before I took 15 years off.
Most fun thing about the half marathon training group?: The group becomes very close and the friendships continue even after the program is complete.  We have some people rejoining us for their third training group.
Why should people definitely sign up for the program?: Everyone can finish a half marathon.  This group training program can get you to the finish line.  And if you want to run a PR for the half-marathon, we can help you with that goal too.