Our fall training programs kick off this month and no one is more excited about getting started than the coaches! We have a great group of coaches and mentors that are experienced, passionate and most of all FUN! We thought we'd introduce you to a couple in the coming weeks. And don't forget to sign up for the training program of your choice soon…your coach can't wait to meet you!
Participants in this fall's 10K training group are the lucky duckies who get to have our Training Coordinator Anni Tuten as their coach! Anni started as a mentor in our NoBoundaries 5K program and has been helping participants reach their goals ever since. Not only does she organize all the behind-the-scenes aspects of our training programs and make sure they run smoothly, she also is there on the front lines leading workouts, encouraging runners and pushing jogging strollers when the need arises. 
Here's what else you should know about our fearless training leader Anni: 
MEET 10K TRAINING COACH ANNI TUTEN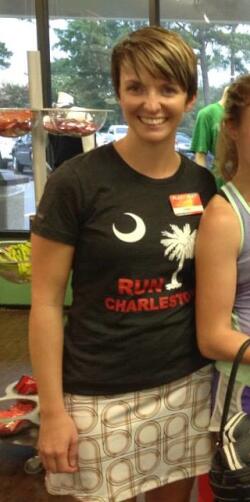 What do you do when you're not running?
When I'm not running, I am working at Fleet Feet or hanging out with my husband and our two dogs!
How long have you been a runner? I started a Couch to 5K app in 2011 and quit a few weeks in because of so many reasons. I decided to start again in January 2013. (That time with the help of a good program. Always start with a really good program for beginners, friends!)
Why did you get into the sport? Because I needed to feel better about myself, lose weight, and become active!
Why do you keep doing it? I've stuck with running because my Dad passed away from a blood clot; he was 90% inactive. Staying healthy and alive is my motivation.
Favorite race you've done and why? My favorite race was Catch the Leprechaun 5K this year! It's a great route for a good cause. And, I got to run it with husband and see him achieve a personal best!
Why do you enjoy the 10K distance? I enjoy the 10K distance because it is a great way to challenge your mind and body. I find that if I can make it to 4 miles - the last 2.2 are much easier mentally.
Favorite thing about helping others reach their goals? I love watching the growth that each person goes through when training for their goal race whether they've done it before or not. Everyone seems to learn something about themselves. Seeing that unravel is very rewarding!
Hardest thing about training for a 10K? Getting past the mental challenge.
Most fun thing about the 10K training group? That there is plenty of time during the Saturday runs to enjoy each other's company! It's a run and a social at the same time.

Why should people definitely sign up for the program? Because there is so much more to the training program than just showing up and running. You'll have the opportunity to learn more about running and meet new people! Oh, and because I'm coaching! ;-)