Our fall training programs kick off this month and no one is more excited about getting started than the coaches! We have a great group of coaches and mentors that are experienced, passionate and most of all FUN! We thought we'd introduce you to a couple in the coming weeks. And don't forget to sign up for the training program of your choice soon…your coach can't wait to meet you!
Our No Boundaries 5K training program is our most in-demand program and one of the main reasons is the great coaching! Fleet Feet co-owner Amy Minkel has coached the program since we first opened the store and has had the privilege of seeing dozens of first timers across the 5K finish line. Find out why she loves it so much in the her coach profile below: 

MEET NO BOUNDARIES 5K TRAINING COACH AMY MINKEL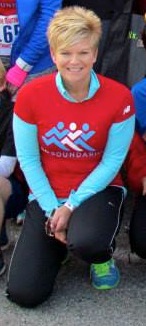 What you do when you're not running?:
When I'm not running I'm spending time with my 3 kids, going to the beach, paddle boarding with my hubby, teaching group fitness classes and of course working at Fleet Feet.
Why did you get into the sport?: I started running at the urging of one of friends....unfortunately I didn't train for my first 5k and it was painful!
Why do you keep doing it?:  It's honestly not my favorite form of exercise but I continue to run because it's a great activity to do outdoors. It helps me set goals and I always enjoy the accomplishment of finishing a run.
How many 5Ks have you run?: I'm not really sure...at least 15 over the years
Favorite race you've done and why?: I ran a Susan G Komen 5k several years ago and it was my favorite because it was my son's first 5K and I got to run it with him and my husband.
Favorite thing about helping others reach their running goals?: I love watching people gain confidence and overcome obstacles that they never believed they could.
Hardest thing about running your first 5k?: The first time I didn't train at all and I was miserable during the race and sore for days afterwards. The second time I trained but I still had the memory of the first one so it was hard mentally for me to put that out of my head but I did and it was so much more enjoyable!
Most fun thing about the No Boundaries training group?: The most fun thing is that we like to have fun during training! Whether it's dressing up for holidays or telling stupid jokes and stories to keep everyone going we try not to take anything too seriously. The goal is for everyone to finish injury free and have fun!
Why should people definitely sign up for the program?: Whether you are new to running or have run in the past and want to start again this program is a great way to safely train, learn a lot of new things about running, have a group to keep you motivated, and make lots of new friends!