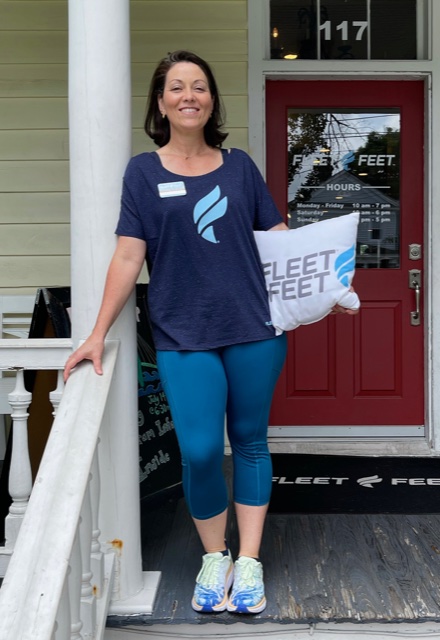 Danielle was born in Ohio, grew up in San Diego, CA, moved to New York City in her 20's where she worked at the Bronx Zoo and met her husband. After her extended family relocated to Charleston, her husband made a career change at 40 to become a police officer. So, they packed up their babies and moved from New York City to Goose Creek, SC to start a new life.
When not working at Fleet Feet or running, you'll find Danielle reading, walking in the woods, enjoying a zoo or museum, or singing karaoke. A dedicated environmentalist who loves animals and nature, she loves getting out into the woods and appreciating the natural world.
When asked about why she enjoys working at Fleet Feet, Danielle responded, "I LOVE meeting new people and having good conversations. I love sharing the information about running, health, and wellness, and I especially LOVE the camaraderie of the staff. This community is so wonderfully welcoming and committed to being an asset to the community at large. Working at Fleet Feet feels like I've been accepted into a family that is committed to giving back to the community at large. I began my tenure with Fleet Feet as a participant and then mentor for the NoBo programs, and my involvement has just grown from there".
In the midst of a mid-life career change, Danielle has moved from a 25 year career in education, BUT she will always love teaching. The educational aspect of working at Fleet Feet is especially fun for her.
Danielle lives with her husband who is an investigator for the Goose Creek Police Dept, her teenagers Emma and Nick, and her Beagle Daisy Mae.
Other fun facts: Danielle attended UCLA (University of California, Los Angeles) and was the mascot (Joe Bruin) for a year! She also lived and worked in Japan for about 6 months.
Locations