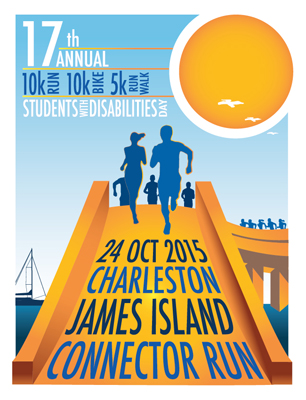 Sponsored by NIKE Running, our Run10K (6.2 miles) training program is designed to further runners towards their fitness and running goals beyond the 5K distance. (All participants should be able to comfortably complete a 5K distance prior to beginning this training.) It will include a tech shirt, an education on different training techniques and tools in order to further enjoy running and improve your performance. The registration price does not include race registration.
This 10-week training program will ready participants for the James Island Connector Run on Saturday, October 24, 2015.
 Run10K Training Details:
Information Meeting: Tuesday, August 11, 2015 at 6:30 pm at Fleet Feet Sports
Program Start Date: Tuesday, August 18, 2015
Workouts: Tuesdays at 6pm and Saturdays at 8:00 am 
Race Date: October 24, 2015, James Island Connector Run
Cost: $75 (does not include race fee)
Tuesday nights you will be challenged with a combination of hill work, form drills and speed workouts. Designed to help you run faster and more efficiently, you will be amazed with your improved overall fitness from these challenging and fun sessions.
Saturday mornings, we will go the distance. Saturday runs will be done at a slower, conversational pace to increase the amount of time spent on your feet and to encourage a quick recovery.
Pace groups will help you to challenge yourself while giving you a consistent group for training. Your registration information sheet and our first group practice will allow us to appropriately place you in your group. Your schedule will be tailored for your group and you will work together throughout the program to help one another reach the next level in distance and speed. Each pace group will have an assigned volunteer coach with them on the run.