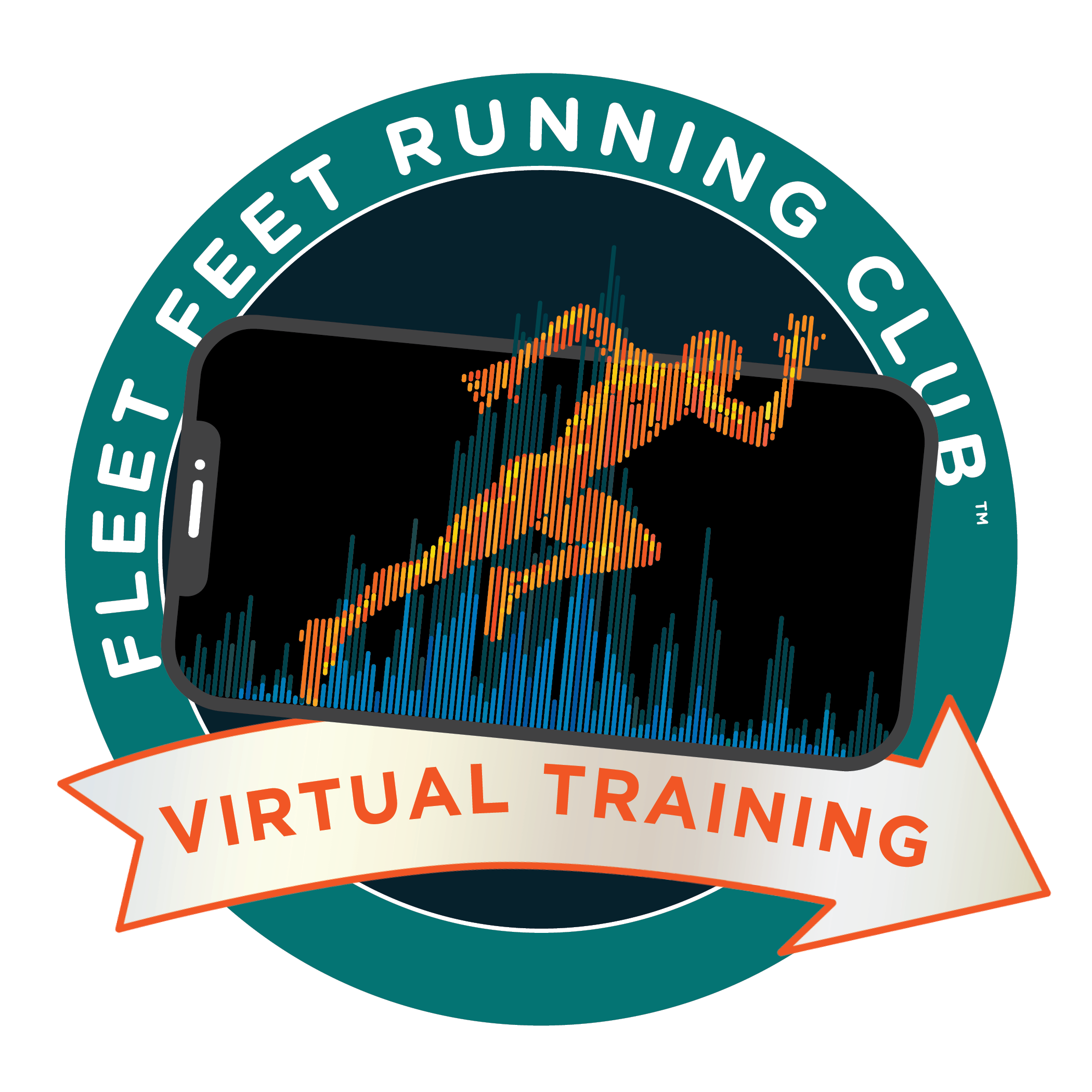 YOU'VE BEEN MOVING ALL YEAR LONG.
LET'S KEEP IT GOING!
The training might be virtual but your mileage is real!
Our 8-week Virtual Winter 5K Training will keep you moving through the holiday season and beyond!

Virtual training is a great option when holiday scheduling conflicts make attending group workouts difficult to impossible.

You'll receive a

weekly email newsletter

, online coaching support, training camaraderie and encouragement from your closed Facebook teammates. You can complete your training runs and walks on your own time, while following a

weekly plan provided by your coach

. This is a great way to learn new technology, too!
ADDITIONAL BENEFITS
Fleet Feet Buff to get you through your 8-weeks of cold weather training
Four scheduled Facebook Live Events


Monday, December 16th - 7:00 pm
Monday, December 30th - 7:00 pm
Monday, January 13th - 7:00 pm
Monday, January 27th - 7:00 pm

10% off all purchases through the duration of the training program
Training program schedules for Beginner and Intermediate levels
Core Strength drop-in classes: Mondays - 6am to 6:45am; 2/3 thru 3/30
Access to Virtual Community via Final Surge


Free app or on-line access
Sync data directly from Garmin, Strava, Polar, HealthFit (Apple Watch), MayMyRun, MapMyFitness and more! Or, manually enter your workouts!
Daily workout reminders directly to your mobile device
Pace calculator for targetted workouts
In-depth workout analysis
Library of resources
And, more!
TRAINING DATES
Week of December 8, 2019 to

week of January 26

, 2020

Though our virtual training does NOT have structured group workouts, participants who prefer group motivation are always welcome to use Fleet Feet's Thursday & Sunday Fun Runs as meet up opportunities.

Thursday Night Fun Runs - 6:00 pm at Fleet Feet
Sunday Morning Meet Ups - 7:00 am at Fleet Feet
KICK-OFF INFO MEETING
Wednesday, December 4, 7:00 pm at Fleet Feet
All are welcome, those who are already registered as well as those who are thinking about registering! Bring a friend - the more the merrier! We'll go over the details.
OPTIONAL GOAL EVENT
The Penguin Pace 5K, Wayne, NJ. Saturday, February 1, 2020
$5 Registration Discount Code will be provided to you!

First 300 registrants get the Penguin shirt and mug!
SUGGESTED ACTIVITY LEVEL
All participants should be able to walk, walk/run or run 1-2 miles comfortably

REGISTRATION
Special Introductory Registration Price!!

COST - $25

; That's just $3.13 / week - less than your average cup of coffee!
Does not include race day registration fee
Virtual Winter 5K Training More Info »
Program Start: KICK-OFF INFO MEETING: Wednesday, December 4th - 7:00 pm
Program Schedule: Thursday - Fun Runs @ 6:00 pm; Sunday - Meet Up Runs @ 7:00 am
Program Fee: $25
Description: The perfect training program to keep you moving through the holiday season and beyond. This eight-week VIRTUAL training program is recommended for those already active walkers and runners who are comfortable following a training schedule to complete training on their own but could use some virtual coaching and team camaraderie to get them to goal race day.