CONGRATULATIONS 2017 NOBO D'OH 5K'ERS!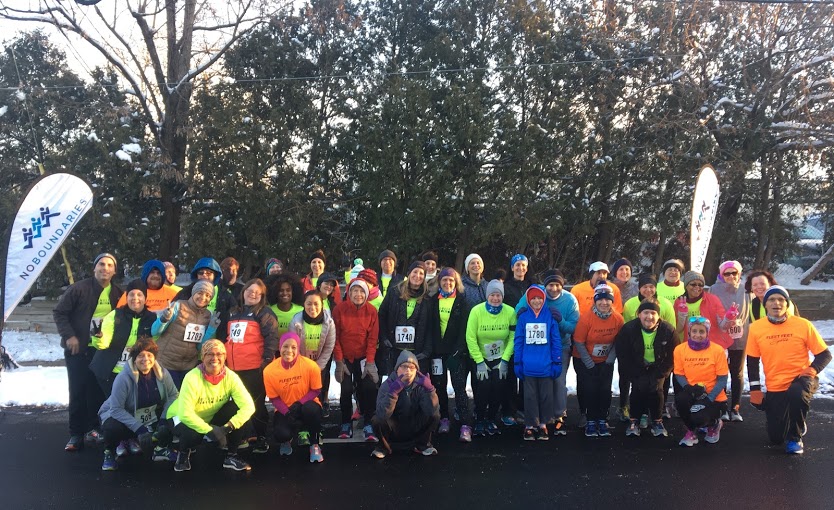 ---

No time like the present to get up on your feet, start moving, and become a new and improved you! This 10-week safe, fun, and non-intimidating program is designed for beginners who would like to run, run/walk or walk in a 5k race. Training will start with 1 mile and build up to 3 miles.
Our Next No Boundaries Training Class (affectionately nicknamed "NoBo D'oh") begins on Saturday, September 29, 2018. 

Our optional goal race is the 

Montclair Bread Company Doughnut 5K  in December, 2018.

GUARANTEED ENTRY to the race has been made available in past classes for all NoBo D'ohers via a special Fleet Feet NoBo D'oh participant coupon code handed out midway through the training program.

Registration for the race is not included in Fleet Feet's program fee.
KICKOFF FOR REGISTERED PARTICIPANTS
Kickoff Informational Meeting 2018: Wednesday, September 26th @ 8pm - Fleet Feet Montclair
WORKOUT TIMES  |  LOCATIONS

  
Training Months:  September 29 thru December 1, 2018
There will be one training session per week and seminars periodically throughout the program.
Saturdays, 8:00am, at Anderson Park  

GOAL EVENT
PROGRAM BENEFITS
Written beginner training schedule
Once a week coached group training sessions
Exclusive Shopping Specials at Fleet Feet Sports, Montclair
Seminars covering good form running, strength training, injury prevention and more
Weekly informational e-mail updates and training information
Dry run of race course prior to event
End of program celebration
REGISTRATION
COST:  $99.00 - (Program registration does NOT include race entry fee. NoBo D'oh participants who wish to race have received a special reduced fee coupon code midway through the training program for race registration.)
QUESTIONS? 
No Boundaries 5K Training - "NoBo D'oh" More Info »
Program Start: Kick-Off Meeting - Wednesday, September 26 @ 8pm / First Training Session - Saturday, September 29th @ 8am
Program Schedule: Regular training: Saturdays, 8:00am at Anderson Park (south side of Park near Brookside Street)
Program Fee: $99 excluding race fee
Description: Join this 10-week safe, fun, unintimidating training program designed for beginners who would like to run or walk a 5K race.