FALL'S LONG RUN!
The 10-week Half Marathon Training Program prepares runners for their first endurance event and helps seasoned racers meet a new performance goal. Get ready to be trained, educated, and moved to successfully and comfortably cross the 13.1 mile finish line. Training will start with a distance 4 miles and build up over the course of the program.
Celebrate the LONGGGG RUN with us!  We're renting a bus to take class participants to and from the goal race with lots of fun and shenanigans as we traverse Washington Crossing Historic State Park!
GOAL EVENT

 
Fleet Feet's 2019 Fall Half Marathon Training gears you up for the

DELAWARE CANAL HALF MARATHON

in Washington Crossing, PA, part of the Bucks County Marathon Series.
Race Day:  Saturday, November 9, 2019  
WORKOUT TIMES | LOCATIONS 
Training Months September - October 
Kick Off Info Meeting:  

Monday, August 19th, 7:00pm, Fleet Feet Montclair

Class will NOT BE HELD on Labor Day weekend, Saturday, August 31st.
First Interval Training for Registered Participants:  

Tuesday, September 3rd, 6:30pm, Brookdale Park


First Long Run Training for Registered Participants:

Saturday, September 7th, 7:30am, Fleet Feet
Two Weekly Training Sessions
Short Runs & Interval Training

Tuesdays, 6:30pm, Brookdale Park
Longer Training Runs

Saturdays, 7:30am, Fleet Feet
PROGRAM BENEFITS
Written beginner and intermediate training schedules
Coached group training sessions
Educational seminars - 7:30pm at Fleet Feet

September 30th - Nutrition, Recovery & Injury Prevention
October 21st - Taper, Race-Day Prep, Post-Race Recovery & Goals

Energy replacement and water at workouts
Weekly informational e-mail updates and training information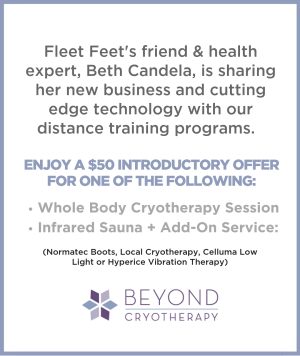 Private Facebook page
Race day transportation (included in program registration fee)
Bus snacks and breakfast foods 
Race day support
Fleet Feet Running Club Swag
10% discount on in-store purchase during the program
Specialty recovery package offers at Beyond Cryotherapy
SUGGESTED ACTIVITY LEVEL PRIOR TO START OF TRAINING
We strongly suggest that all participants be consistently running three miles comfortably 4 days per week for a 3-month consecutive period prior to training kickoff.
Please note that entering the program under-conditioned may increase the likelihood of injury.  Our goal is to get you to the starting line feeling healthy and ready to conquer your goal.
REQUIREMENTS
Safety blinking lights and reflective gear are required for all Tuesday night runs.  
REGISTRATION
Cost:  $210.00*

*PROGRAM FEE DOES NOT INCLUDE RACE REGISTRATION
*$25 bus t

ransportation

 fee included in program registration price.  Bathroom on bus.
No refunds after program start date
IMPORTANT RACE LOGISTICS
Delaware Canal Half Marathon

- Saturday, November 10th, Washington Crossing, PA at 10:00am (approx. 90 minutes from Fleet Feet)
Race Day Packet Pick-up at 9:00am
PLEASE NOTE THAT USE OF HEADPHONES IS STRICTLY PROHIBITED DURING ALL FLEET FEET ORGANIZED GROUP RUN SESSIONS!

---
CONGRATULATIONS TO OUR 2018 FALL HALF MARATHON GRADUATES!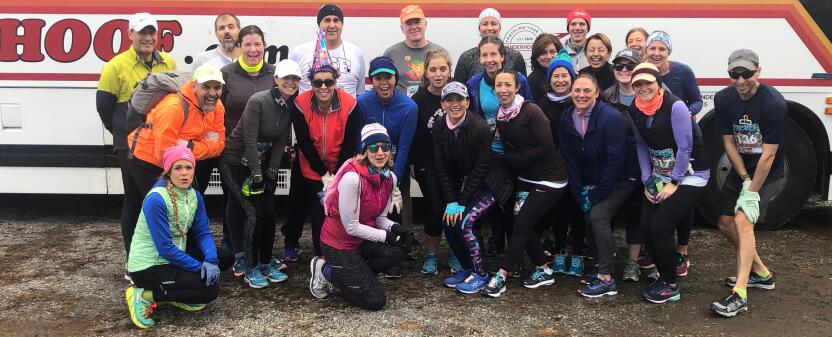 ---
WHAT PARTICIPANTS ARE SAYING
 "When I decided to do my first half marathon I knew my best option was doing Fleet Feet's training program.  I did their 10k pr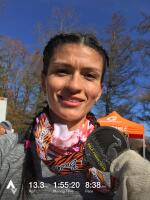 ogram and loved it, so it seemed only appropriate to continue on my journey with them.  Their coaches an mentors are very knowledgeable and great role models! They made my first half marathon experience one I would never forget!   Training with them week to week and then having them support us during our race was extremely helpful!  I really couldn't have accomplished my goal without them! And to top it all, I have met some amazing people that now I can call my friends. Thanks Fleet Feet for all that you do!" - Liz Castillo, 2017 Fall Half Marathon Training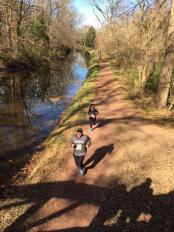 "Fleet Feet's training programs have changed my life.  I started training with Fleet Feet in 2014 in the 5k No Boundaries class and ran my first half marathon 13 months later, after completing my first half marathon training program with Fleet Feet.  I have run 5 half marathons (as well as many other races) and trained with Fleet Feet for all of them.  The coaches, their support and knowledge are second to none.  You become a part of their community.  
My latest class that culminated with the Delaware Canal Half Marathon in November '17, I set a new personal record and have seen my half marathon pace go from 10+ minutes to almost 9 minutes per mile.  Not bad less than a month after turning 50.  I could not have done it without Fleet Feet and look forward to the next class." -Joe Peda, 2017 Fall Fall Marathon Training
---
"First of all, thanks for coming out to support us on race day. It was really encouraging to see you cheering us on. I really needed it on the last mile too. Secondly, thanks for the past few months. This program was pretty much exactly what I was hoping for. I'm so glad I joined. You guys did a great job. I loved your enthusiasm." - Brian L. 2013 Fall Half Marathon Participant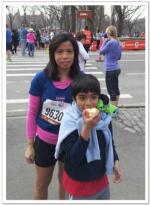 "Thanks for another great training program. I did well by my personal standards. I am finally below the 11 minute mile mark! Thank you again for your programs. You guys are awesome coaches. I can't believe I have improved from a 12:48 minute mile when I ran the Long Branch half marathon in 2012 before joining the half marathon training program that fall for Philly half marathon where I ran 11:21 minute miles. Then, I joined the spring half marathon training program, 2 speed training programs, and this fall half marathon training program.  My pace dropped to 11:13 minute per mile at the Staten Island half marathon and then 10:49 at Trenton! This may be slow for my age level but my legs have become stronger. I am proud to say I am 44 and a mother of 2 boys and was never a runner." - Doinks Quinan, 2013 Fall Half Marathon Training Program
---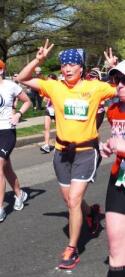 "I never thought I would run a half marathon. Never. I was "satisfied with running 3 miles each time I went out. Then one day I had a friend who talked me into doing a half marathon. I had no clue how I was going to do it until I saw a flyer for this training program at Fleet Feet. I didn't know a soul when I started but by the time I was done I came away with a great group of friends, tons of knowledge, and the ability to RUN 13.1 MILES WITHOUT STOPPING!! Definitely worth it. Thanks Fleet Feet!!!" - Tanya Marks, 2011 Spring Half Marathon Training 
---
Fall Half Marathon Training Program More Info »
Program Start: Monday, August 19, 2019 - Kick Off Meeting
Program Schedule: Tuesdays (9/3), Short Interval Training Sessions @ 6:30pm at Brookdale Park; Saturday (9/7) Long Run Training Sessions @ 7:30am from Fleet Feet
Program Fee: $210 Includes training, transportation to & from race and post-race picnic - Does not include race day registration
Description: The Half Marathon Training Program is a 10-week program specifically designed to prepare runners for their first endurance event and/or help seasoned runners meet a new performance goal.