For more than 100 years, the Boston Marathon has given many people a sense of joy, accomplishment, resolve and victory. The finish line symbolizes the culmination of weeks, months and even years of hard work and dedication. However on April 15, 2013, an entity attempted to strike down that happiness and strip away that sense of accomplishment from runners, their families, and their friends. Mere words can't possibly relay our sadness, heartache and anger in response to these events. 
Running is one of the greatest pastime sports that brings people from all walks of life together and can be picked up at almost any age. John Bingham, columnist, author and spokesperson for the slow-running movement says it well:   "... There is no test to pass, no license to earn, no membership card to get. You just run."
Whether crossing the finish line at our first 5k, running our very first mile without stopping, qualifying for the Boston Marathon (the Mecca of marathons), or accomplishing a goal we never thought possible as a non-runner, we know what it's like to dig deep. We pulled up that inner strength within ourselves to face our fears and overcome challenges.  Now, more than ever, is the time for runners and the community to come together and be resilient.
With an inclusive and belonging environment, Fleet Feet Sports is here to stand together, and to help runners and the community. We'll continue to be strong and overcome this.
"What can I do to show my support and help?"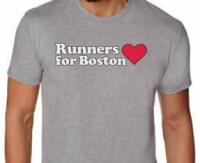 Pick up a "Runners For Boston" t-shirt from Fleet Feet Sports Montclair for a donation of $20 where 100% of the proceeds go toward the One Fund Boston to help Boston Marathon Victims.
Donate your old running shoes. We are a collection site for Modular Organic Regenerative Environments (MORE) who will donate $1.00 for every pair of shoes they collect from us in May.
Make a direct donation to the One Fund Boston.
Consider becoming a runner and participate in a race or run that raises money for Boston Marathon Victims.