DID YOU KNOW?
Dehydration is a leading cause of training injuries.
A 2% decrease in body weight caused by dehydration affects your performance.
Water is 75% of your body.
Heart beat, blood flow, temperature regulation, delivery of nutrients to cells, waste disposal from system, muscle function and joint cushioning depend on proper fluid levels.
Mild dehydration can cause fatigue, negatively affect mood, increase tension, generate anxiety and decrease concentration.
OUTSIDE FACTORS
A variety of factors affect hydration intake needs. They include heat, distance, altitude and intensity level. Be aware of race day or training conditions and make a plan.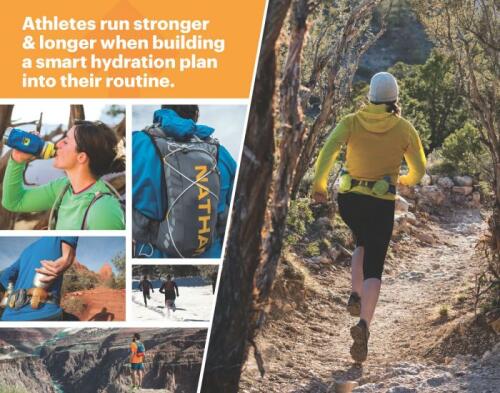 WHAT'S THE GAME PLAN?
Pre & post-race:
Aim for 6-8 ounces 1-2 hours pre and post-race (or enough until nature calls)
During the race:
Average 3-6 ounces every 15-20 minutes (12-24 ounces per hour)
During the day:
Men: your body weight x .35 = daily ounces of fluid
Women:  your body weight x .31 = daily ounces of fluid
TOO MUCH OF A GOOD THING
Drinking too much water and not taking in enough electrolytes can lead to hyponatremia. Symptoms include nausea, vomiting, dizziness and lethargy. This condition occurs more in women and can be fatal. Be sure to incorporate carbohydrates and electrolytes into your plan for efforts lasting over an hour. Electrolytes include potassium and sodium, and ensure water is evenly distributed.
HOW DO YOU HYDRATE?