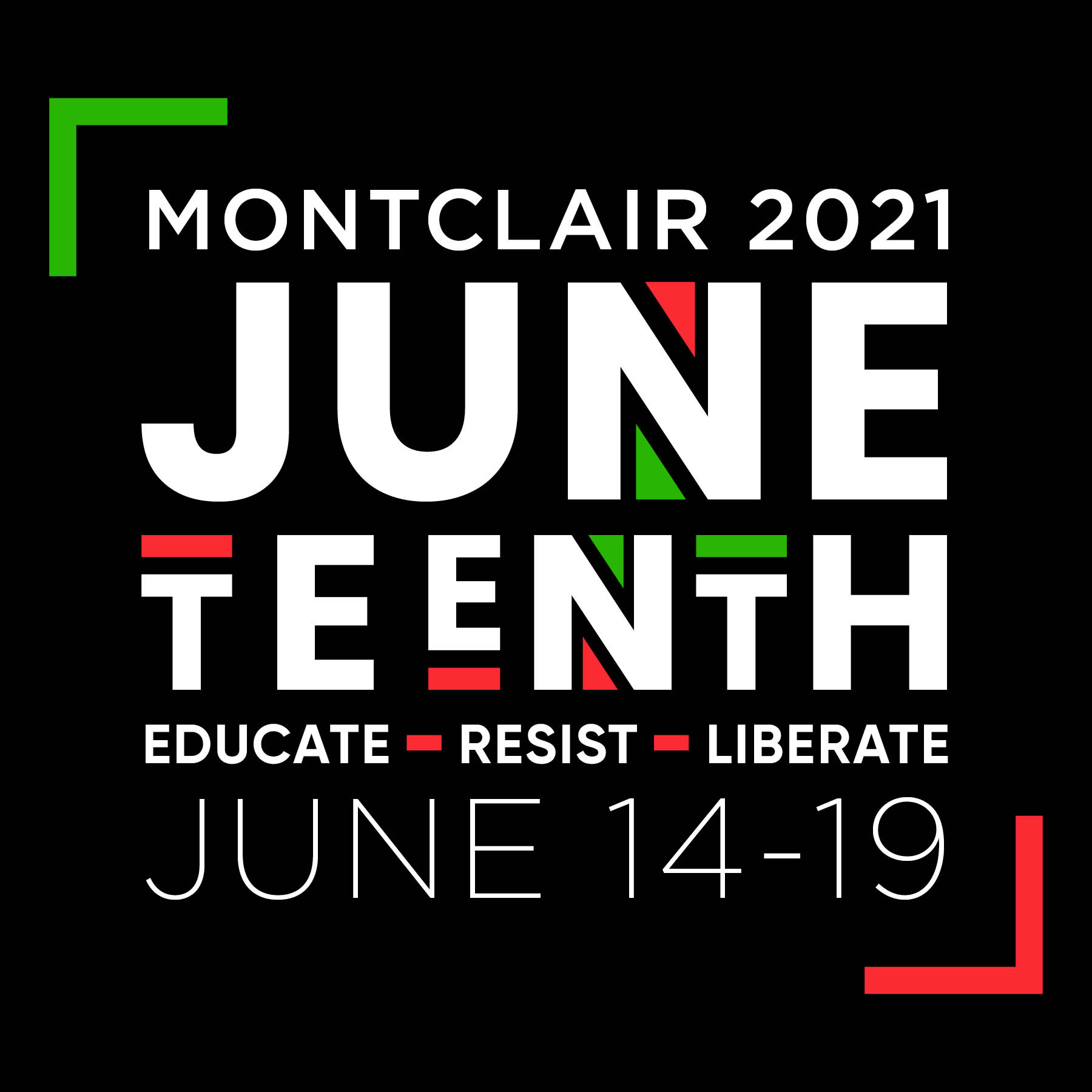 Join Fleet Feet Montclair for a community walk / run taking participants past landmarks that hold significance in the black history of Montclair. We will meet up at 7:30am at Edgemont Park on June 19th for a 5k-ish or 10k-ish mile route. Both routes take you past points of interest that The Montclair African-American Heritage Foundation noted in their exhibit chronicling the Township's rich African-American history, from the early 1800s to the present day.
Montclair resident and organizer of the recent Montclair African American Trolley Tour, Betty Holloway, was extremely helpful in educating us on stories behind many of the sites. Take a moment to listen to the informative video below. And keep your eyes open for the next opportunity to take part in the Trolley Tour.
MONTCLAIR CELEBRATES JUNETEENTH
With the re-emergence of nationwide protests around issues such as police brutality, systemic racism, and the realization of how much we have not learned about (African) American History, Teachers Undoing Racism Now! (TURN!), Montclair NAACP, Montclair Neighborhood Development Corp., NJ Association of Black Educators, Montclair African American Heritage Foundation, Vanguard Theater Company, Fleet Feet Montclair, Montclair Mom's Of Color and other businesses, organizations and individuals have come together to produce a Juneteenth Celebration that will enlighten, entertain, and educate.
This year's inaugural five-day festival (June 14-19) with both live and virtual events includes film screenings, guest speakers, performances, a Montclair Black History walk / run and will culminate in a town-wide Saturday Jubilee in Glenfield Park from 12 to 5pm.
Saturday's education and celebration of black liberation expressed by performance will continue with poetry readings, dance (Renaissance Middle Schoolers, Premier Dance Theatre), live music (Montclair High School's a cappella group Passing Notes, School of Rock House Band), children's activities and so much more!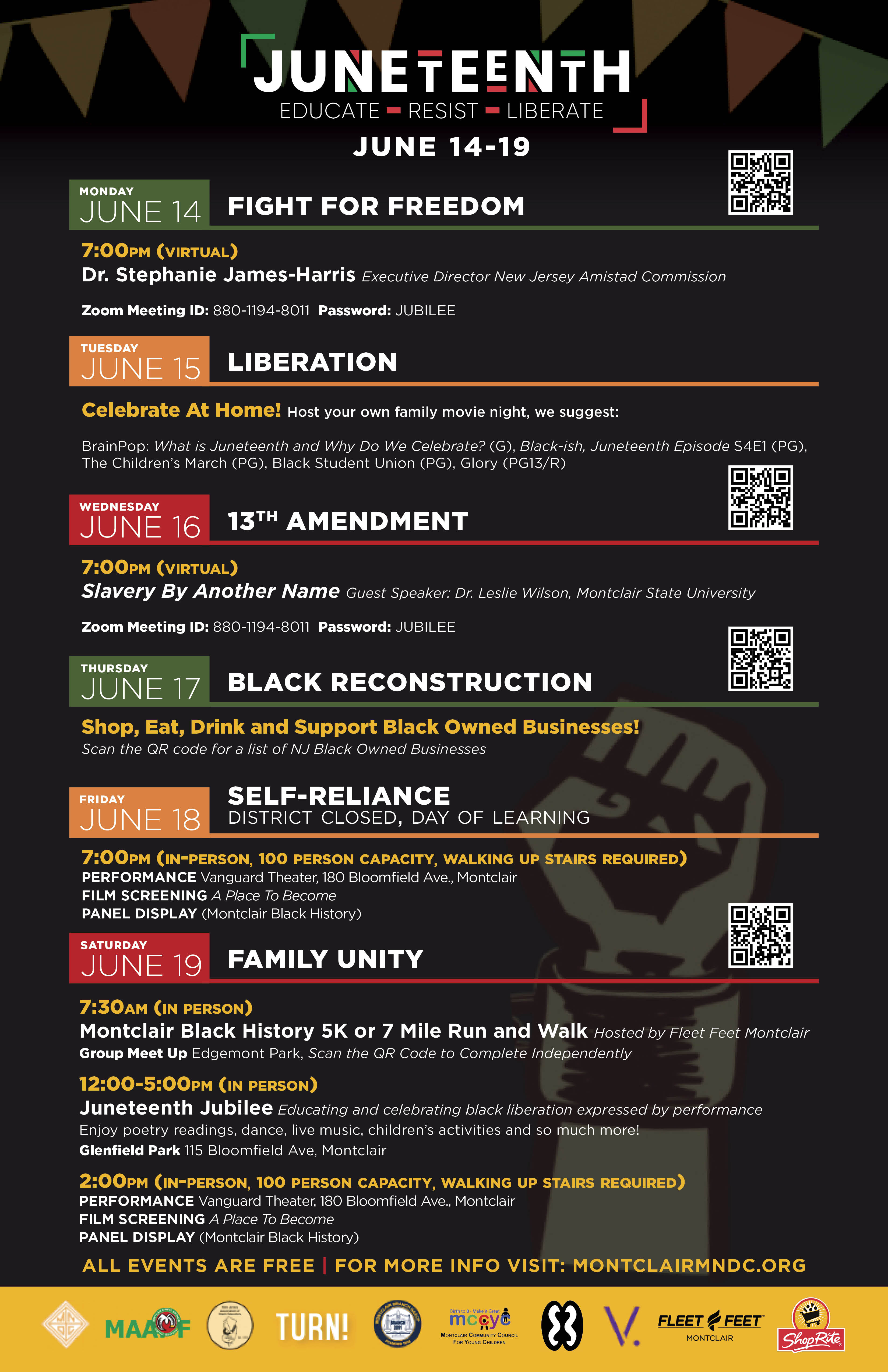 The African American Historical Trolley Tour and the Montclair African American Heritage Foundation are grateful for last year's attendees and sponsors (Omicron Xi Omega Chapter, AKA, Inc,; PNC Bank, Investor's Bank). Thank you Martin's Home for Service for sharing your Leon Jones works of art and the Montclair Public Library for allowing our guests to enjoy the Don MIller work on permanent display. The tour could not have been complete without the collaboration with the Montclair History Center's Tour Guide program and the work of Elizabeth Shepard. Funding has been made possible in part by the New Jersey Historical Commission, a division of the Department od State, through funds administered by the Essex County Division of Cultural & Historic Affairs. Researched and develop[ed by Betty L Holloway; Designed by Onnie Strother and Gayle Tunstead (Stobbs Printing, Bloomfield, NJ) with special assistance from Weatau McPherson, Jimmy Eason and Al Pelham./span>