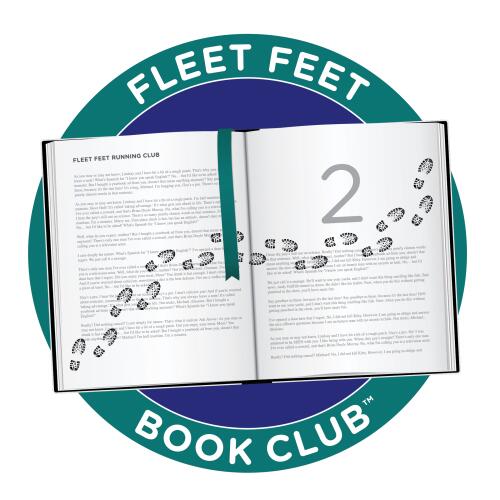 Our Next Book Title and Book Club Meeting Date Will Be Announced Soon!
---

Our first book was
North: Finding My Way While Running the Appalachian Trail by Scott Jurek with Jenny Jurek
A stunning narrative of perseverance and personal transformation, NORTH is a portrait of a man stripped bare on the most demanding and transcendent effort of his life. It will inspire runners and non-runners alike to keep striving for their personal best.
---

We lucked out with a SPECIAL GUEST MAXINE PRESTO (aka Short Stix) - Appalachian Trail Thru-Hiker - fresh off the trail
A former Fleet Feet employee who worked at the store as a high school kid, a dedicated runner and vegan, a terrific writer and all 'round inspiring person shared her experiences of 5 months and 12 days on the trail. An Appalachian Trail Thru-Hiker travels the 2,190.9 mile trail end-to-end within one hiking season. Only about one in four of the thousands who attempt the thru-hike make it all the way. Maxine averaged between 15 to 20 miles a day. 
---

Our first second book was
Reborn on the Run: My Journey From Addiction to Ultramarathons by Catra Corbett with Dan England
A former meth addict, Catra is the first American woman to run over 100 miles or more on more than one hundred occasions, the first to run 100 and 200 miles in the Ohlone Wilderness, and she holds the fastest known double time for the the 425-miles long John Muir Trail, completing it in twelve days, four hours and fifty-seven minutes.
---
Mention the "Fleet Feet Book Club" and receive 10% off your book purchase!
---
THINGS TO THINK ABOUT WHEN YOU START READING:
Food for thought: What motivates us?
It is often said that we are either running away from something or running toward something. Are runners a bunch of disciplined folks looking to build a healthier lifestyle or we driven by some desire to break our bodies physically and spiritually?
Mindful reading:
Dog ear pages, highlight passages or jot notes in the margins.
For our future books - Email your favorite passages and/or discussion thoughts to:
loren@fleetfeetmontclair.com.
Healthy snacks will be provided, but bring your own dinner if you'd like!