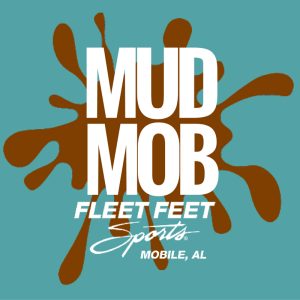 JOIN THE MOB.  The Mud Mob, that is.
Are you ready for a Mud Run? Over 2 million people did a mud run last year.  Ever wanted to be one of them??
If you've never answered the call of the mud, fear not. Although it might seem uber-intimidating to power full speed over miles of ditches and hills, the dirty little secret of these races is that many participants walk the majority of the course. 
There's no shame in walking between obstacles—or even around the scary ones—but you'll feel best if you're ready to conquer the event. And we have just the plan to get you there.
Follow this eight-week program of integrated workouts that combine running with movements that mimic the challenges and rhythms of an obstacle race. This way, you'll be prepared to leap over walls, move quickly while carrying logs or buckets of gravel, and wiggle effortlessly through tubes and freshly dug tunnels. 
"MUD MOB" is a beginner 5K mud run training program designed for people who are currently inactive or new to running and walking. While we focus on beginners, all levels of walkers and runners are welcome. The program is structured to help you cross the finish line in just 8 weeks!  Along the way, we'll provide you with motivation to keep you moving, weekly group training events, and educational clinics.  We will cover topics such as proper nutrition, choosing the right gear, and avoiding injury. You can do this! 
INFORMATIONAL MEETING: Tuesday, April 5th at Fleet Feet Sports Mobile - 7:00 pm 
                                           Wednesday, April 6th at  Fleet Feet Sports Mobile - 9:30 am
KICK OFF: Training will begin on Tuesday, April 12 at 6 pm.  
All training sessions will be on Tuesday evenings.  Locations will vary between Cottage Hill Park, USA Nature Trails, and Langan Park (aka Municipal Park)
TARGET RACE: We will be training for the 2nd Annual Just For The Mud Of It 5K on Saturday, June 4th. It benefits the Mobile Police Department SWAT Team, so it's a great cause. The race is not mandatory, but it always makes for a fun time!
COST:
 $50 
Less than $25/mo,  or a mere $6.25 per session. (Please note: Race registration is NOT included in your program cost)
THROUGH THE PROGRAM, PARTICIPANTS WILL RECEIVE:
ONE weekly organized & coached training runs/walk/strength session

ONE additional weekly organized run available

Educational clinics on key health & fitness topics

Weekly motivational and educational emails (from your coach!)

A training schedule with daily activity to help you stay on track!

Technical T-shirt

Goal 5K event with coach support! (**Race fee not included**)

Voucher for an 8 week discounted membership at SportsPlex 
If you have any questions please contact us at 251-461-6701 or email Bo at training@fleetfeetmobile.com
Program Start: Tuesday, April 12th, 6:00pm
Program Fee: $50 excluding race fee
Description: MPD SWAT TEAM'S 2nd annual "Just For The MUD Of It" 5K Run. 100% of the registration fees of this mud run will be donated to the MPD's SWAT TEAM.