Summer isn't far off and that means... LODA Fun Run Summer Series is starting back! Our LODA Fun Run' s will begin this summer on Wednesday, June 1, 2016. The first fun run is taking place on Wednesday so that we can recognize National Running Day but all other fun runs will be held on Thursday evenings at 6:15 p.m. Keeping with tradition, we are partnering up with Moe's Bar-B-Que downtown! We are gearing up and getting excited about our kickoff and our second season of the LODA Fun Run Summer Series with Moe's Bar-B-Que! Check out our Facebook event page for more event details!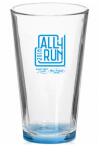 Adding to the excitement of our LODA Fun Run Summer Series kickoff, we've partnered up with Moe's to bring you this commemorative All 4 Run pint glass! There is a limited supply of these glasses so they will be given out on a first come, first serve basis. Get there early on June 1st to make sure you get yours!
Join us and stroll around the beautiful streets of downtown Mobile, before enjoying some cool beverages and foods from Moe's! Moe's will offer their Runner Specials, as last year. Stay tuned for more information!
Maps of our routes (Click Here)
Option 1: 1.5 miles
Option 2: 3.1 miles