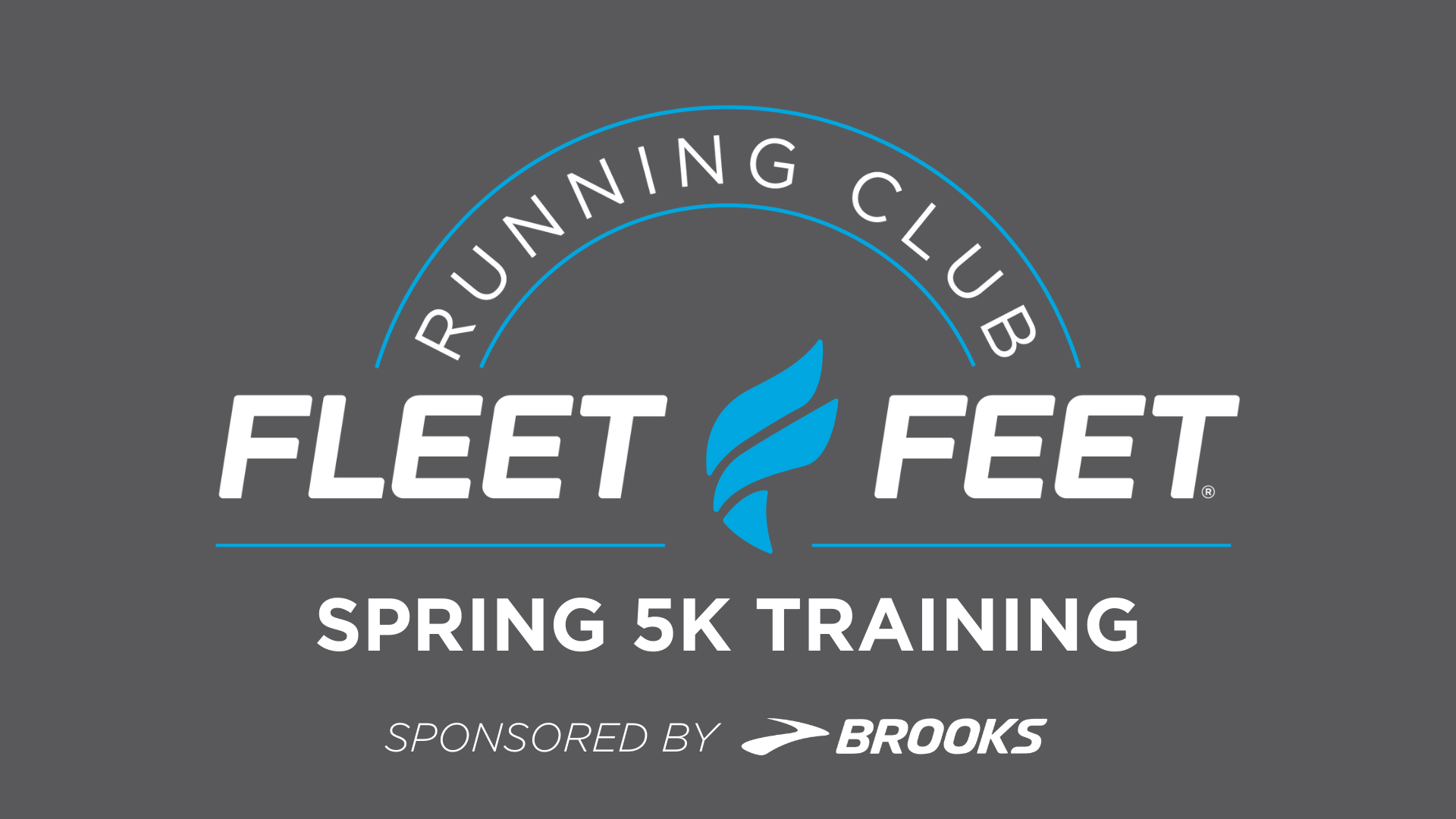 This Fleet Feet Running Club program is dedicated to all 5K runners, whether it's a new distance, a new race, or you're looking to challenge a previous best; this program is designed for you! Structured to get you across the finish line and/or to improve on a personal best, we cater to all levels of ability and help coach and mentor you toward your goals. Along the way we'll provide you with motivation to keep you moving, guidance and advice, weekly group training runs, and educational clinics on topics such as proper nutrition, choosing the right gear, and avoiding injury. Plus, you'll have the camaraderie of others just like you!
For this program, you will receive a structured 8-week training plan, and will be able to participate in three in-person, socially-distanced, coach-led runs each week.
Group Workout Days:
Tuesday Evenings at 6:30pm
Thursday Evenings at 6:30pm
Saturday Mornings at 8:00am
Program Dates:
Saturday, April 3, 2021- Wednesday, June 2, 2021
*The Big Run 5K race, the goal race for this program, will be held on Wednesday, June 2, 2021 (Global Running Day)
Virtual Option:
If you feel most comfortable participating virtually, we will provide you with the full 8-week training program, and you can interact with other participants and the training team via our private Facebook group.
Program Cost & Perks: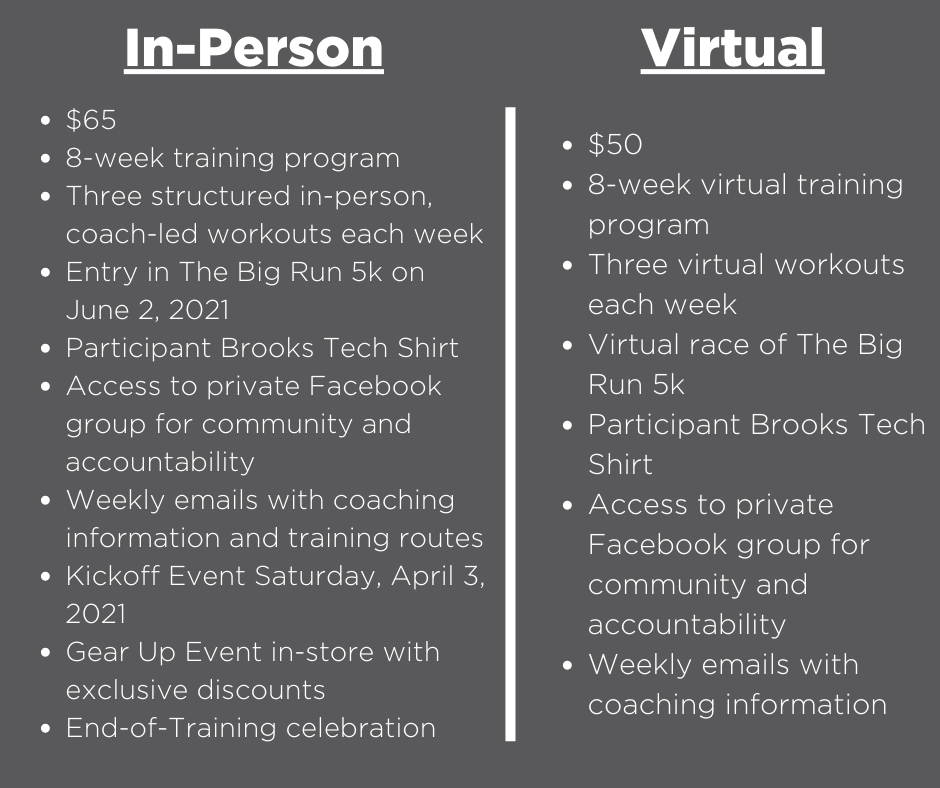 Safety Precautions and Procedures
As we continue to carefully resume training as a group, we want to ensure the safety of all participants, coaches, and Fleet Feet staff members. In order to do this, we will be practicing and enforcing safety procedures throughout the program- before, during and after each group run. Being safe is a community effort- it takes all of us.
Social Distancing: This is one of the simplest ways we can keep everyone safe during group workouts. We ask that you wait in your vehicle until the workout starts, or separate into very small groups (6 foot distance from the next person), and return to your vehicle promptly after the workout.
Masks On: Masks are not required while you are running or walking, but we do ask that you wear the mask when with the group for warm ups/cool downs, when stopped for water breaks as a group, when talking with the training team, etc.
Rolling Start Times for Group Runs: Depending on the number of participants that attend a group workout, we may utilize wave starts to effectively distance runners during the course. It may be used some weeks and not others. Our goal is to keep everyone as safe as possible.
Water Coolers: We will not have group water coolers for the workouts. We ask that you carry your own handheld water bottle or use a running pack.
Safe Running Etiquette: Spread out and give other runners/walkers space. We ask that you limit running in closely packed groups whenever possible. Please give other pedestrians and runners a wide clearance when passing. Do not spit, cough, or sneeze near the group- if you feel the urge, please remove yourself a safe distance from the group.
Not feeling well? Stay home. If you have any cold or flu symptoms, or just aren't feeling 100%, please stay home or complete the workout solo. Take care of yourself, and protect the health and safety of the rest of the group.
Register for

in-person

Spring Training here!
Register for

virtual

Spring Training here!
Questions about the program?
Don't hesitate to reach out. Email our Run Club Manager, Jesse Puck at jesse.puck@fleetfeet.com.