Raise your Mitten! Winter Warriors 2019!
January 8th - March 19th
12 Hosted Winter Warrior Runs | $25.00 for season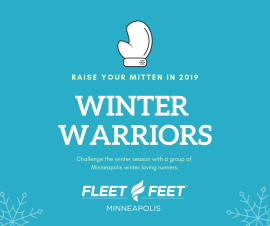 -Start date: January 8th (Information session & registration)  Run 3 to 7-mile run post info session.
-Price: $25 OR shoe purchase or $120+ purchase in-store between December 1st -January 8th
-Requirements:  Participants must have some form of visibility (headlamp, blinking light, vest, etc.) at every run.
-Freebies:  The program will include a tech shirt (choice of long or short sleeved), post-run growlers once a month from a local brewery, discount for the Everybody's Irish 5k/10k.
-Awards:  Fun point system to reward running in the winter and crown our annual "King and Queen of Mpls Winter Warriors". Technical Winter Jacket for both winners!
-Party:  Exclusive Winter Warriors only party on March 19th to reward all our category winners!
-Thank you!!  Enjoy Winter Warrior sponsored runs with our amazing key vendors: New Balance and Saucony in January, Brooks late February, and Mizuno who will present our 1st day of spring awards party-March 20th.