Custom Shoe Fitting and Foot Assessment
The entire Marathon Sports staff has been trained by Dr. Paul Langer DPM, a podiatrist who specializes in working with runners and other endurance athletes, and Dr. Chris Leisz, M.D.. Along with this diverse medical team, all of our staff members use biomechanical and foot assessments to fit each customer as an individual.
The table below is a simplified guide to what we look for when we're fitting shoes.
FOOT TYPES & SHOE FIT
---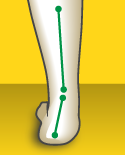 High Rigid Arch Neutral or Underpronated running or walking gait
A person with a high rigid arch generally needs a soft, flexible and well cushioned shoe as the lack of arch flexion does little cushion the foot impact naturally. Flexibility is also desirable because you want to actually encourage the arch to flex. Shoes made for overpronators (shoes with support features on the medial side of the shoe) may give the neutral or underpronating runner/walker problems.
Shoe Examples: Brooks Ghost, Hoka Bondi, Mizuno Rider, Saucony Ride, Nike Pegasus, Asics Nimbus, etc.
---
Medium Arch/ Mild to Moderate pronated gait

Most people fall into this category. Mild overpronators with medium arches need a shoe with a blend of cushioning and medial support. Often called "Stability" shoes, running footwear for mild overpronators offer simple and minimal arch support features to help guide the foot through a more neutral running/walking gait.
Shoe Examples: Brooks Adrenaline, Hoka Arahi, Saucony Hurricane, Asics GT-2000, etc.
---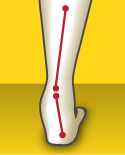 Flat Arch / Moderate to Severely pronated gait
Runners or walkers with very flat flexible arches to roll excessively inward (overpronation) are prone to overuse injuries because the stress this places on other parts of the leg. They often will need a shoe with maximal support and multiple control features to guide the foot through a more neutral gait.
Shoe Examples: Brooks Beast, Saucony Omni, Hoka Gaviota, etc.