We run together.

Our 5k training is designed with the beginning runner in mind. Our goal is to build your confidence by providing an approachable training plan, regular dialogue with a coach, and strategies to help you run smarter.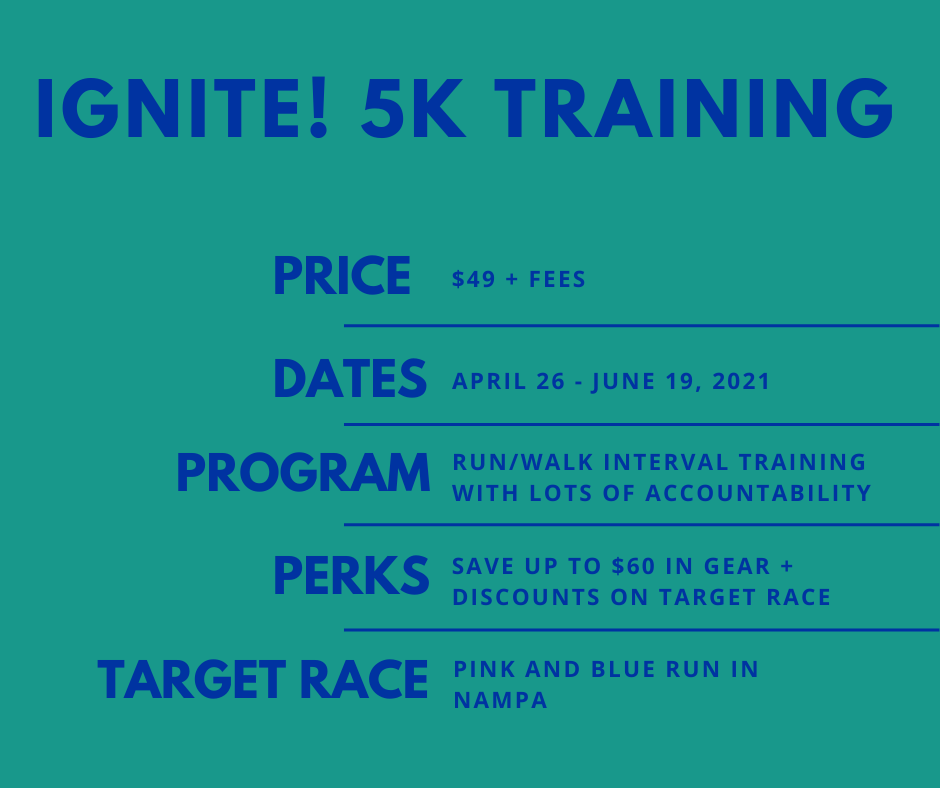 Other Program Notes
We make training easy. Through the Bird app, you can see your workouts, make notes, and receive encouragement and feedback from your coach along the way.
We believe in a holistic approach to running. We address a running topic each week, ranging from injury prevention to pacing, running form, hydration, and nutrition. You can read up on your weekly topic in your Monday workout notes within the app, or watch the video from our head coach, Wade Pannell, posted in our Ignite! Facebook group every Monday.
We make it easy for you to find your people. As a part of training, you also have the option to join our group training sessions on Tuesday evenings at 5:30 pm and Saturdays at 9 am. These sessions start and end at our Meridian shop. We also encourage you to join our Ignite! Facebook group to share your progress and encourage others in the Ignite! community across the northwest.
Our registration for spring session Ignite! training is now closed. If you'd like more information about our next session, please fill out this form and we'll keep you in the loop!
Frequently Asked Questions
How do I receive my workouts?
You'll receive your workouts each day via the Bird app. Each day you'll also receive a text message, asking you to update your coach on how your workout went. When you register for the program, you'll receive a link to download the app on your Apple or Android device.


I registered for Ignite! but haven't received any emails outside of the confirmation email. When should I expect to receive communication?
Your regular communication is in your workout notes on the Bird app, including links to the educational content (it's in the workout notes every Monday). If there are any major changes that we have to make to the schedule, or if we have to cancel a group training session, you'll receive an email from us.


Who will be leading weekly group training?
Our team of local run leaders will coordinate group training with local run mentors. Read more about who these folks are here.


What will weekly group training sessions look like?
We will follow local and federal government COVID-19 guidelines for group training. Currently, that means that we ask that you remain masked whenever you cannot keep appropriately physically distanced, and bringing your own food and water (in the past, we always supplied hydration in a big jug). We'll continue to use our Facebook group as a way to connect with you throughout the program for those participating with us who do not feel comfortable attending.


Where are the weekly group training sessions?
We meet at Fleet Feet Meridian.


What if I don't have a smart phone? Can I still participate?
You will need a smart phone to participate because you receive your workouts through the Bird app. We believe that app-based training is the best way to "stay with the times" and continue to be as inclusive as possible.
Program Start: April 26, 2021
Program Schedule: Eight week run/walk interval training. Workouts are delivered through the Bird app, and we offer two in-person group training sessions each week.
Program Fee: $49 + fees