COME TRAIN WITH US!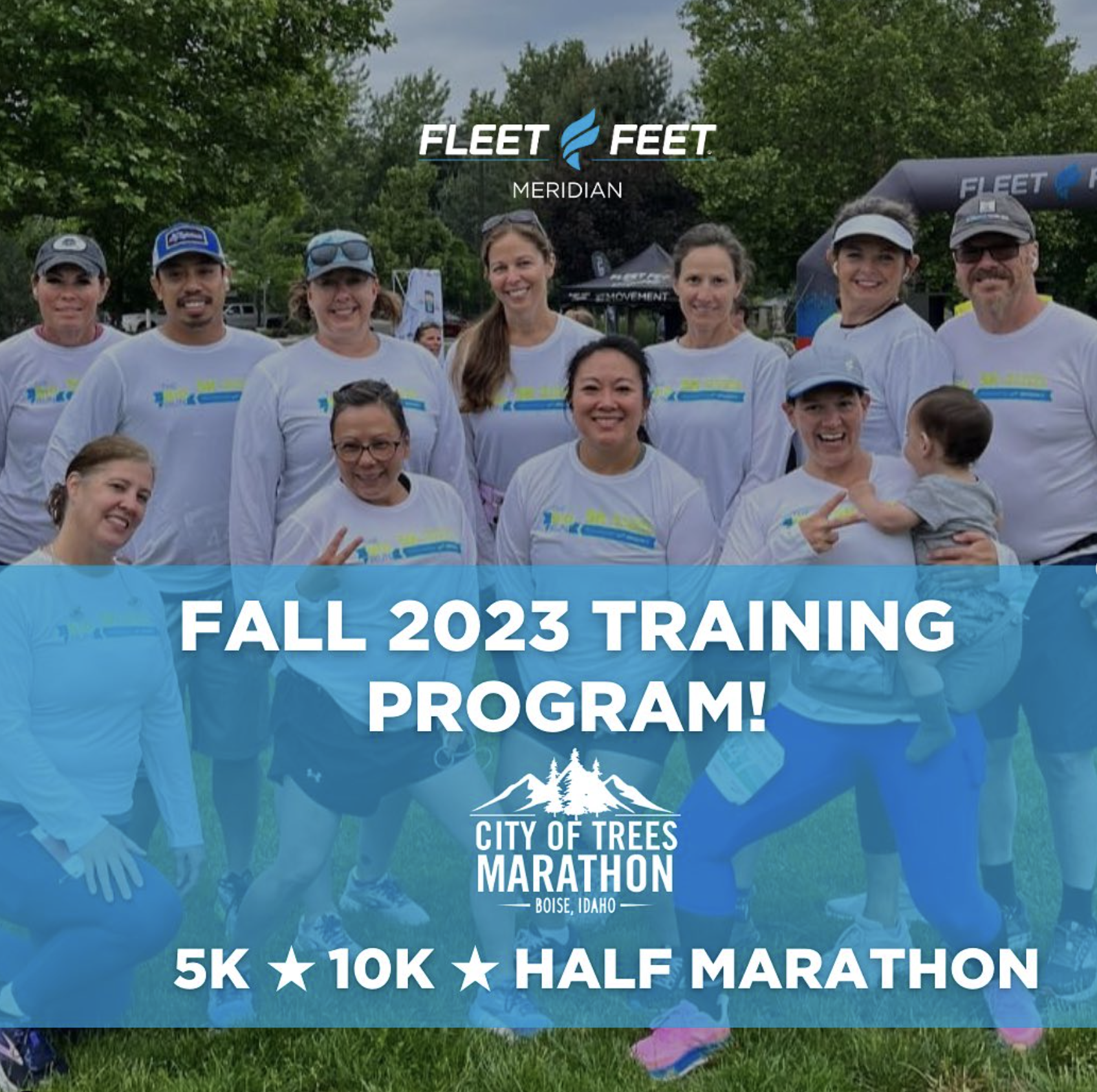 Have you ever experienced the runner's high that comes with conquering a new distance goal? There's nothing quite like it. Whether it's your first time running, or your first in a long time, or you are looking to run a new personal best, Fleet Feet Meridian has the Fall Training Program for you!
This running group will train for the goal race, City of Trees 5K, 10K, Half Marathon and Marathon on October 14th!
PROGRAM DETAILS
DATES
STARTS: Training Plan Starts August 7rd and the first group run/kickoff party is Monday August 7th at 5:30 PM
DURATION: 10 weeks
ENDS: Saturday, October 14th with a 5K, 10K or Half Marathon race at the City of Trees Race Weekend!
DETAILS
PRICE: $100
OBJECTIVE DISTANCE: 5K, 10K or Half Marathon. Marathon plans available after a coach interview!
EXPERIENCE LEVEL: There will be several training plans for athletes of all levels

Beginners (New 5K or 10K runners)
Intermediate (Athletes that have ran 5Ks, 10Ks and Half Marathons before)
Advanced (Athletes that are looking to improve their personal best in the 5K, 10K, Half Marathon or Marathon)
WORKOUT SCHEDULE/STRUCTURE
Wednesdays - 12:00 pm - Remote Mobility Workshop
Saturday mornings - 7:30am - "Long Run"
Saturday morning runs will be in Boise. There may be additional meetups based on group interest.
---
MEET YOUR COACH!
A.K Whittaker (EMAIL)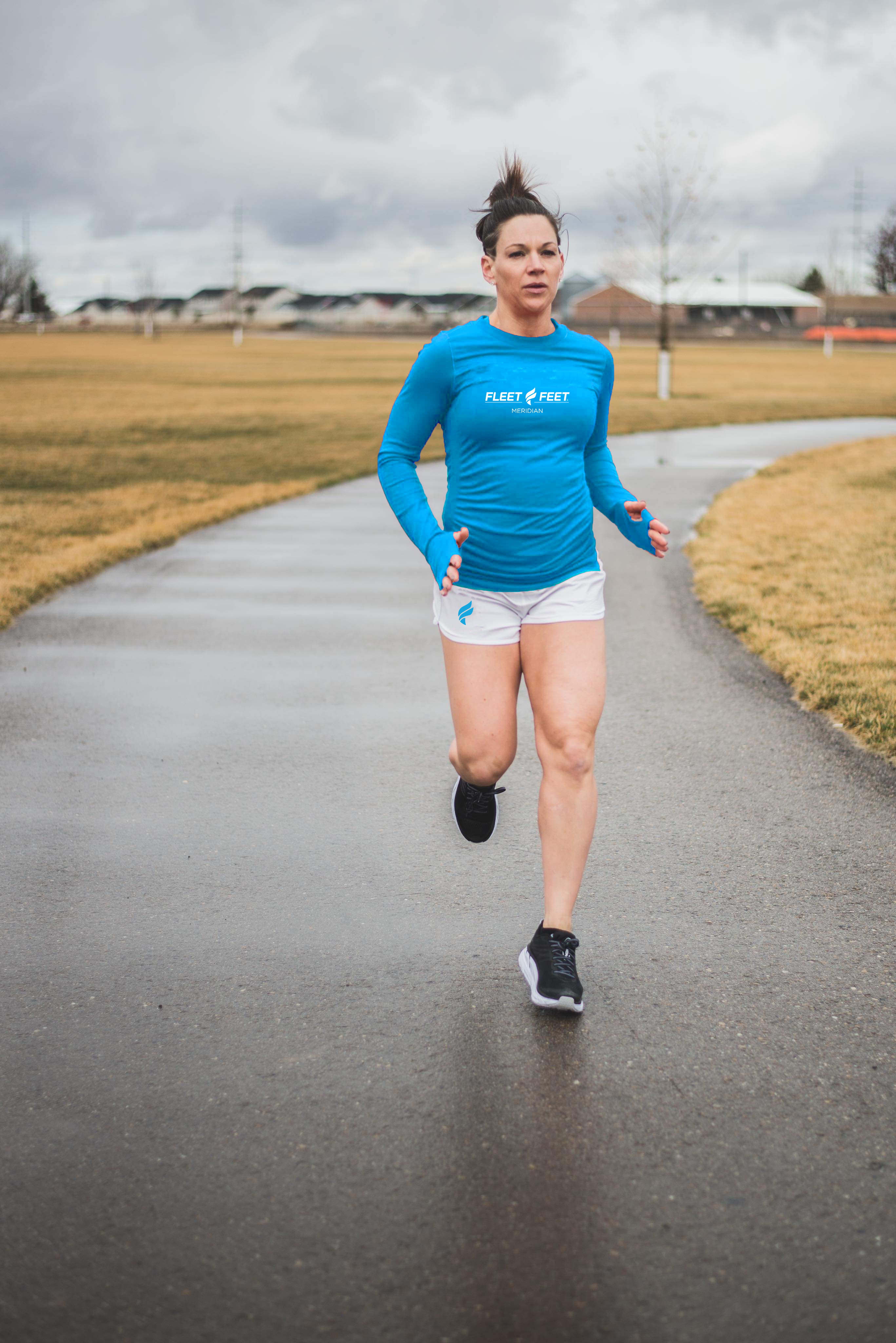 A.K. Whittaker is a mom and athlete, passionate about her family, fitness, and especially running! She now has 10 years of experience in the fitness industry that began with a part time job at her local YMCA as a group fitness instructor. Within a year that part time job grew into an passionate full time career as a Personal Trainer and Nutrition Coach.
In the last 10 years A.K. has completed more than 10 Full Marathons, more Half Marathons than she can count, two IRONMAN 70.3's, and literally hundreds of 5 and 10Ks. By 2020, Racing almost every weekend had become a lifestyle for A.K.
However, A.K. Whittaker is no stranger to adversity. In 2018 while running a marathon in Washington , A.K. was hit with a life threatening medical condition that landed her in the hospital for 13 days with a long recovery in front of her. As she finally was able to begin her running career again after several months of physical therapy- she was nominated for a Humans of HOKA award which she received in January 2020. A.K. believes in redemption, second chances, and working hard to achieve your dreams. Most importantly A.K. has lived the magic of what movement can do for your soul, whether it is walking, jogging, or running.
The credentials that A.K. Whittaker brings to the table as our Running Coach are numerous but she titles her name with: Run Coach, Personal Trainer, Nutrition Coach, Rossiter, and USA Weightlifting Level Two Coach.
A.K. Whittaker's biggest running dream is to complete all six Abbots World Marathons. With two under her belt, Boston in 2018 and NYC in 2019, she is working toward Chicago this year for Abbots Marathon number three. Her dream is to someday complete London, Tokyo, and Berlin. Training looks a little different right now for A.K. than it did two years ago-she has always had to juggle being a mom and an athlete- but she now has a beautiful 9 month old baby that she gave birth to in June. Training with a postpartum body has been a major adjustment, but as A.K. says, "there is magic in movement, and I will ALWAYS embrace that gift!
---
INFO SESSION
Monday, July 24th at 05:30 PM
Not sure this program is for you? Just curious about what a training plan is? Want to just come hang out and learn more?! Join us at Fleet Feet Meridian on Monday, July 24th to learn all about the training program. Meet Coach A.K. and ask all the questions :)
RSVPs are not required but appreciated! Learn about the info session here!

3573 E. Longwing Lane
Meridian, ID 83646
2023 Fall Training Program
Program Start: Monday August 7th, 2023
Program Schedule: Weekly in-person runs, weekly virtual mobility and strength training.
Program Fee: $100 + tax & processing fees