Our Meridian store manager, Alex, provides some great tips and routes on staying safe when you hit the trails.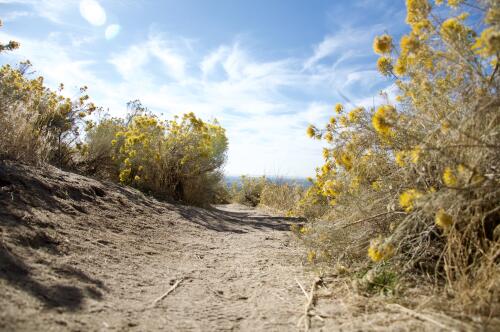 Spring flowers line the trails at Hillside to Hollows in Boise.
For me, one of the positives from the COVID-19 crisis has been the opportunity to explore some epic trails in Boise and the surrounding areas. With more time on my hands, I've been able to do some pre-run research and take the time to venture to several trailheads.
Getting an early start helps, but even when I've slept in a bit, I've been able to complete runs without seeing more than a couple people the entire time. I wanted to take some time to share some tips and routes for those in my shoes. So lace up your kicks, tell someone where you're heading, and hit the trails!
Do the Prep. Utilize Ridge to Rivers' website or check out Alltrails to explore some of the local trails. Download the app Footpath to literally route out your course beforehand. 
Get the Gear. Grippy and durable trail shoes are worth the investment. In addition, hydrating and fueling is key due to these efforts taking longer than the neighborhood loop or Greenbelt. Don't forget to consider technical apparel and fashionable Goodr sunglasses to help protect you from the elements. 
Run Responsibly. Give other runners plenty of space and when in doubt, communicate with them so that you can get by without breaking the six foot rule.
Be Aware. From grazing sheep to mountain bikers, be aware of those around you. I recommend bone conduction Aftershokz headphones to know what's happening while still enjoying your tunes. 
Tackle the Climb. Most trails will be front-loaded with elevation, meaning that the first half will have more uphill climbs than the second. Lean in to these climbs and feel the burn! You'll be able to enjoy and recover when you reach the top and can bomb the downhill. 
Enjoy the Journey. On the flip side, these trails can be very challenging. Listen to your body and take your time to enjoy the wonderful views around you. Whether you're after a killer workout or some fresh, mountain air- the decision is all yours!
Alex runs in the Danskin Mountains outside Boise.
Now that you're ready to hit the dirt, check out some of my favorite runs. Download 
Footpath
 to view the routes, turn by turn directions, elevation gain, and even access your location while you're out there to make sure you're on course. If you're like me, this will come in handy big time!
Eagle Bike Park: This is a shorter effort with a nice big hill at the beginning! Best to get it out of the way first, right? Just under four miles.
PoleCat Gulch: Consistent climbs with some winding single track. Great views and a really fun one to run. Around five miles.
Camel's Back: Potentially the most crowded but some breathtaking views of the front range, downtown Boise, and the entire Treasure Valley. Five miles on the dot! 
As always, the team at Fleet Feet is here to help. Whether you have some quick questions or in need of a virtual outfitting experience, give us a call from 11-6 Monday through Saturday, and 12-5 on Sunday at 208-888-0359. Enjoy the trails, stay safe, and remember: running is not cancelled!