I met Nick Villanueva through my husband; they are co-workers out at Micron Technology. Nick was there when I ran my first 5K, and he is the reason that I found Fleet Feet and Team Run Boise. Although I jokingly call him my running husband (mine doesn't run), he has become something like a big brother to me, and I have no qualms about calling him one of my closest friends. Two weeks ago, I was able to celebrate with him as he crossed the finish line of his first half marathon: The Zion Half Marathon in Utah.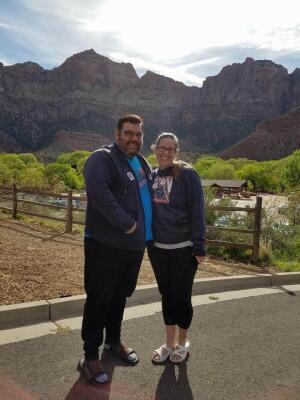 When I asked Nick why he runs, he said, "I started running for my health, and I still do. But through that, and finding Team Run Boise, I find that I run for more than that. I found a running family that is not only fun, but it also supports me and my running goals. I run to encourage my family at home to be healthy. Running has been a stress reliever, and that affects every other aspect of my life. I run because I like to challenge myself to do something I never thought I would do."
The course for the Zion Half was tough. It had a little bit of everything- from road, to trail, to squelchy mud from the rain and snow the day before, and from steep inclines, to flat space, to uneven downhills. Much of the race ended up being single file through the mud to keep from falling or ending up ankle deep in muck. In Nick's words, "It was a trip."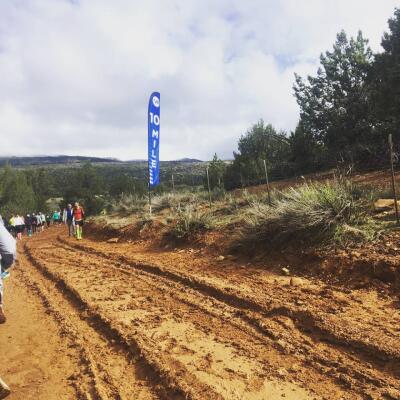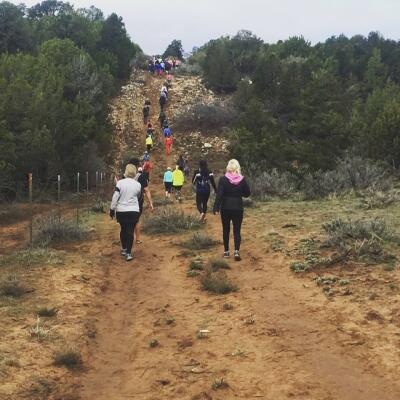 Nick started running after living in Singapore for 8 months for work. He says that he gained a lot of weight while there, and knew that he needed to make a change for the sake of his health. "When I got back from Singapore, I started dieting and working out - just started by stepping in front of the TV at night."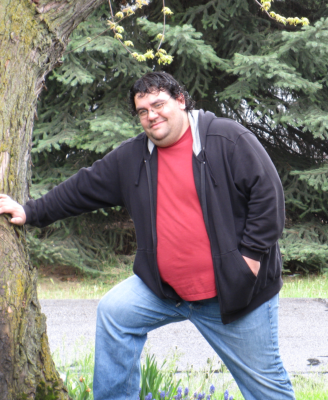 A year later, he had lost 100 pounds, but still had a way to go before reaching his goal, and he had plateaued. He couldn't figure out how to break through the wall, so he joined his friend Loni in a trip to a new local running store, which just happened to be Fleet Feet, to buy some shoes. While there, Loni was talked into starting the store's No Boundaries (NOBO) 5K program, and not long after, Loni persuaded Nick that trying something different, like running, might help jump start his weight loss again. Nick, who never liked running, and never really wanted running in his future, ended up signing up for the program. He says, "It's important to be open to ideas that may include the word 'never' in your mind." He also says that joining the program in March of 2016 was one of the best decisions for him.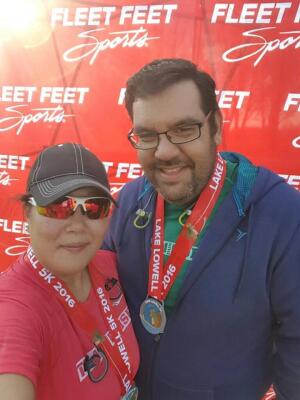 When it comes to his first half marathon, Nick had a lot to say about the experience and his thoughts throughout the race. "When I signed up for this race, it was back in early fall 2016. My plan was to train all winter long for this race, but that didn't exactly happen. My work life got really busy, and we had one of the worst winters to date in Idaho. In January, I made the decision not to do the race. I offered my spot to someone else within my running group; it was only because their plans fell through that decided to just do it! I was a nervous for this race. I was nervous that I wouldn't be able to finish it. I hadn't done the necessary training to complete this. And being a bigger guy, if I did happen to finish it, I was worried I wouldn't be able to do it in the 4 hour limit that is given. I didn't wanna do it and have to be pulled off the course for being too slow. I would have been humiliated. So I resolved in my mind that I would just get it done as well as I could. And whatever happened would happen." The race started high on a mountain, so of course, what goes up, must come down. The first several miles of the race were downhill, and there was some snow and rain in those first few miles as well. As Nick trudged through the mud of the resort where the race started (the entire first mile was mostly slogging single file through deep, sticky mud), he admits to thinking, "Oh God, what have I done." Once leaving the resort, the next several miles were a slight decline on a paved road, which went by pretty quickly, as most of the races Nick has done previously are road or greenbelt races. He ran with another Team Run Boise veteran, Vanesa, and he gives her credit for helping him get through the harder miles. "When the course got hard, it was great to have another person to encourage me but also to get my mind off the aches and pains my body was feeling- when you're with someone for 4 hours, you end up talking about EVERYTHING! From mile 6 on, it was just about conquering one mile at a time. It was about coming around a corner, seeing what was in front of us, and knowing I had to get over it, no matter what." When completing a hill would lead to yet another hill, it got tough mentally, but Nick was able to overcome. "I laughed and had some choice words for the course, but you muster your strength, forget about the third toe on your left foot that became one giant bleeding blister 3 miles back, and you go!  I stayed focused. That's how I did it."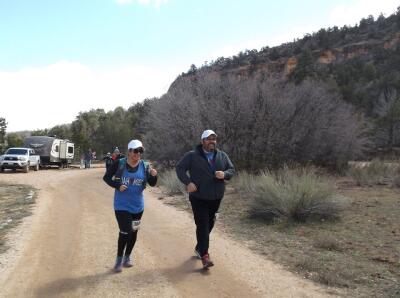 But in the end, he admits that it was definitely worth it. "Crossing the finish line was almost like a dream. My mind didn't really comprehend how far I had gone. My body sure did though! I kept thinking 'Did I really just do that?  Was it really that far?  Was a I really in a constant state of moving for 4+ hours straight? How did I do that?'  It's still a little hard for me to understand, honestly. I had never pushed myself so hard to accomplish something like that."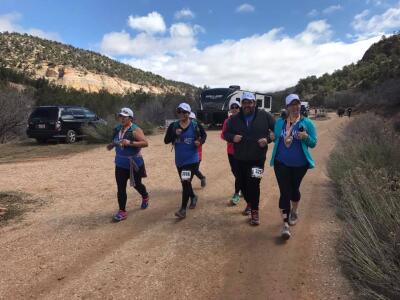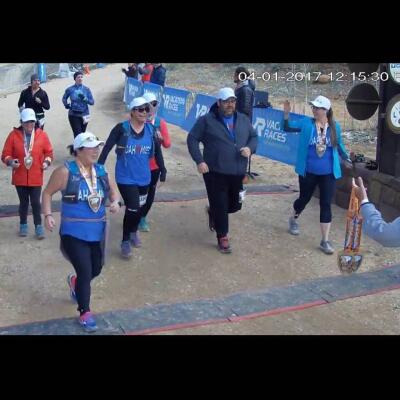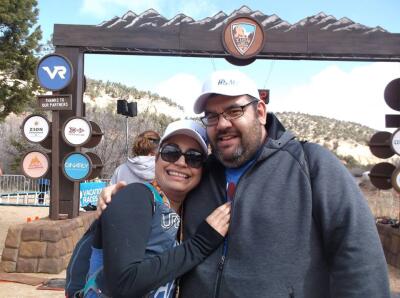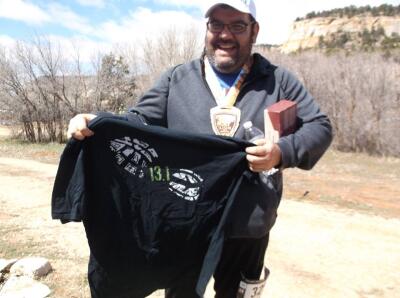 There were several "Idahomies" (our Zion Half team name), that made the trip to Zion to either participate in the race, or volunteer and cheer as participants crossed the finish line. I think it is safe to say that all of us felt emotional when he crossed the finish line. There were hugs, tears, and laughter as we celebrated with him. In a Facebook post, Vanesa said, "I am so proud of Nick for his first half marathon, and I was so glad I was next to him on his journey through Zion."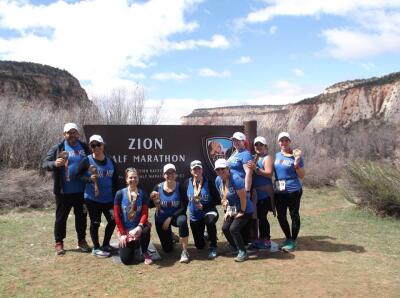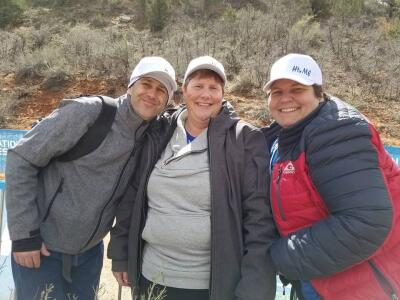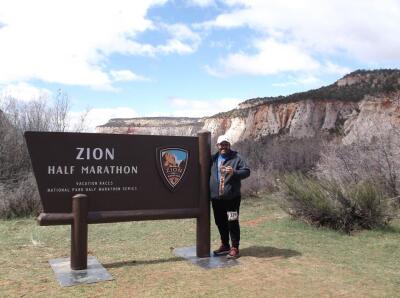 For Nick, there were several key things that made him successful that he would pass on as advice to others considering a half marathon:
Trust your body and prepare for a beating. "I had pretty good shoes and lots of KT tape, and I was prepared to stop if my body gave up on me." He knew that finishing the race wasn't worth injuring himself, and he was pleasantly surprised at the way his body held up, "I emerged with a blistered toe and tender bottoms of my feet. The knee I thought was going to fail me held up great."

Nutrition and Hydration are hugely important. "About every 2 miles I drank and snacked on trail mix. When I felt like I couldn't keep going, I focused on nutrition and within minutes I felt great and was able to keep going."

Have a buddy. "I couldn't imagine doing more than 13 miles alone. For me, it would have been horrible and I don't know that I would have finished. Surround yourself with people that are like-minded when it comes to running. I know a huge part of the reason I was successful was because of my running family. Sometimes that support pushes you beyond where you thought you could go on your own.

Be prepared for anything. There was weather both the day before and the morning of the race, which cause changes in parking, etc. All in all, we ended up with a delayed start time of almost an hour. Add into that the fact that the terrain changed several times during the race, and it would be easy to throw in the towel, but being mentally prepared made it all doable. "I didn't know what to expect from this trip and that probably was the best thing. I had to go with the flow and chose to not get upset when things didn't go as expected. I had never done a race like this, let alone a half marathon. Seeing people from 6 different countries and runners from all 50 states was amazing. It was just great to feel like I was a part of something bigger than myself."

Proper training is crucial. "Except for a few months in the winter, I had spent many hours running for the year up to the race. And I know lifting weights in the winter helped a lot with my breathing during the race. I never felt so winded so much that I had to stop moving. I did a few 10K races leading up to the race just to see what I had lost over the winter and to my surprise, I hadn't lost much as far as my time was concerned. I felt good about that, although I probably would have trained more consistently. I survived, but I was wrecked for the week following. I know I would have weathered it better had I had more training."

Be proud of your accomplishments. "Most people in the world will not run a half marathon in their life."
Nick will continue running. You can follow him and his fitness/running/weight loss journey on Instagram (@newvillage3000). In a Facebook post about the race he said, "Finished my first half marathon with some awesome people today in Utah. 4 hours and 14 minutes. Lots of cold, lots of mud, and 2 feet in pain. And I would probably do it again."