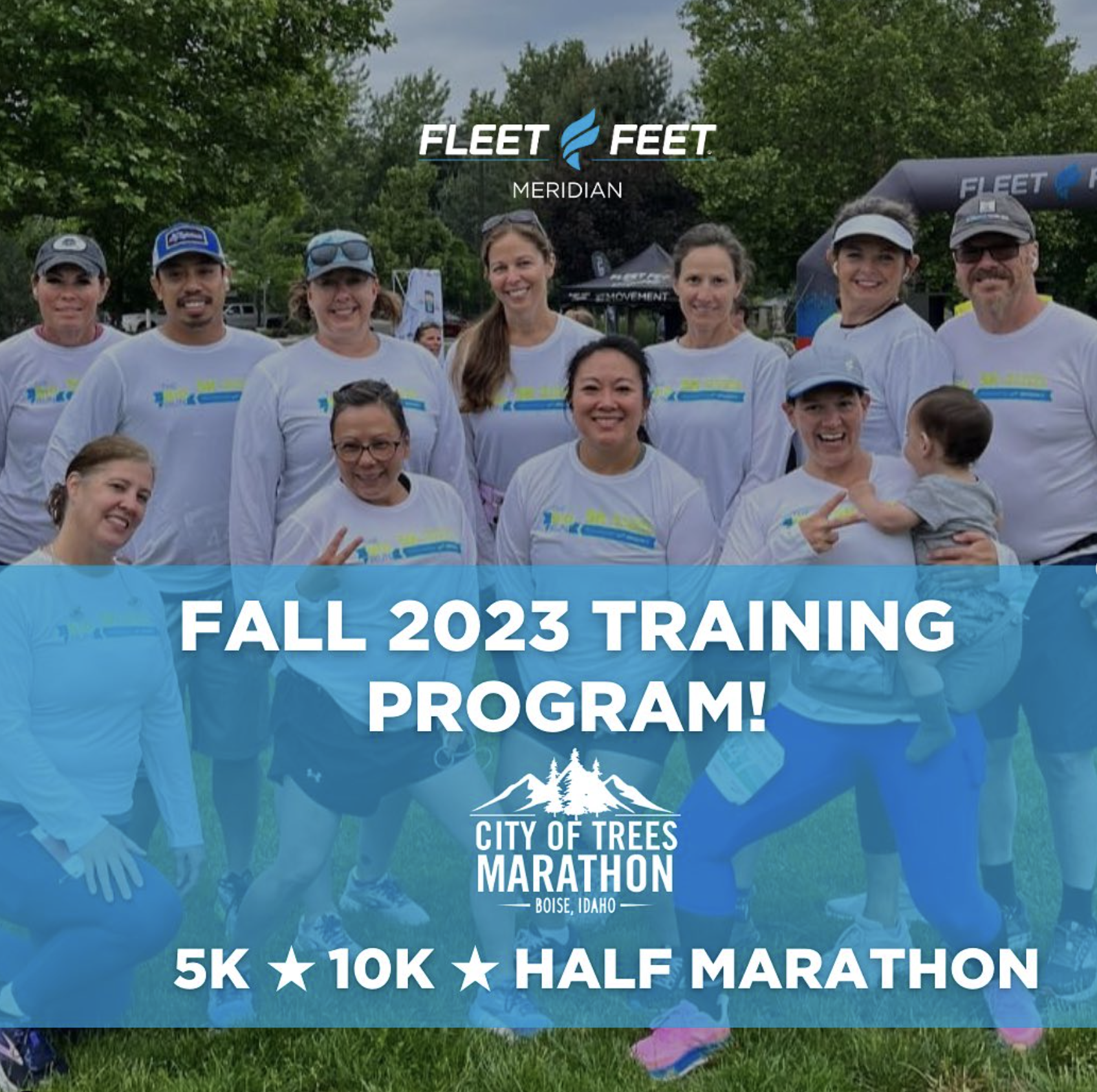 Are you ready to take your running or walking goals to the next level? Look no further! Fleet Feet Meridian is proud to announce the launch of our Fall 2023 Training Program. Designed to be the best and most accessible training program across Canyon and Ada counties, this program will cater to runners of all levels, from beginners to advanced. Led by the fabulous Coach A.K., who will also be training for the Chicago Marathon during this same training block, participants will have the unique opportunity to train right alongside their coach.
The Fall 2023 Training Program is custom-tailored to meet the specific needs and goals of each participant. Whether you're aiming to conquer a new distance or simply exploring the idea of setting running or walking goals, this program is the perfect fit for you. With three race distances to choose from (5K, 10K, and Half Marathon) and three different training levels available, there's a plan for everyone. If you are considering the marthon distance training program, that will require approval pending a coach interview to ensure your base training is sufficient kick off this training block.
Starting the week of August 7th, the program offers a comprehensive training schedule that includes a balanced mix of run and/or walk workouts, mobility/stretching sessions, cross-training, and rest days. Each week, participants will receive two recommended training days that can be interchanged with activities they already enjoy, along with a Saturday Group Run Meetup, a mobility/stretch/resistance band virtual class, and a bonus Midweek Meetup workout. The program not only focuses on improving your fitness and finish times but also fosters connection and motivation within the training group, ensuring a fun and supportive environment.
The pinnacle of the Fall 2023 Training Program is the Goal Race on October 14, the City of Trees Marathon. This race offers all distance options: 5K, 10K, Half Marathon, and Full Marathon. As a participant in the training program, you'll receive a unique discount code to sign up for this highly anticipated event.
At Fleet Feet Meridian, we take pride in offering high-quality and inclusive Run and Walk Training programs in the Treasure Valley. Our dedicated team is excited to welcome you and support you on your running and walking journey. Don't miss out on this incredible opportunity to train with the best. Join us for the Info Night on Monday, July 24th at 6:00 PM at Fleet Feet Meridian. Whether you're curious about the program or unsure of the distance you want to tackle, this event is the perfect opportunity to learn more and meet Coach A.K. Feel free to bring your questions and get ready for an unforgettable training experience.
To secure your spot in the Fall 2023 Training Program, the cost is $100. Don't delay—reserve your place today and get ready to achieve your running or walking goals like never before!