Fast, Friendly, and Frustrated: an Interview with AK Whitaker
_______________________________
This year has been rough.
Last week, we had the chance to talk with Ashley Kate "AK" Whitaker about her experience with COVID, training for the Chicago Marathon, being a single mom, and adapting to teaching virtual classes.
Many of us came into 2020 expecting the normal fresh start with new goals. But obviously this has not been the reality. For many, this year has been much, much harder than we expected.
And for those in the running world, it feels like a long slog uphill. Races are gone and so is training with the people we love. A long-time friend of our local shops, we knew we could learn something from AK's perspective.
________________
Meet AK Whitaker
AK Whitaker is known for being fast. She has placed first overall in her age group in numerous races and was named a Human of HOKA a couple years back. She loves the marathon distance. In 2018, AK ran the Boston Marathon and qualified for the New York City Marathon. The following year, she ran the NYC Marathon and qualified for the 2020 Chicago Marathon. She ran the entire NYC course clocking an 8-minute mile pace or faster, despite coming off a major health scare, as well as tacking an extra mile onto her race due to zig-zagging along the heavily-packed course. She has a dream of running all six Abbott Marathon Majors, including Tokyo, London, and Berlin (Chicago, New York, and Boston are the other three).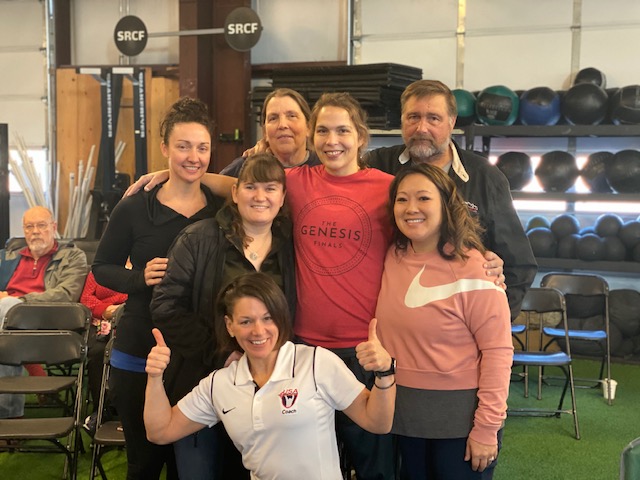 AK with some of her class members at the YMCA
Alongside her own athletic training, AK works for the YMCA in Boise. She teaches a number of in-person classes that range from HIIT workouts, bodyweight bootcamps, core, mobility, and resistance band classes. This is where AK has become known as an encourager. She's passionate about working with people and seeing them accomplish new physical challenges. She loves to see people lose the weight they dreamed of losing and run their first 5k races after having been sedentary their whole lives.
When she isn't training or at the YMCA, AK is also a single mom to her wonderful 8-year-old son, Seanathan. Rather than seeing single parenting as an immense challenge, AK speaks with love, joy, and gratitude of being the one to raise her son.
________________
Then came COVID
In March, COVID shut Idaho down. That included AK's YMCA.
By the end of March, she had no races to train for, no physical YMCA building to teach classes in, and she had to figure out being a single mom by providing education to her son on the side.
Virtual classes began at the YMCA and she was overjoyed to see people again, even if it was only through a computer screen. She recalls that this was much harder than she expected. This switch to virtual training, though a great way for her to reconnect with her community, took a toll on her physically. The methodology had to change: instead of demonstrating movements and helping participants with their form, she was fully participating in each class she taught. Like so many of us, the work required extra effort.
She was teaching about 17 hours worth of virtual exercise classes a week and virtually training a handful of personal training clients while still trying to get out onto the road and trails for her own running. She had a reputation and a leadership role to uphold, and was committed to being the face of positivity. But by mid-April, she began to notice a decline in her own motivation and personal drive.
After working online about 50-60 hours a week to help build a virtual YMCA platform from the ground up, she was trying to get runs in when she could. She was trying to be present at home with Seanathan. Although she was "at home", she was actually working and unable to be fully present, which was very confusing for her son. By the end of April, she was physically, mentally, and emotionally drained. The expectations she put on herself to be a community role model, good mother, inspirational coach, and fast runner piled up to the point of depression and by the beginning of May she found it difficult to get outside even once a week to run a 5k.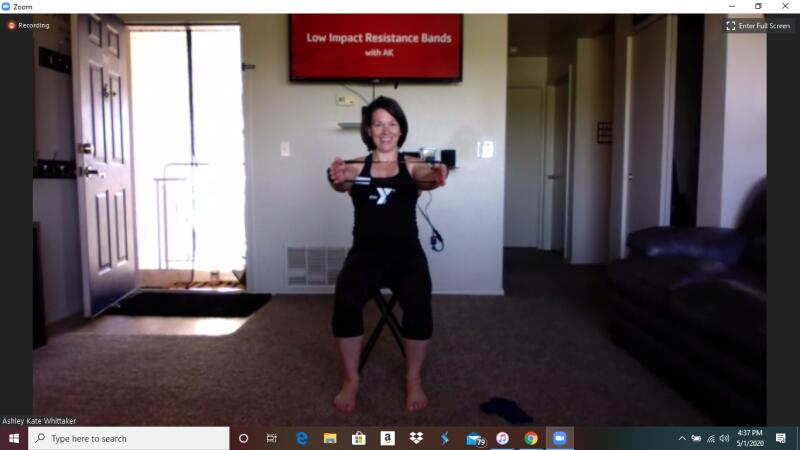 AK teaching classes on Zoom
________________
The lesson we learn on repeat: running heals
Then, on Mother's Day, AK gave herself the gift of doing 14 miles out on the trails in Boise. She took these few hours completely to herself to refocus. But things were still busy and demanding around her. She had a taste for what she missed in the freedom that run brought.
Her real turning point finally came about mid-June. Her godparents took Seanathan for the evening, and she gave herself another opportunity to just reconnect to her passion for running. She went back to Boise and ran around the neighborhoods that she had began her running journey in. Not fast. Not for time. Just to start digging herself out of the hole she was struggling to not fall deeper into—to rekindle her relationship with running.
She recalls these six miles as true bliss. She had found the time and energy to keep her body going and reconnect not only with her hometown, but with her true love. "I love running and no one can take that from me. It is not all of my identity, but running is a solid part of who I am… It can be dented and dampened but never taken away."
Little by little, AK is still digging herself out of the slump she found herself in due to COVID. She is currently working with the Caldwell Recreation and Parks Department to create a new 5k training running group (hopefully starting August 1) for the greater Nampa and Caldwell areas. She is still leading a variety of virtual classes for people all over the country and finding new joy in creating relationships with all of her clients. She has also become much closer to her son through these past few months and learned new things about herself as a parent that may have taken years to explore. Being back in the building at the YMCA looks very different training clients through face coverings and teaching exercise classes behind plexiglass, but she is grateful for the opportunity to connect, teach, and train her clients again.
COVID-19 has taught AK many things, but there are a few points of training advice that she would like to pass on to anyone else struggling with training, race cancellations, or having their life flipped upside down.
"Running never goes away...but we have to learn to be vulnerable, to be adaptable. We get the opportunity to learn from our past experiences in order to see how we move forward when life's next punches come back to hit us. This is not the end of the running road and the feelings you have now about your training, racing, or exercise lifestyle are not final. There might be a slump, and this may or may not be the hardest part of the road, but it is not the end. And when you do make it back, remember, YOU made it happen."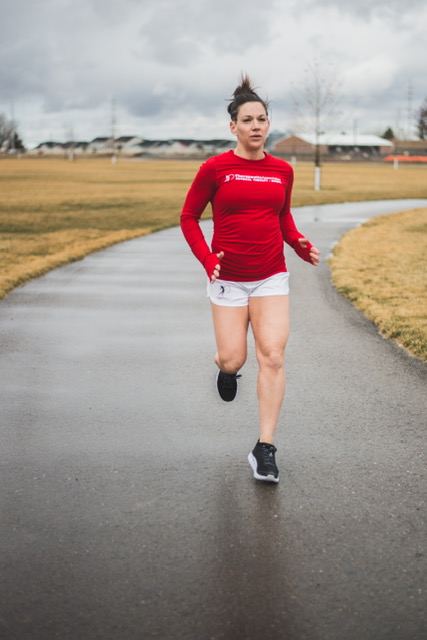 AK out on the run in Boise
________________
Our community inspires us
We hope this serves as a reminder that movement is a gift. We're inspired by AK's example to clock out of life and let go on a run. It reminds us that running helps us return to ourselves when we're depleted.
We're also inspired by how AK is caring for her local community balancing her work at the YMCA (and helping that organization design virtual services to help people stay active) with being a single mom. If you have a story like AK's, we want to hear it. When COVID-19 shut the economy down, what did you find that it was "TIME TO…" do? Submit your story here for the chance to win a head-to-toe HOKA outfit and be featured in a blog like this one.