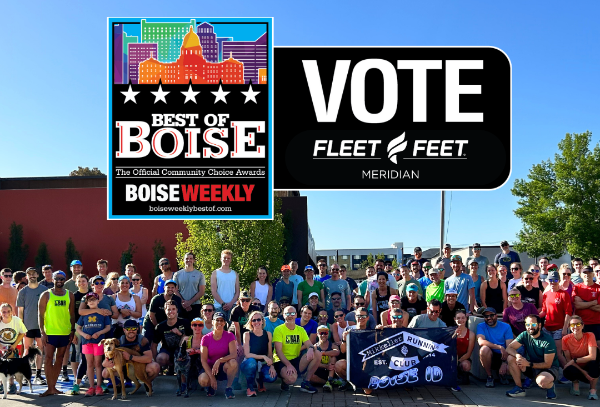 We're SUPER EXCITED to announce an incredible achievement: Fleet Feet Meridian has garnered a whopping 500 reviews on Google! We're eternally grateful for our supportive community and their generous trust. The feedback and personal experiences you've shared through these reviews have been instrumental in shaping us into the store we are today.
Moreover, our 4.9-star rating speaks volumes about our unwavering commitment to offering the best running shoe experience in town. But rest assured, we're not resting on our laurels. We're aiming to reach even higher!
Speaking of being the best, it's time to rally the troops! "Best in Boise", an annual contest fuelled by your votes, is back. This is your chance to voice your support and vote for your favorite running shoe store - us!
Click [here] to cast your vote.
At the heart of our success lies our unique Personalized Outfitting Solution. Our use of state-of-the-art 3D fit id® foot scanning technology allows us to gain a detailed understanding of your foot's unique profile and movement. This high-tech system captures 12 crucial data points, including foot length, width, volume, and arch height, creating an accurate 3D image of your foot. This invaluable data equips our expert Outfitters to determine the ideal shoes tailored to your individual needs.
But we take things a step further. Not only do we create a profile based on your 3D scan, enabling you to revisit your data when shoe shopping in the future, but we also offer a variety of insoles (Super Feet, Currex, Cadence, and Power Step). This means that you can take your customized support system with you every time you buy new shoes. At Fleet Feet Meridian, it's not simply about selling shoes; it's about matching you with the perfect pair.
In order to further optimize this outfitting process, we highly recommend visiting us on weekdays rather than weekends. You'll have the opportunity to enjoy a more relaxed and focused fitting experience, without the hustle and bustle of a busy weekend store. It's your chance to savor the journey of discovering the right shoe for your foot without any distraction.
So, don't hesitate! Come on down, get your feet scanned, try on some shoes, and join us in celebrating our recent milestone. Together, we can continue to build Fleet Feet Meridian as the finest running shoe store in Boise!
Ready to lace up? Let's make every step count!