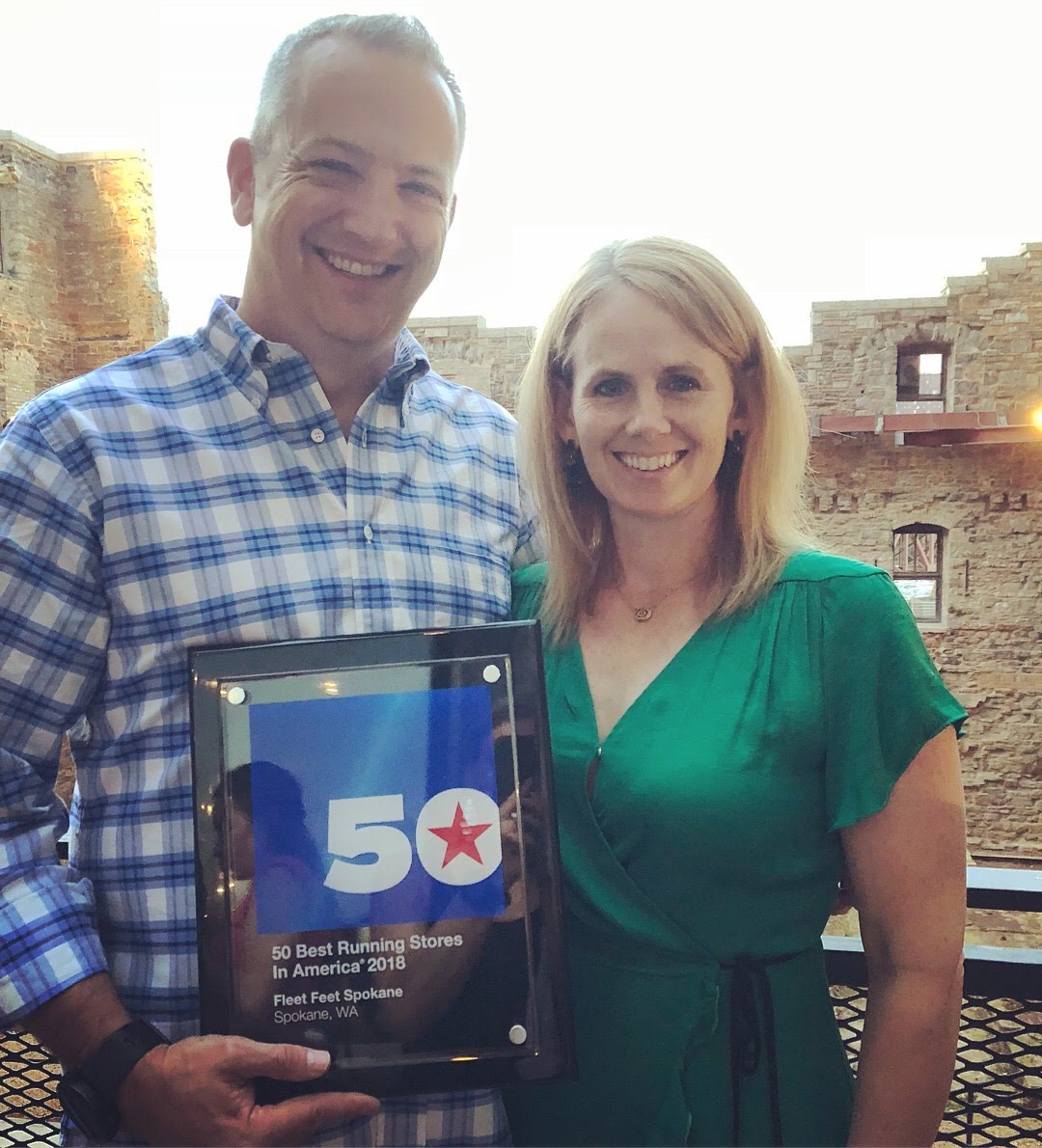 Fleet Feet Meridian is locally owned and operated by Wade and Julie Pannell. Both native to the Inland Northwest, the Pannells spent much of their adult lives in the Rocky Mountains and relocated to Spokane, WA in 2009. Along with their two sons, Grafton and Bridger, the entire family is engaged with the running, triathlon, and active lifestyle communities in the Pacific Northwest.
Wade grew up a cyclist in Montana and graduated from the University of Idaho with a degree in Landscape Architecture. After a 15-year career in resort real estate development, Wade found himself 60 pounds overweight and dissatisfied with his fitness and level of activity. After being challenged by a friend to become more active, Wade started running and at first couldn't complete a single mile without several breaks. After his first 5K in early 2006, the hook was set and the desire to be involved in helping people find their path to fitness began to grow. His love of running and cycling has culminated in the sport of triathlon and Wade completed Ironman Coeur D'Alene in 2016.
Julie was raised in Moscow, ID and grew up a gymnast. She graduated from the University of Idaho with a degree in Early Childhood Development and has spent her adult life dedicated to her children and their school communities and friends. Julie has always been committed to a fit lifestyle and in late 2010 completed her first marathon in Maui, HI. Later that year, she was surprised by an unexpected heart attack at the age of 37. As a survivor, Julie has returned to an active lifestyle of training and is committed to using her story to inspire others overcoming physical adversity in their lives.
In April 2017, the Pannells acquired Fleet Feet Tacoma followed by the three Fleet Feet PDX locations in the fall, officially establishing the Fleet Feet Northwest brand. Fleet Feet Bonney Lake and Meridian joined the network in spring 2018. In 2019, they opened an additional location in North Spokane.
Fleet Feet Meridian is dedicated to supporting greater Boise's running and fitness enthusiast communities by providing quality training programs, educational opportunities and the right footwear and apparel to meet your needs. In addition, it is our sincere desire to help others along the path to wellness, whether returning from illness or injury, or regaining fitness. Above all, we hope you enjoy the journey!
Fleet Feet Northwest Operations Team:
•Tom Griffen - Director of Training and Leadership Development (
email
)
•Rachel Ebbers - Director of Marketing and Corporate Communications (
email
)
•Nicole Lund - Merchandising Lead (
email
)
•Chris Campbell - Warehouse Operations (
email
)
•Ein Huie - Digital Marketing Lead (
email
)
•Julie Myklebust - Footwear Buyer (
email
)
•Megan Hamilton - Accessories and Apparel Buyer (
email
)
Meridian Retail Experience Manager: