MORE RUNNERS = MORE FUN!
We run training programs throughout the year to offer camaraderie, structure, skill-building clinics, and support to runners and walkers of all levels.
These coached programs include individual instruction; group runs; custom training plans; seminars on stretching, nutrition, cross-training, and form; race preparation and support; and a lot of fun! The classes run for four to 18 weeks. Most are directed toward specific goal races. 
2019 TRAINING CLASSES
Spring Half: Train for the Capitola Half Marathon

Starts April 16; $100. 
A five-week program designed as an extension to the Presidio training or for runners already comfortable with the 10 mile distance. This short program will target the Capitola Half Marathon on May 19. Class meets Tuesdays at 6:30 p.m. and Saturdays at 7:30 a.m. 
April 16—May 19.
Sign up.
Pescadero Trail Team: Hit the trails with us!

Starts May 14; $200.
A 12-week program building to the Pescadero Trail 30K (or 16K) on August 3. Class meets Tuesdays at 6:30 p.m. at Portola Valley Town Center (note slight location change) and Saturdays at 7:30 a.m. at varying park locations. 
May 14—August 3. 
Sign up
.
Crystal Springs 5 Mile Trail Team: Getting Started Trail Running

Starts May 15; $200. 
Get out on the trails with us! Explore our gorgeous local trails in this 12-week program building to the Crystal Springs 9K in Huddart Park on August 4.  Class meets Wednesdays at 6:30 p.m. in Portola Valley (corner park at Alpine and Portola roads) and Saturdays at 8 a.m. at varying park locations. 
May 15—August 4.
Sign up.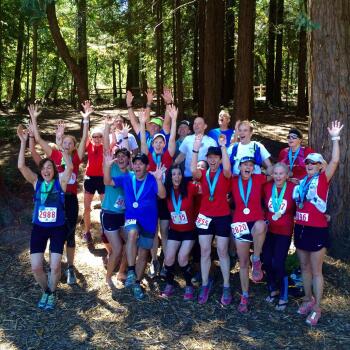 Running is more fun with Fleet Feet!
As well, our Thursday fun runs meet every Thursday evening at 6:30 p.m. The free, drop-in group runs vary from 3- to 6-mile routes around Menlo Park and Atherton.
If you're interested in signing up for a training group or would like more information, email Lisa.
---
Filter by Program Type: All | Specialty | Other
Program Start: May
Program Fee: $200 (excluding race entry fee)
Description: In May two trail programs launch. Our Trail 5 Mile team will meet Wednesdays and Saturdays; our Trail 30K team will meet Tuesdays and Saturdays.
Program Start: Our coaches are the best!
Program Schedule: Programs run year-round, with evenings and weekend group runs.
Program Fee: ex: $100 excluding race fee
Description: Our coaches are fans of running who got to know us through our training classes. They are knowledgable trainers and great people to run with!
Interested in being a FFMP coach? More Info »
Program Start: We offer programs throughout the year.
Program Schedule: We're looking for coaches available one weekday evening and Saturday mornings