MORE RUNNERS = MORE FUN!
We run training programs throughout the year to offer camaraderie, structure, skill-building clinics, and support to runners and walkers of all levels.
These coached programs include individual instruction; group runs; custom training plans; seminars on stretching, nutrition, cross-training, and form; race preparation and support; and a lot of fun! The classes run for four to 18 weeks. Most are directed toward specific goal races.
2019 TRAINING CLASSES
Marathon Trail Team

Starts August 20; $200.
A 12-week program building to a fall trail marathon. The first class meets Tuesdays at 6:30 p.m. at Fleet Feet Menlo Park; note Tuesday locations will vary. Regular training runs will be Tuesdays at 6:30 and Saturdays at 7 a.m. at varying park locations.
Learn more
.
Monterey Bay Half Marathon Team

Starts August 20; $200.
Train for this super race in Monterey. Class meets Tuesdays at 6:30 p.m. and Saturdays at 7:30 a.m. at Fleet Feet Menlo Park.
August 20–Novemeber 10.
Sign up.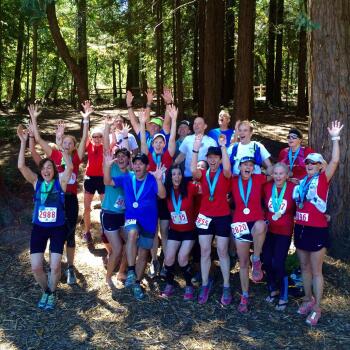 Running is more fun with Fleet Feet!
As well, our Thursday fun runs meet every Thursday evening at 6:30 p.m. The free, drop-in group runs vary from 3- to 6-mile routes around Menlo Park and Atherton.
If you're interested in signing up for a training group or would like more information, email Lisa.
---
Filter by Program Type: All | Other
Program Start: Our coaches are the best!
Program Schedule: Programs run year-round, with evenings and weekend group runs.
Program Fee: ex: $100 excluding race fee
Description: Our coaches are fans of running who got to know us through our training classes. They are knowledgable trainers and great people to run with!
Interested in being a FFMP coach? More Info »
Program Start: We offer programs throughout the year.
Program Schedule: We're looking for coaches available one weekday evening and Saturday mornings