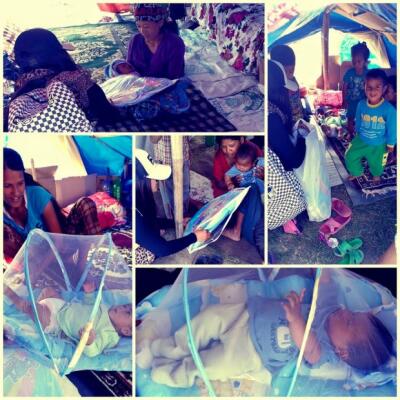 Thank you to all of the generous donors supporting the Run for Nepal and Tashi's rebuilding efforts. Together, you contributed $6,240! Thank you!
And the funds are starting to be put to good use: The Himalayan Women Foundation in Kathmandu, created and supported by Tashi's sister, recently distributed 100 netted baby beds for a Battle the Bites campaign. 
Many families are living outdoors right now, while mosquito season is fierce, because their homes have been destroyed or are unstable. They are living with very limited resources in tents and shelters built of tarps, blankets, and temporary materials. Foundation team members have been actively distributing net beds for infants at dozens of short-term camps.
From HWF: "We aim to reach every infant living in temporary shelters as possible. We want to thank Tashi N. Sherpa and people who supported Run for Nepal event for helping us fund this mission. With more help from people like you we aim to provide more relief materials for infants and children in the future."
We'd like to thank Fleet Feet West Hartford, Fleet Feet Portland, Fleet Feet Virginia Beach, Fleet Feet Sun Prairie, Brooks, Asics, Adidas, Newton, Saucony, Oofos, Gitane Boutique Menlo Park, Refuge Restaurant, SRI, and our fantastic, kind, and generous community for supporting this fund.