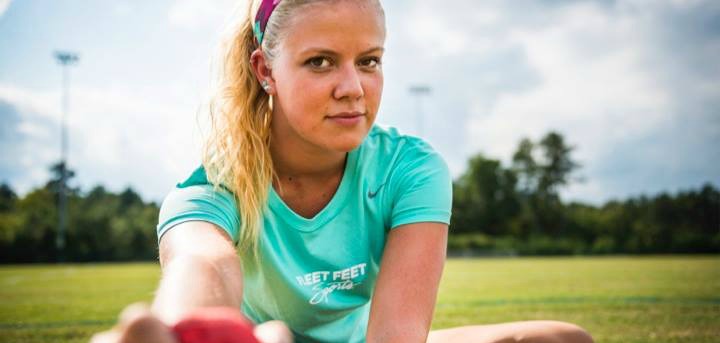 It's almost a new year, which means millions of people are setting fresh fitness goals. 
Before starting out, first check your closet. Running shoes play an important role in your fitness goals. A bad shoe fit can be way more than a nuisance; ill-fitting shoes can leave you with aches, pains, and injuries that can sideline you for weeks. Even worse? Nagging pain can discourage you from staying active full-time, making those New Year resolutions a fleeting commitment. 
Since 1976, Fleet Feet Sports has has been helping customers find the perfect fit. 
"We're not just fitting people for shoes, we're outfitting people to be successful," says Victor Ornelas, Fleet Feet Sports' senior franchise support manager and National Footwear FIT Process/Customer Experience Trainer.
Fleet Feet Sports' FIT specialists get extensive training on biomechanics, shoe fit, and the issues commonly faced by runners, walkers, and anyone who spends large amounts of time on their feet. FIT specialists also receive regular visits from shoe brand tech reps to stay informed of the latest shoe technology, options, and features.
Ready for your FIT experience? Here's what to expect:
Your Needs
To start your fitting, a Fleet Feet FIT specialist will ask about any problems or issues you're experiencing and how you intend to use those shoes. This is the time to chat about chronic issues, injuries, and goals for racing, fitness, or lifestyle. 
You'll Have Your Feet Measured
Size matters.
Shoes that are too small, too big, or don't adequately support the shape of your feet can interfere with your natural stride and lead to injury and discomfort. Using a brannock device, the FIT specialist will measure your feet both while you're standing and sitting down. The FIT specialist will observe calluses, corns, hammertoes, or any other anatomical issues that might impact the way a shoe fits. 
"We spend a lot of time understanding the shape of the foot, and assessing the bare foot so that we can bring out options that will empower the customer to decide which one works for them," says Ornelas.
Ornelas notes that even if you know your size, a FIT specialist will still measure your feet. Foot size can change over time as you age, and your body, lifestyle, and levels of activity evolve. Running shoe sizing can also change from season to season, even within the same brand. Regular fittings with a FIT specialist ensure the right-sized shoe ends up on your foot. 
Gait Analysis
A person's "gait" is the pattern or manner of how a person walks and runs, and the way your body moves and your feet land when doing either. A FIT specialist will assess your gait by observing you run or walk. 
Different Models
Based on all of the information, the FIT specialist will bring out a personalized selection of brands and models to figure out which shoe might work best for you. 
The FIT specialist will check for areas of roominess and tightness. You'll get an opportunity to take each pair of shoes for a test run or walk in the store or just outside. The FIT specialist will watch you run or walk, offer any observations about the way your body moves when you're wearing the shoes, and ask you to describe how the shoe feels. 
Options
Once you've arrived at a shoe that feels great, the FIT specialist will discuss other possible options for you, including insoles, socks, apparel, recovery items, hydration and more. Often times, a combination of items can lead to a well-rounded plan to keep you moving happily toward your goal. 
"What drives a lot of employees is that they have a passion for running and they want to share that with people," says Ornelas. "We want to inspire people to accomplish something they never thought they could, and be trusted advisors along your journey."