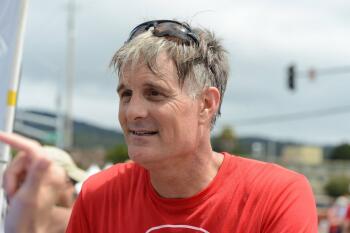 Announcing Athlete of the Week: Tim Piper!
Tim is Fleet Feet Menlo Park's greatest success story to date. When he first "joined" the team, he was a reluctant participant: To hear him tell it, he wasn't going to race with us. He wasn't really going to come to all the group runs. In fact, he wasn't sure it was his thing. 
But he ran a few miles along with us anyway, keeping us entertained with some sarcastic jokes.
This was a year ago, for our Big Sur marathon group. Over time, because of our winning personalities and a bit of relentlessness (one of Coach Sonia's super powers) ... we broke him down. He likes us! He really really likes us!
Turns out inside that aloof, debonair, noncommittal exterior, there's a heart of gold. Tim supported the Big Sur marathoners, turning up midcourse to run first-timer Carla in to the finish. He's jumped in full force with the Napa group and will be running his first full marathon this Sunday. 
We'll be there running and cheering with you, Tim, because we like you. We really really like you! And we're so glad you're on our team.