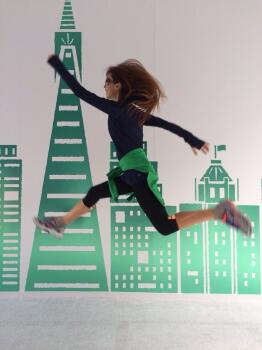 Announcing Athlete of the Week: Shirley Neve Lee.
Neve is the official leader of the NoBo Graduates Gang of Goofballs. She's always up for a run, a funny photo, and rallying her team mates. She infuses every step she takes with us with joy. We are so fortunate to have her on our team!
Only a year ago Neve joined NoBo to run with us, and kept running in the fall, completing the Nike Women's Half Marathon with our team. 
Her story is miraculous: An avid athlete who had finished a number of marathons, Neve was in a terrible highway pileup with more than two dozen cars several years ago. Only one other driver survived.
In the aftermath, Neve was paralyzed, able to move only the tips of her fingers on one hand. 
Over the course of years of physical therapy she gradually regained movement -- and now is running with us, with many leaps and bounds. From January to March, she improved her 2-mile time trial by 1:42. Wowsa!
We're so thankful we can run with you Neve, and appreciate all of the good energy you add to the group. Thanks for joining our team!