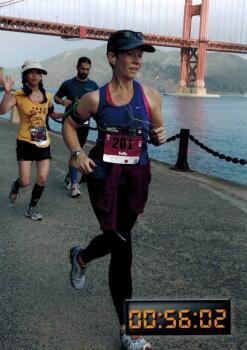 Announcing Athlete of the Week: Sally Collings!
Sally is a real super star who has quickly rocketed to speedy glory in the running world! 
You wouldn't know it from her impressive race times, but Sally is new to running. She'd been a dedicated bicyclist for years, picking up running as a side sport about two years ago. And then...she just took off! 
From last year to this, Sally improved her half-marathon time by more than 23 minutes, blowing up the 2:00 finish barrier and then some at last year's Big Sur Half. And that was just the start of it all. 
Now, she knocks out race age group podium finishes with nearly every race--most recently placing second in her age group at the Presidio 10K on Sunday. (She also had age group awards at Race to End World Hunger, the Presidio 10K last year, and at the Bay Breeze 10K in February.) She time trials have gone from impressive to off the charts!
Sally is also a trailhead and always up for some trail fun.
She says her red highlights are the secret to speed...but it may be she's just got the gift. Wherever it comes from, thanks for making us all look good!
We're so happy to have this Australian transplant on our team. Thanks for your warmth, good nature, enthusiasm, and for bringing the skillz, Sally!