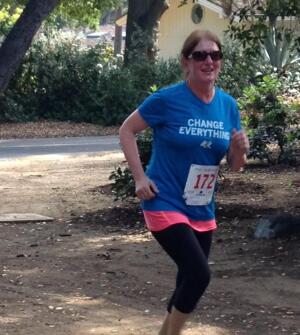 Announcing Athlete of the Week: Rosewyn Ford.
Rose started with FFMP in January, training with the Off the Couch class and subsequent No Boundaries program. She came to us after facing some serious health hurdles and crafted a modified training plan to get herself to her goal.
Rose is a consistent, encouraging, positive person who always shows up - she only missed if she was out of town or had to work. She was nominated as AOW by her team mates, who said: "She never just 'didn't feel like it.' She is especially encouraging and is always looking to the next goal." 
Rose rocked the Big Bear 5K, even after returning from her home country of New Zealand days before. She is light-hearted, fun, and supportive with her team mates -- and fiercely focused on achieving her training goals. 
We admire her determination, positive attitude, and resiliency -- and we're thrilled to have her on our team. Thanks for joining us Rose! We're happy to keep running with you!