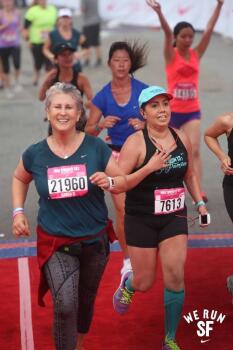 Announcing Athlete of the Week: Karen Bowers.
Karen is a rockstar jockstar who has rocketed out of the gate this year, running stronger and faster and blowing us all away!
Yesterday, Karen ran the entire Dish route from the Alpine entrance without stopping - a 2015 running goal, now completed. (And it's only March!) At her Half n Half time trial last week, Karen ran the 2 miles a --full minute--faster than her January Thrills & Skills trial. Wowsa that's FAST progress!
Karen has come back to running after battling a hip injury. She is incredibly supportive and encouraging to all of our athletes and is a delight to run with.
We're thrilled to have her on the team. Hooray for you, Karen! We look forward to seeing you rock your running this year!