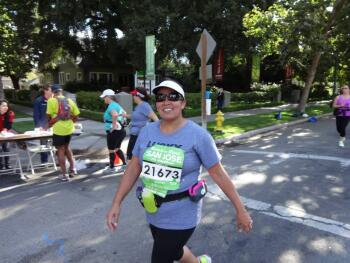 Announcing Athlete of the Week: Debbie Berumen
Debbie started out with Fleet Feet as a No Boundaries runner in our getting started class. She did two consecutive NoBo classes, later progressed to the Resolution Run 10K class, and continued on to the Nike Women's Half class. She's a founding member of the Lucky 13'ers, all of whom have blown past their original pace.
Debbie now runs the Dish every Thursday. She's finished three half-marathons, run the Presidio 10K, and she finished the SF Rock n Roll last month. Last weekend, she ran 20 miles, keeping her pal Patricia company in her marathon training. Debbie has been accompanying Patricia for many, many miles--even though Debbie herself isn't training for a marathon. She is one super supportive running friend!
Everyone who runs with her agrees: Debbie is a delight! She's always positive and very steady. She's an inspiration for her dedication and progress as a runner. 
And she brings brightness and good energy to the group at every run. We're thrilled to have Debbie on the team!