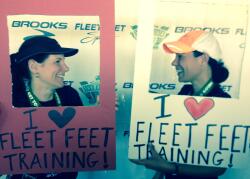 2015 Classes Open Now
January 6, 2015 -- Fleet Feet Menlo Park's training classes for 2015 are now open. Tonight kicks off the start of our Thrills and Skills 10K program; tomorrow we'll have our first ever Off the Couch Getting Started class.
Our training classes are a super way to achieve your fitness resolutions and to reinvigorate your training. It's also a super way to meet a whole crew of super duper people!
You can learn about more programs for this year here.