Running Down a Dream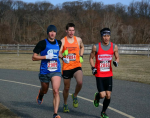 By Fred JoslynMarch 15, 2016 
When I stood on the starting line of the Rock 'N' Roll New Orleans marathon in 2011 Tom Petty's "Running Down a Dream" came on and I couldn't help but think that was a good omen for my race to come that day. I had attempted, and failed, to qualify for the Olympic Marathon Trials at least a dozen times before that. But I trained for years, putting in thousands of miles trying to achieve what was my biggest running goal up to that point of my life. I did run down my dream that day. I won the race in 2:18:49, coming in just under the 2:19 standard to qualify. It was an incredible moment. To chase a dream for years and to work so hard toward something makes it so much more gratifying to accomplish.
Earlier this month as I was driving from my hotel to the starting line of the USA 50k national championship race, Tom Petty's song came on. I couldn't help but smile and wonder if this was again my day. The dream was different. And like most goals in life, as we accomplish one, we set our sights on something else, often something greater. One dream of mine has been to qualify for a world championship race and have the opportunity to represent the United States in international competition. I've often thought this might be an unrealistic goal and I should be satisfied with the success I've had. But I have a hard time being content. I enjoy working toward something. There is a sense of purpose in working toward a goal, even if it takes years to accomplish. I truly enjoy training hard, I wouldn't be able to run the way I do if I didn't.
I've had the fortune of having some incredible training partners over the years. When you spend a couple hours every day working toward something you become pretty close with the people you share that time with. While living in Syracuse and competing for the Syracuse Track Club, I trained with some friends that will always remain among my closest. A few of those friends convinced me to run the 50k national championship race in Caumsett, NY this year. I was hesitant. Partially because last year I had attempted to qualify for the World Championships at this race, and came up short. OK, I wasn't even close. To be eligible for the 50k world championship team, men have to run under 3 hours for 50k. I ran 3:26:42, missing by almost a half hour. I thought I was prepared to make a serious attempt last year, but was well off of my target. This winter I had a string of strong workouts and with a little nudge from my friends planning to race, I decided to give it another shot. My friends Jared Burdick and Chis Raulli were also competing in the 50k in hopes of qualifying for the world team and Xu Peng was hoping to practice marathon pace for as long as possible during the 50k and drop out when his workout was completed. Jared and Chris both have impressive resumes for ultramarathons. Chris finished 6th place at the JFK 50 Miler in his ultramarathon debut and Jared finished 2nd place in the USA national championship for 50 miles last year at Cayuga Trails.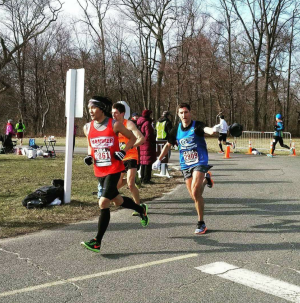 Race morning was 35 degrees, sunny and light winds. Perfect. I love cold running weather. Course record holder, and defending national champion Zach Ornelas was running. Zach was attempting to break his own record. Unfortunately, no one else was willing or able to start that fast. Zach immediately opened up a big lead. The course at Caumsett is a paved 5k loop with short out and back section each lap. This allows you to see many of your competitors each lap. In the first lap of the race Jared, Chris and I grouped up and ran together. We tried to run just under 18 minutes per 5k, the pace needed to achieve the 3 hour qualifying mark. Our pace was impeccably even. This is extremely important in a race where conserving as much energy as possible pays off. Our opening 5k was 17:55, right where we needed to be. Our 2nd 5k split 17:54. We found a nice rhythm and settled into trying to consistently run this pace. Zach had pulled away and out of sight in the first half of the race. Jared decided to chase him and pulled away from Chris and I at 20k. Chris and I continued to work together until 35k. From 25k to 35k my legs started to hurt and I was wondering how long I was going to be able to sustain this pace. We had been running 5:46 per mile, and it was taking a toll. At one point I remember looking at my Garmin watch and seeing that I had passed 20 miles, and I realized it was pretty normal for my legs to be hurting at this pace after this many miles. I tried to focus on just getting to 40k. Often in long distance races giving ourselves intermediate goals and checkpoints takes the focus off the total task at hand and allows us to get through a rough patch. I thought it was going to be an excruciating final 10 miles. I've been here before, and these races can be hard to get through. As I approached 35k, and I was realizing that I had completed 70% of the race and I was still on pace to hit the world qualifying standard, I started to have a mental boost. I was really excited that I was still on pace, and I was starting to believe I just might be able to do this! As my optimism grew, I could feel the boost from the adrenaline. I started to run faster. I was even feeling better. It's amazing how you don't notice as much pain when you become excited about the prospective achievement. From 35 to 40k I split a 17:46. My fastest split of the day. I even thought to myself that I better be careful and I still have a way to go. From 40 to 45k I ran 17:52, my 2nd fastest split of the day! I was actually going to hit the standard! On my final lap around the course, suddenly my legs were just drained. I thought maybe I got excited a little too early. As I made my way around the course I was no longer bouncing off the road, I was dragging myself through that final lap. As I approached the final mile, I saw Zach walking. He was in a lot of pain. He was paying the toll of a very fast early pace. I passed him, moving up to 2nd place. I was actually gaining on Jared from 35k to the finish but he had built a comfortable lead over me. I crossed the finish line in 2:59:19.6 in 2nd place. Jared had won the race and finished about 90 seconds before me. We were both so thrilled and I gave him a congratulatory hug. This was his first national championship. Chris hung on to finish 6th, an excellent finish in a championship race.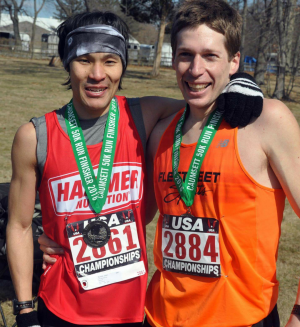 So I hit the standard, which I am still thrilled about. So I'm going to world championships, right? Maybe. I am eligible to be selected, but it is not guaranteed that I'll make the team. Automatic selection to team USA for 50k world championships is given to anyone who finished in the top 10 from the previous year's world championship race. USA had 3 men finish in the top 10 last year! That makes up half of the 6 available spots. Additionally, an automatic selection is given to the winners of the Caumsett 50k (Jared) and to the winner of the Mad City 50k in Wisconsin. That only leaves one spot available which will go to the fastest 50k time during the qualifying window. At the moment, I have the fastest time (other than the 5 people with auto entries). So, I will be selected only if no one else runs faster than me before this summer. Now I get to wait, an endurance test of its own. Regardless, I am thrilled with the results of this race, and couldn't be happier for Jared, who earned his win. I hope I can join him in Qatar this fall at the championships. If I do, I'll be running down my next dream.