Meet Fleet Feet Coach Renee Kolacek
By Karen Hendricks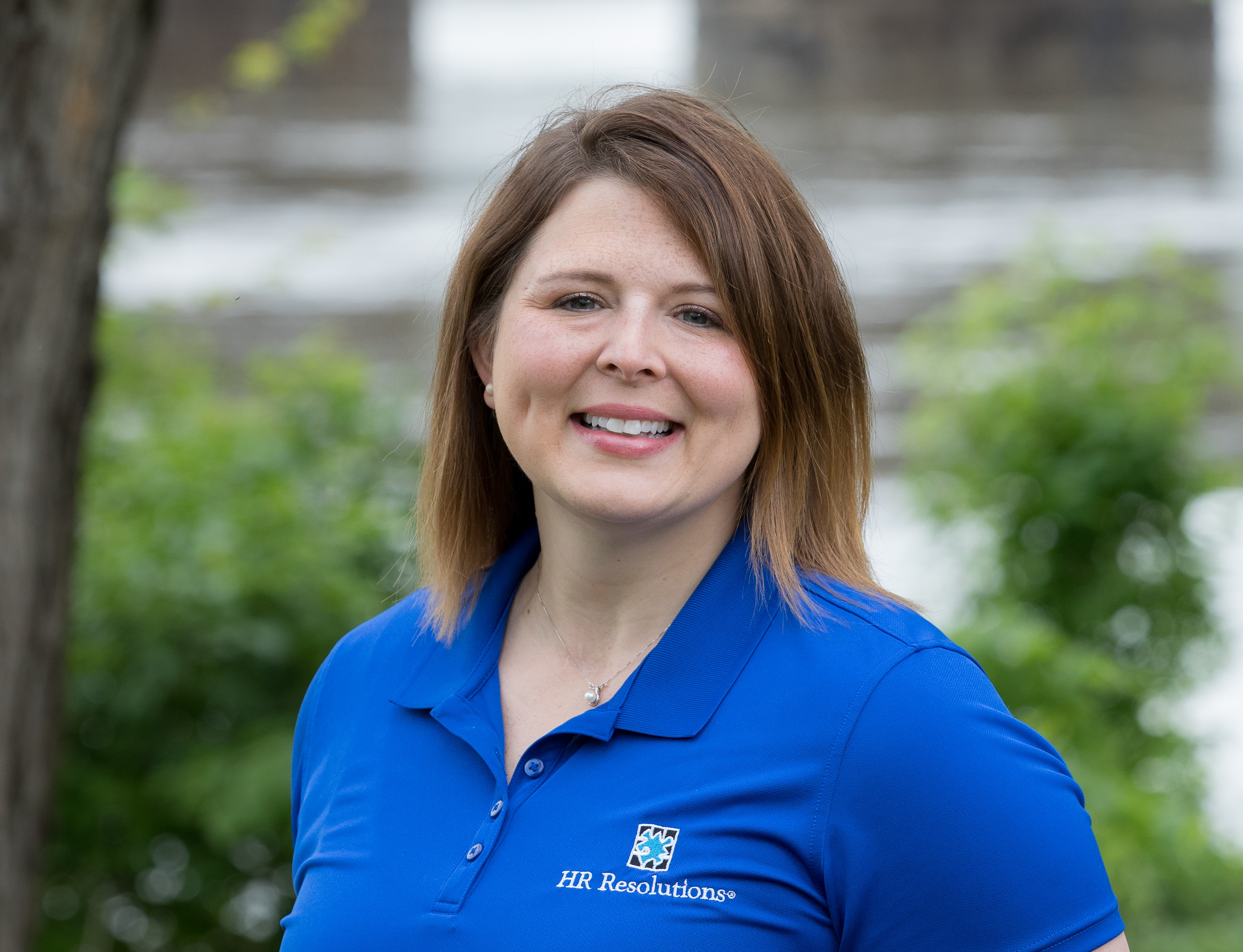 Health issues have plagued Renee Kolacek nearly her entire life. But, you would never know it from her positive, outgoing personality and active lifestyle.
At 38 years of age, she's successfully managed: asthma, reconstructive hip surgery due to being born with hip dysplasia, Lyme disease, Non-Hodgkin's lymphoma and thyroid surgery, plus arthritis.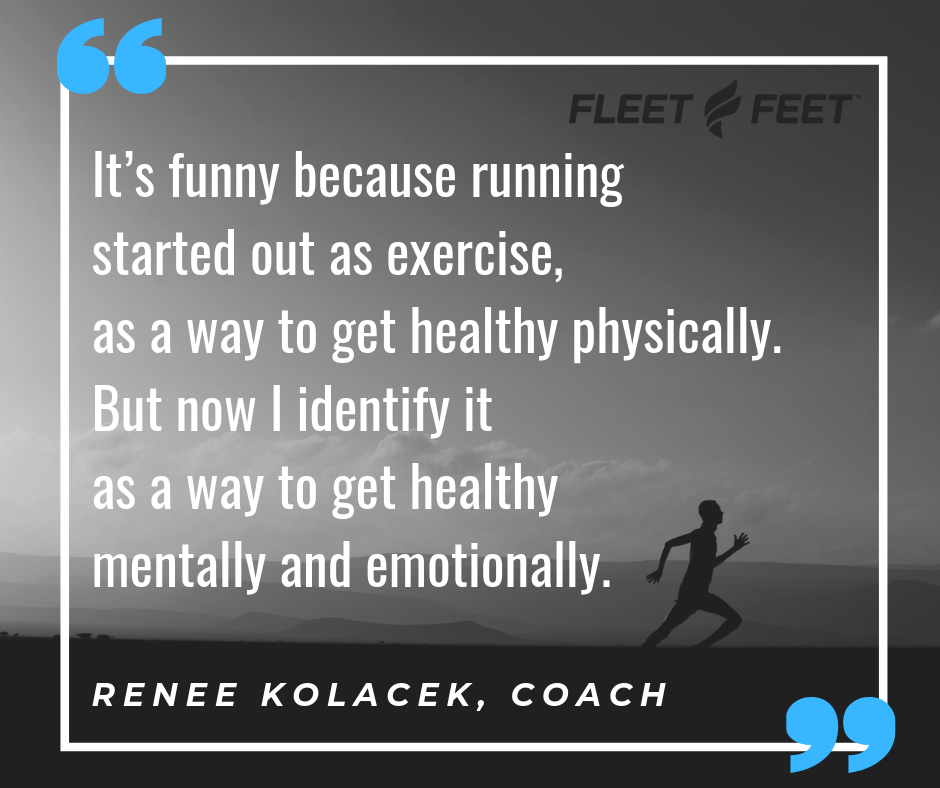 "I've been running for 10 years and it's helped me deal with everything mentally," says Renee. "It's funny because running started out as exercise, as a way to get healthy physically. But now I identify it as a way to get healthy mentally and emotionally."
Her personal journey through running is what led her to become a popular, beloved coach for two of Fleet Feet Mechanicsburg's training programs—the No Boundaries Begin to Run (NOBO) and Personal Best 5K/10K programs (PB). Some of our past training group photos—including Renee—are below; you can tell we also have "fun on the run!"
Learn more about Fleet Feet Running Club!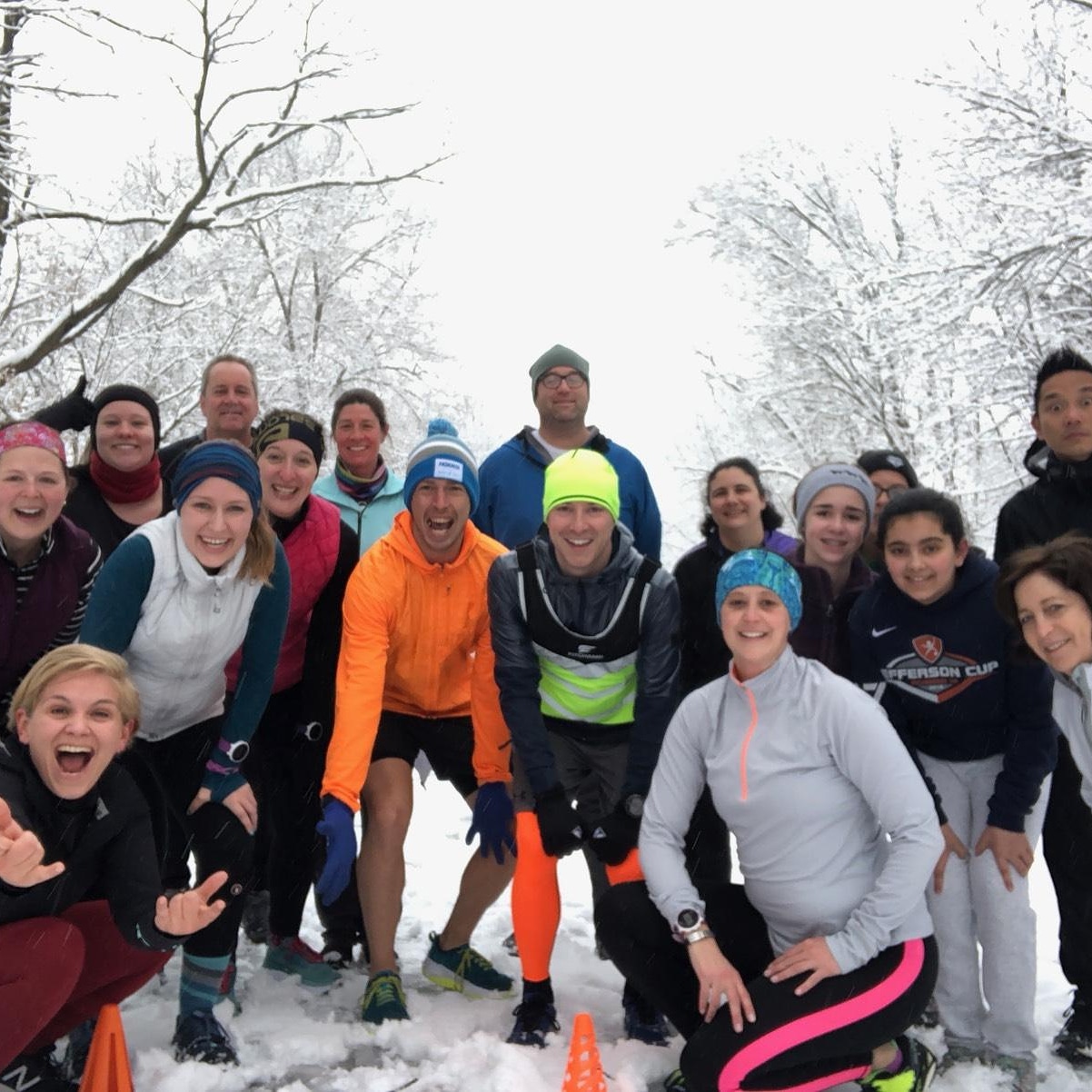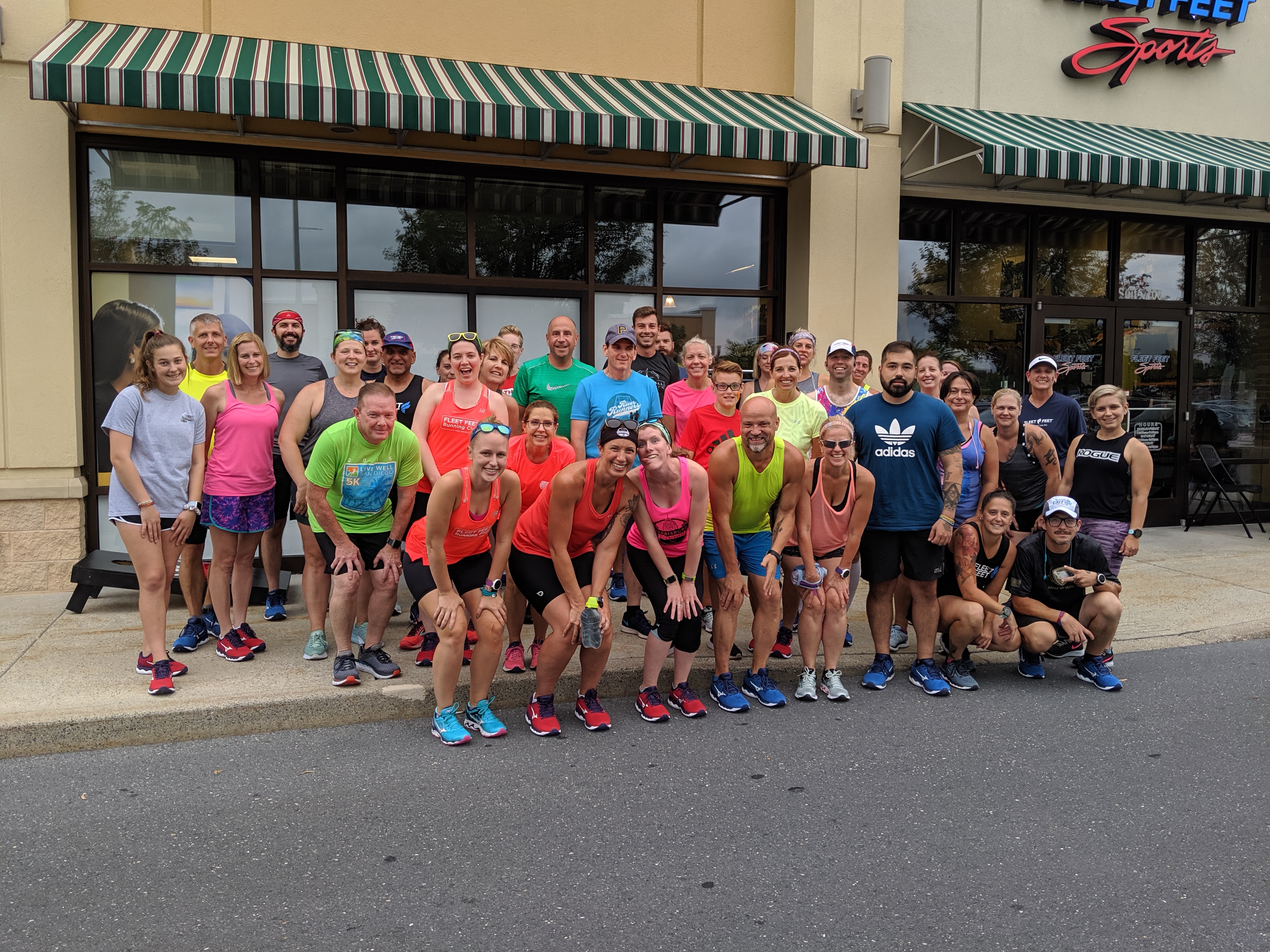 "Renee signed up for our very first No Boundaries program in the summer of 2015, and it was obvious that she's a natural leader and very encouraging of others," says Fred Joslyn, co-owner of Fleet Feet Mechanicsburg and primary running coach. He asked Renee to come on board as a coach in 2016 and she's coached every NOBO and PB program since.
"She has a gift—it's so hard to teach and find leaders who are nurturing but also providing enough push to get you where you need to be. She has the right balance," Fred says. In the photo below, Renee is on the left and Fred is in the middle—proud coaches with their training participants.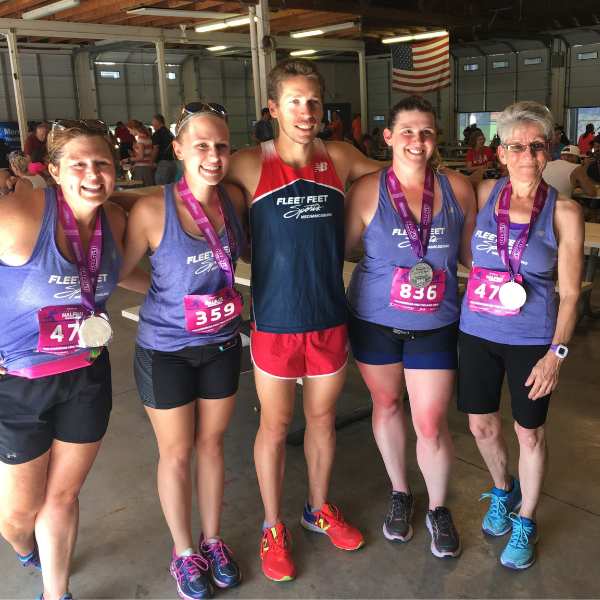 Both programs are starting a new 11-week cycle in September. While Fred designs all of the training, he relies on Renee to help coach. Runners in the PB program represent a wide range of experience and talent, but they all have the common goal of improving their 5K or 10K performances. Meantime, about half of the runners who enroll in NOBO are completely new to running, which Fred says is extremely exciting.
"The whole point of the No Boundaries program is to give people the skills and encouragement to complete a 5K at whatever pace is comfortable for them," says Fred. "And what happens is, the people who don't believe they can do a 5K—that accomplishment is so much more meaningful, the joy is so positive, and it's so fun to witness when they achieve that goal."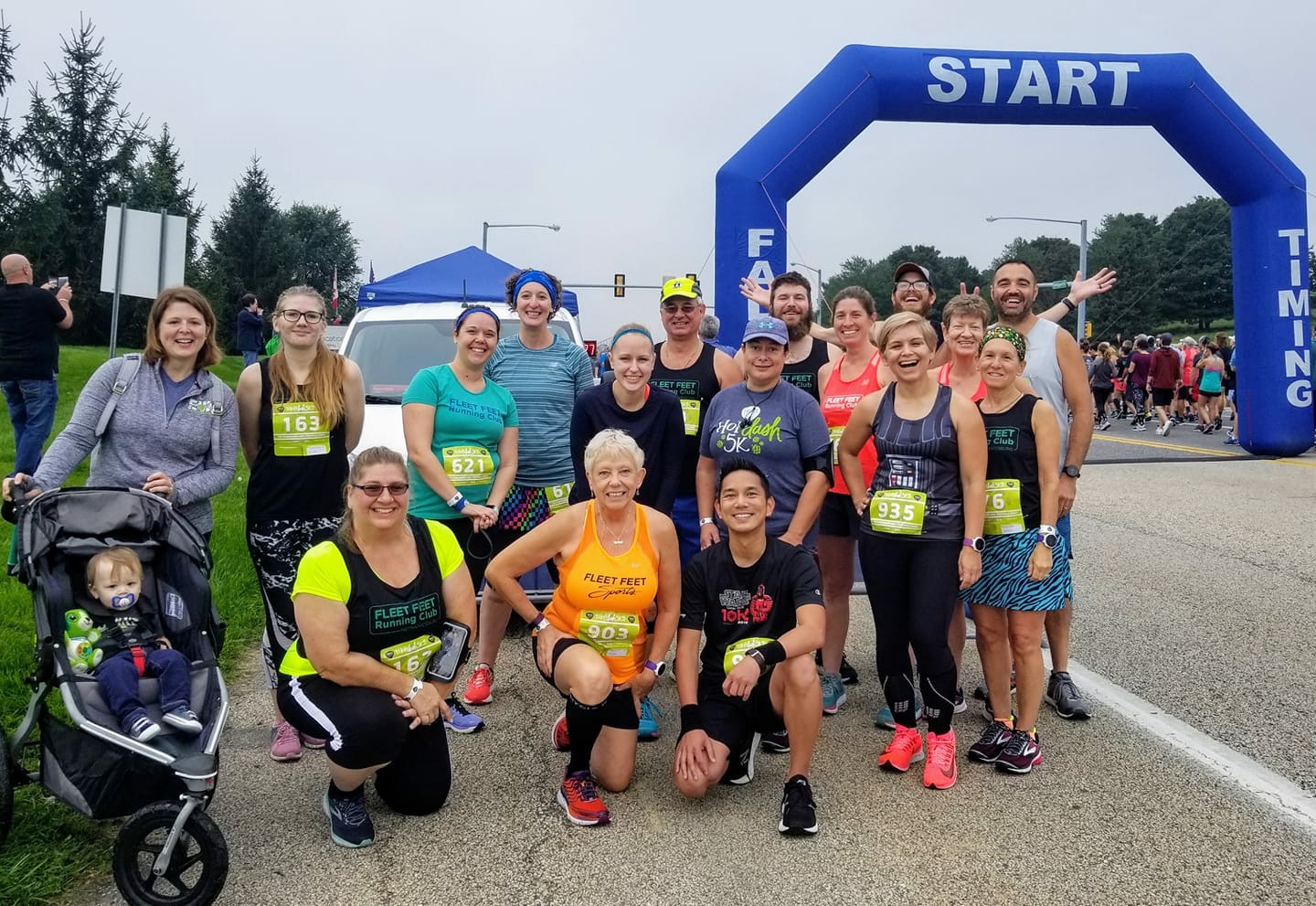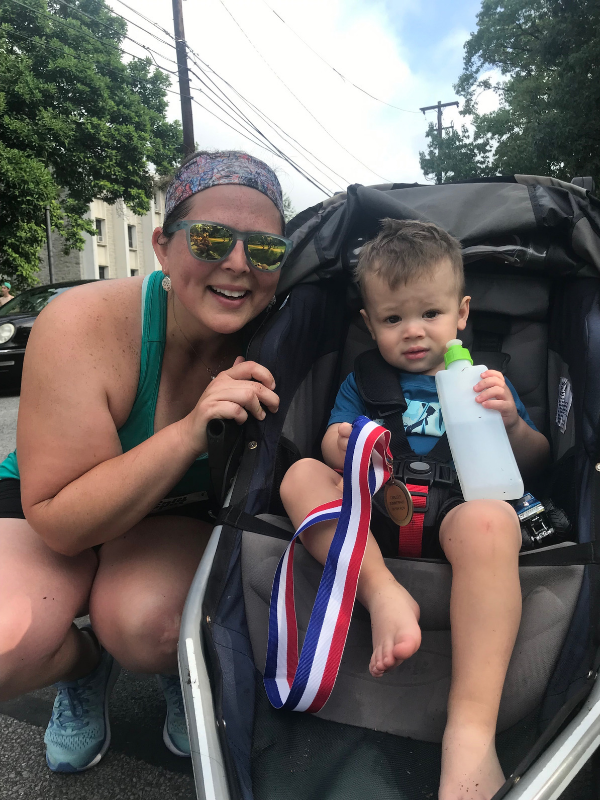 Perhaps it's no surprise that Renee's professional career is focused on human resources. She also coaches tennis for Special Olympics, and she's a wife and mom. In fact, she brings her son along—in a running stroller of course—to about half of her races and to many Fleet Feet training runs.
"I absolutely love coaching. I love seeing that progression in new runners…They don't know they have the capability, but I do. And it's amazing to see," Renee says.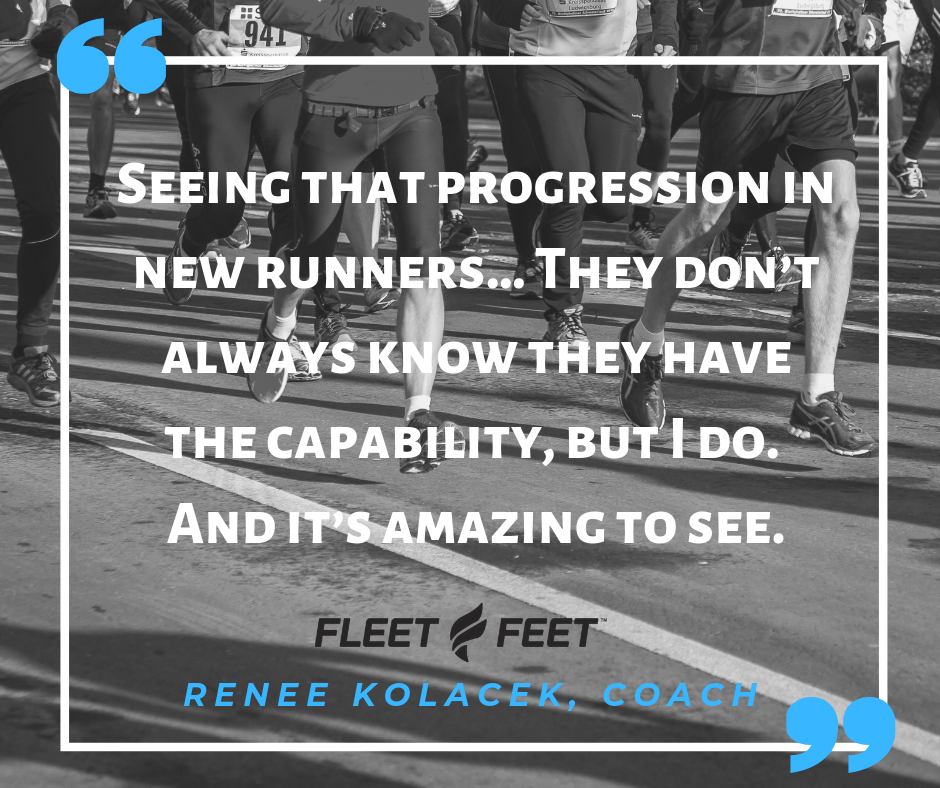 She enjoys getting to know participants, their motivation for running and their personalities. In fact, she bonded so closely with her first training group, that they still run together regularly. Their running bonds deepened into friendship, and they have supported each other through major life events—a spouse's death, another's divorce, and the birth of Renee's son. She affectionately named the group "the turtle tribe."
"I've always liked turtles, especially sea turtles, and if you think about the journey they have to make across sand…I've always looked at them as a strong animal—strong, slow and steady," says Renee.
What would she say to those considering the No Boundaries Begin to Run program?
"Call me! I would say do it—there's nothing to lose. And if you're already thinking about it, it means you want it. The hardest part is putting that foot out there and getting started. But it's so rewarding to see the transformation that running can have in your life."
Click here to learn more about the No Boundaries Begin to Run (NOBO) and Personal Best 5K/10K programs (PB) which launch on Sept. 3 (and recur twice or three times per year). Not sure which is the right program for you? Fred Joslyn says anyone who is on the fence is welcome to try a session with no obligation; call Fleet Feet Mechanicsburg at 717-691-3000 to take us up on this offer!