This past summer, I received a congratulatory letter for qualifying for team USA to compete in the 50k World Championships in Doha, Qatar. It was a moment I had been anxiously waiting for since finishing the USATF 50k championship in 2nd place earlier this year. It was assumed I would make the team, but I tried not to get excited until it was official. This has become my biggest quest in distance running; earning the opportunity to wear a USA singlet and represent out country internationally.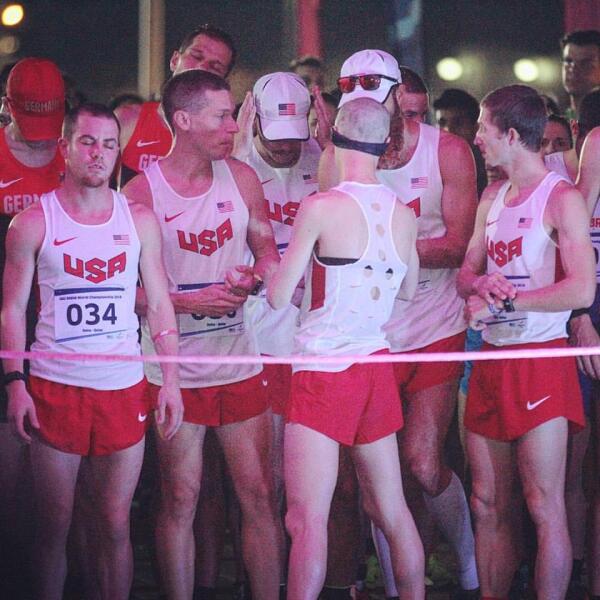 Preparation would not be easy. There were several factors that made this race a little more challenging than most. First, Doha is hot. Really hot. Race temperature would be in the 80's with moderate humidity. Second, the race would take place on bricks. Yes, bricks, the entire 31 miles. Third, the course was a 2.5 kilometer loop that we would complete 20 times. All of these factors would we be challenging, although it was quite surprising that among the American athletes we all had different struggles. Caitlin Smith, who finished 6th in the women's race, changed her shoes twice, and really struggled with the surface. Two others had asthma attacks during the race. Surprisingly, my feet held up pretty well on the bricks. Don't get me wrong, my feet hurt very much, but it was not the primary element I was struggling with. For me, the heat was by far my biggest challenge. One advantage of the short loops, was that we had regular fluid stations. Each country has a table that has fluids that we prepared for the race. There is also a neutral aid station with water that anyone can use. I took fluids at each station during the entire race. Yes, I drank 40 bottles of water/fluids during the race. It still wasn't enough.  My stomach hurt, and constantly felt full during the race, but I knew I couldn't stop drinking, I simply could not keep enough fluids in.
My race plan was to start conservatively and move up the entire race. I wanted to finish in the top 10. I also wanted to help team USA get on the podium. Team scores are calculated by the cumulative time of the top 3 runners from a country. Each country is allowed up to 6 runners, although some countries did not enter 6. I started the race right where I wanted. I was in approximately 20th place and I felt relaxed. 50k is a long way, and I wanted to let the race stretch out before I tried to start moving up. The first 15k of the race went exactly to plan. I was surprised to find that I was already moving up in the field in the first 6 laps, but I was running easily and felt confident I was going to continue to run people down. I was running as the USA number 3 runner at this point in the race. I felt a responsibility being in a very important scoring position. As I began my 7th lap of 20, I felt just a little different. I wasn't sure what it was, but I felt slightly dizzy, slightly woozy. I realized I was probably suffering just a little from the heat. I told myself not to panic, I trained for this. I spent hours on a treadmill with several extra layers of clothes to mimic the conditions. I was ready. Except it didn't go away. By 20k I consciously slowed my pace down. I didn't feel like I was running very fast, I was running around 5:45/mile, again, I trained for this. This pace was second nature to my legs, a fluid natural stride...it didn't matter. By 25k I was suffering. I still had half the race to go, and I felt like I might be in trouble. Interestingly, I didn't feel too hot, but I simply felt like the heat was sucking all my energy out of me. I was losing the power to stay in an easy rhythm. Instead, I felt like if I pushed any faster I was going to pass out on the course. I knew I had to manage the condition the best I could. The second half of the race, I simply tried to manage my situation, keep myself on my feet, keep moving. I didn't know where our USA team was, but I knew I had to finish the absolute best that I could, whatever that may be. I held up well enough, until the last lap. I remember thinking I was going to force myself to pick up the pace on the last lap, it was after all the LAST lap. As I tried to accelerate my body rejected my enthusiasm. Instead, I felt nauseous. I felt I might actually collapse. I couldn't do that. I needed to get to the finish line.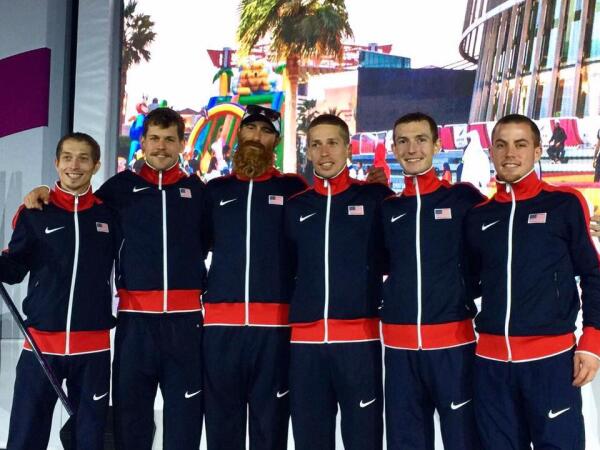 As I finished, someone asked if I was okay. I tried to say "yes" but found myself in a wheelchair, and then on a bed in a medical tent. When I had recovered enough to talk, I answered the question "are you okay?" with "I'm just hot." Seemed simple enough. I had no idea where I finished, but I knew I was disappointed. I thought of the heat training I did. The thousands of miles I'd run this year to prepare. What did I do wrong? What I love most about distance running is that we determine our success. Our hard work earns our results. The harder we work, the better we do. But in these conditions, sometimes the race dictates more than we control. I did everything I could. In a way, I was content. This was what I was capable of on this day, in these conditions.
While sitting outside the medical tent recovering, one of my teammates informed me we had won. We had won the team competition. The men had won the world 50k championships. I was overwhelmed. I cried a little, a mix of joy of our victory and frustration that I did not finish higher. My roommate, Tony Migliotti had repeated as world champion. I've trained with some exceptional athletes, but no one as brutally fierce as Tony. Tough conditions meant nothing to him. Tyler Andrews finished 2nd. USA had 1 and 2 in a race that included 2:13 marathoners and plenty of runners with much faster PR's than our team. I soon learned, many runners dropped out. We were moving up in the standings as teams were decimated by runners not completing the race. We had persevered. All 6 members of team USA had finished in the top 16. In the women's race, the USA women fought admirably for a silver medal finish, led by Heather Tanner, who finished 4th overall. This is a team that I will always be proud to have been a part of.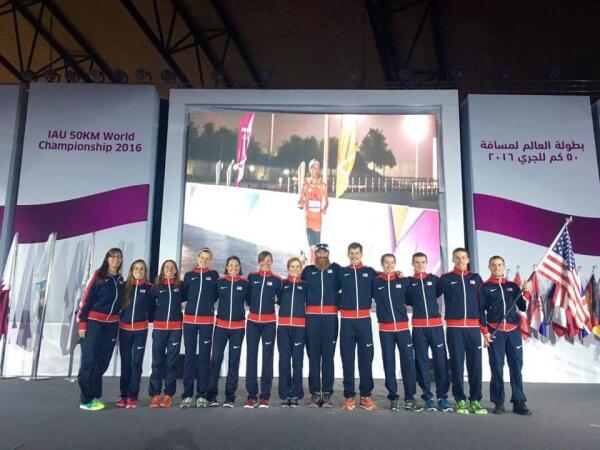 Our Men finished:
Tony Migliotti 1st place
Tyler Andrews 2nd place
Bryan Morseman 9th place
Tommy Puzey 13th place
C Fred Joslyn 15th place
Eric Senseman 16th place
The most meaningful aspect of this experience, was not winning Gold medals. It was the outpouring of support we felt. Our community was incredibly supportive of our team and of my place on it. This is what racing in a USA singlet is all about. Racing on behalf of everyone. We all support each other, and help bring out the best in each other. When my body wanted to quit, I couldn't help but think of everyone I've ever watched dig in and give a race everything they have. If you feel like your personal result is insignificant, remember, you never know how much you are encouraging someone else to give everything they have. Enthusiasm is contagious. And there is enough for everyone.
Thank you to everyone! I am so grateful to be a part of this community and to have had the opportunity to represent USA.
C Fred Joslyn