Guest Blog - 7 Marathons on 7 Continents in 7 Days
By Dan Reeves
February 7, 2017
I first heard about the Triple7Quest back in 2014 when I saw a post from the organizer of the event, Steve Hibbs, to the 50 States Club Facebook page looking for interested runners to register for the 2015 event. Running 7 marathons on 7 continents in 7 days was something that intrigued me, and made my heart skip a beat with excitement as a kind of a pie in the sky thing I would love to try someday.

Unfortunately I did not have the financial means to sign up for the 2015 event, and honestly I didn't think I ever would. But I followed the group and in 2015 it took them 10 days to do the 7 continents because of weather related delays getting into Antarctica. Their flight had actually taken off from Chile on schedule and was only 20 minutes from landing in Antarctica when they had to turn back because of low visibility. After a heartbreaking 3 day wait in Chile they were finally able to return and complete the final continent in a total of 10 days.

The next Triple7Quest attempt was scheduled for January 2017 and once again I felt a strong desire to register but I just couldn't manage it financially. I work on an old IBM mainframe system supporting various BC/BS healthcare accounts. I've been working on the same system since graduating from college, first with a company called EDS, then IBM, and now with NASCO.

I had a small pension from my first year with EDS out of college that was frozen when they replaced it with a 401(k) plan. When EDS was bought by HP that pension remained frozen with HP until the summer of 2016 when they decided to let people roll them over as a cost savings measure.

We all make choices for a variety of reasons, and this was admittedly a foolish one from a long term financial standpoint, but in my heart and mind, cashing this out and paying the taxes and 10% penalty made a dream come true. I was going to attempt to run 7 marathons on 7 continents in 7 days!

When I registered for the Triple7Quest I had no idea there was a second organization called the World Marathon Challenge that was also attempting the same feat. I found out about this second group from some friends at work who knew BethAnn Telford from Camp Hill who was running the World Marathon Challenge to raise money and awareness for brain cancer research. She herself is a survivor of this dreaded disease.

Elite runners Ryan Hall and Michael Wardian were also registered for the World Marathon Challenge.

Apparently there is quite a rivalry between the organizers of the Triple7Quest and the World Marathon Challenge. But for me as a participant, I prayed for nothing but the success of both groups.

To outline some of the differences between the groups, the World Marathon Challenge would start in Antarctica so the 7 day clock wouldn't start until they were past any weather challenges getting into Antarctica and then they would proceed around the world and finish in Australia. They would also have a chartered plane, a doctor and chef with them. And it's my understanding they would start 2 days before the Triple7Quest and not all of their marathons were open to other runners.

The Triple7Quest on the other hand would start in Australia and finish in Antarctica, fly commercial, and run all officially organized marathons open to the public with separate race directors, medals and swag, and published results. And the cost was less than half of The World Marathon Challenge.

So, that is most of the background. From my own personal running standpoint, I had completed the 50 States in June 2015 in Charlevoix, Michigan. And I was the 72nd person to complete them all in the 50Sub4 club. As a cost savings measure I had run back to back marathons twice, running the northern half of Bear Lake in Idaho one day and the southern half of the Bear Lake in Utah the next, as well as Hartford and Providence over another weekend. In both cases I felt absolutely terrible running that second marathon with virtually no recovery from the first.

I had no idea how to train for the Triple7Quest. And I wanted to run it for a purpose beyond just accomplishing another personal goal.

I have a special needs daughter, Ashley who is 21 and we have been blessed to run together with the Athletes Serving Athletes (ASA) this past year in a variety of races. Christina Beaverson is the Central PA coordinator and has been wonderful in promoting ASA and holding my feet to the fire with training.

My training plan was very simple. I basically did 3 things. Mondays and Fridays were rest days from running but I religiously did the Runners World Iron Strength workout DVD on those days for core strengthening. Tuesday, Wednesday, and Thursday's were the same "short" run days. I gradually built up to 14 miles for each of those days.  And then Saturday and Sunday's were my back to back long run days, where I built up to 20 milers max.

Intermixed with this base plane I ran several 5K's, 10K's, and some ASA races.

Also I had run several fall marathons including Harrisburg, Chicago, Marine Corps, and NYC but for my training for the Triple7Quest I never went more than 2 back to back 20 milers. As it turned out, this worked very well in preparing me for running 7 marathons on 7 continents in 7 days!

The journey started on Saturday, January 21 with a 35 hour series of flights and layovers to Perth, Australia. I arrived on Monday morning, Jan 23 and met the rest of the group: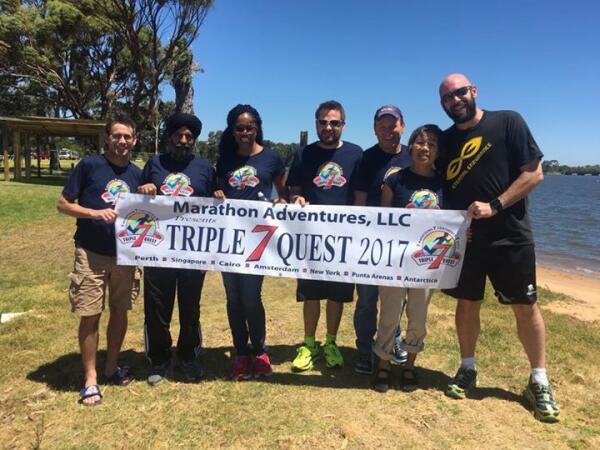 From the left is Steve Hibbs, organizer of the Triple7Quest; Jagjit from London but originally from India; Lisa from Norfolk Virginia, a retired Major in the Marines; Steve from Calgary, Canada; yours truly; Chau from Kansas City originally from Vietnam who is 70 and has shrapnel in her leg and arm from the war when she was 13; and Dave from Kentucky. Not pictured is Julie from San Francisco who ran half's across the 7 continents.
There were 2 others who also registered and made it to Perth but could not run. Kristi got food poisoning in Hong Kong on her way over and developed a 104 degree fever and was hospitalized and had to return home, and Joe who was an MD who developed a foot injury and also returned home. It was heartbreaking.

Steve Hibbs treated us to a very nice kick off dinner Tuesday evening in Perth. We had some amazing food. I had salmon but Dave and Steve had Kangaroo for dinner. They said it was chewy and gamey and definitely didn't taste anything like chicken.

Originally we were going to run Singapore first on Wednesday, Jan 25 so we could run Perth on Australia Day on Thursday, Jan 26 but the flights just didn't work out to do this. Consequently this was the only race where no local runners signed up to run with us because they were still at work and the next day was the holiday. We would have had several hundred join us if we could have run it on the actual Australia Day holiday.

Perth was hot, hot, hot, 102 degrees at the finish hot even though we started at 6AM. But it was a beautiful race along the Canning River. My main goal with the Triple7Quest was just to finish but I had a secondary pie in the sky goal of running all 7 continents in under 4 hours if I could. I wore a 4 hour pace band hoping that would help me keep things in check for the early races and then motivate me to push a little harder on the later races.

I ended up running a 3:55 in Perth, and was the first in our group to finish, but I also knew that was too aggressive given the conditions. I wore a black Athletes Serving Athletes shirt that ASA was kind enough to outfit me with for each marathon, and it was white with salt by the time I finished. And while my leg muscles didn't cramp up in Perth, they were twitching and on the verge. And I was just plain sore afterwards.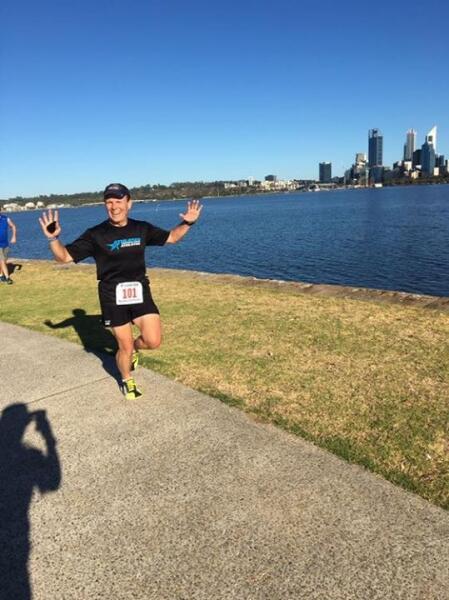 Unfortunately Perth just had water along the course and nothing with electrolytes and I suffered in the heat. I did run with some gels, and those helped tremendously.

For each of the 7 continents, Christina Beaverson created 7 lists of ASA Athletes that I was honored to run for. I created a short video before or after, and sometimes both, reading the names of these athletes and carrying their names with me in my flip belt. It was amazing to see the outpouring of kindness and warmth from the ASA family when these were posted on Facebook. It touched my heart and brought tears to my eyes over and over again.

After Perth, we only had time for a quick shower before heading to the airport to catch our next flight to Singapore. The real race was on! I can't tell you how many prayers were said that flights would be on time, that we would make it through security and immigration check points, and that there wouldn't be any weather problems, injuries or sickness along the way. Our prayers were truly answered each step of the way.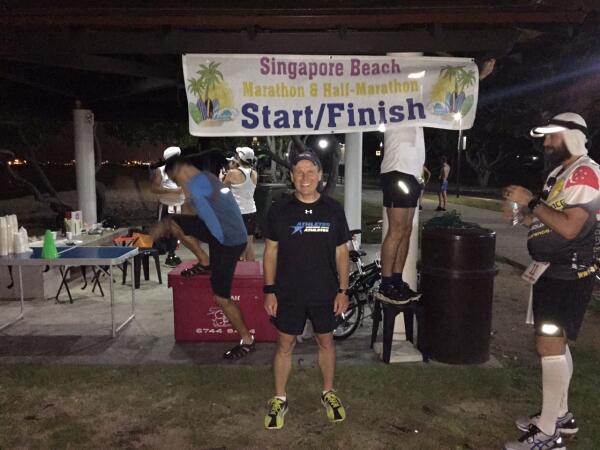 Singapore was absolutely beautiful too, but much different than Perth. While still hot, Singapore was also humid and very tropical. It was monsoon season so we were told to expect rain.

In many ways Singapore was my most difficult marathon. It was marathon number 2, my legs were sore, and typically the humidity causes my calf muscles to involuntarily cramp up. It was no different here and added to that was a severe case of chaffing with the wet environment. I was miserable physically, but mentally I managed to stay relatively positive. I loved the view along the bay, and the tropical setting. There were many local runners who had joined us in the early morning darkness and these guys knew how to keep a runner happy. There was plenty of ice, water, Powerade, food, and encouragement from other runners and volunteers.

I ran the first half of Singapore on pace for another sub 4 marathon. Although I tried to stay hydrated and drank as much as I could, ultimately my calf muscles cramped up and brought me to a walk. The second half I ended up running quarter mile intervals with quarter mile walks in between and finished with my slowest time of 4:39. I was disappointed but also relieved that the pressure was off to run them all sub 4. But even with the slower time, I still finished first in the group.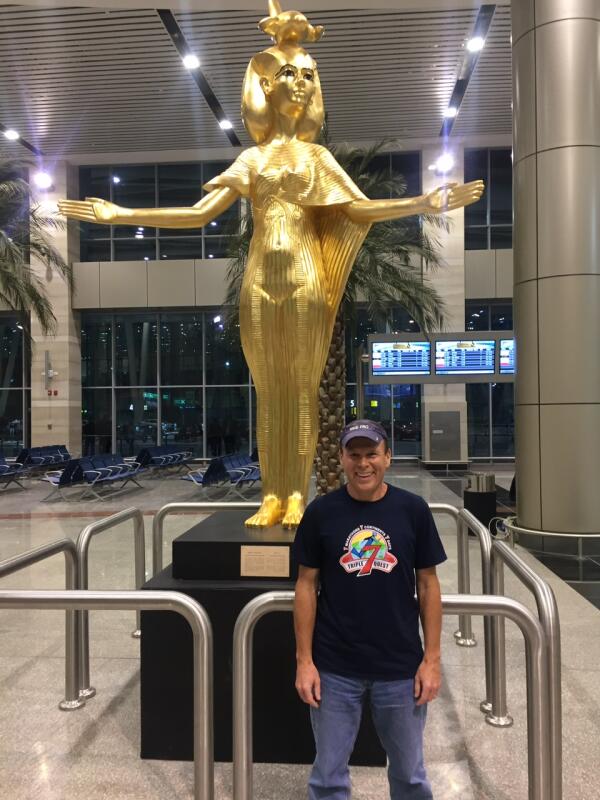 Next up was Cairo, Egypt. We were all worried about Cairo for a variety of reasons. Logistically we had the shortest window of 6 hours to run it whereas most of the other marathons we had 7 to 8 hours. On top of that the course was around the whole city of Cairo and we were told was not well marked and none of the streets would be closed to traffic. Perth and Singapore were along bike paths in parks. Personally I was scared of the country itself, not to mention the possibility of getting lost and missing flights.

The ladies in the group were scared too, especially Chau our 70 year old runner from Vietnam. She was the slowest in the group and wasn't sure she could run a 6 hour marathon. And she was worried she would have to catch her own taxi to the airport and rebook her flights to catch up with the rest of the group if she missed the 6 hour window.

Add to this our one and only travel delay and the stress was through the roof. On our way from Singapore to Cairo we had a layover in Abu Dhabi and there was a fuel spill right underneath our plane. We couldn't board our connecting flight until that was cleaned up. We were delayed and losing hope of making it to Cairo on time for the start.

But once again our prayers were answered. We made it to Cairo in time to check into our hotel, change into our running gear and head to the start. That was the only hotel where we never had a chance to turn back the sheets for some sleep. All of the other places we were able to sleep at least sleep for a couple of hours.

When we met in the lobby of the Cairo hotel after frantically changing and before heading to the start, Chau was in tears. I reassured her that I would run with her and if we missed the cutoff and had to rebook the flights, so be it, at least she wouldn't be alone. Truth be told, I didn't want to be alone either.

But I was worried and I did try to convince Chau to consider the half instead of the full for this one but she is just like all of us in that regard and nothing was going to stop her from running the full.

After all of the scrambling and given all the worrying and pent up concerns we had about Cairo, everything completely changed when we got to the starting line! We were given the warmest, kindest, most jubilant welcome of all the races combined. The Egyptians treated us like celebrities, and buddied up with us, and put their arms around us, and took selfies with us, and organized a group warm up session of jumping jacks and stretches, and couldn't have been more welcoming. It was the heartwarming part of the whole trip, and stood starkly in contrast with our perceptions.

There were 3 runners that buddied up with Chau and said they would get her through in 6 hours. Chau is actually 70 years old but her birth certificate says 67 because her mom couldn't get one for 3 years because of the war. Chau is always joking she has compete against a younger age group than what she really is.

And I was buddied up with a local legend. Zohra is a 72 year old woman who has been running for 40 years in Egypt who everyone there knows for her passion for sharing and promoting running. She said she would run with me and help me cross the streets, which believe me, is no small feat in Cairo, and to stay on course. Two runners in our group saw other pedestrians get hit by cars crossing the streets. Serious hits. But no police or ambulances were called. People just picked each other up and after the shock wore off they went on their way. It's a giant game of chicken. The people are the friendliest of all people but when you look them in the eye as you are trying to cross the street, everyone guns it instead of slowing down and tries to beat the other guy. Zohra was a master at this game and knew when to yell at people, and when to run, and when to give way.

Zohra gave me a personal running tour of Cairo and it was the most amazing experience. Cairo turned out to be my favorite marathon of all. My perceptions were completely changed of the people, the country, of everything! I'm still in awe from the complete 180 that happened in my heart and mind because of Zohra and her friends.

From a running standpoint the temps were absolutely perfect. Low 50's with no humidity and beautiful sunshine with shade from the buildings and trees. And my legs were feeling better. Zohra and I ended up running a 4:09 together! And I found out later that Zohra was the 2nd female and won 1000 Egyptian Pounds! And to top it all off, Chau finished with her 3 companions before the cutoff as well. It was all very emotional and brought tears to my eyes. I was blessed to finish first in our group again.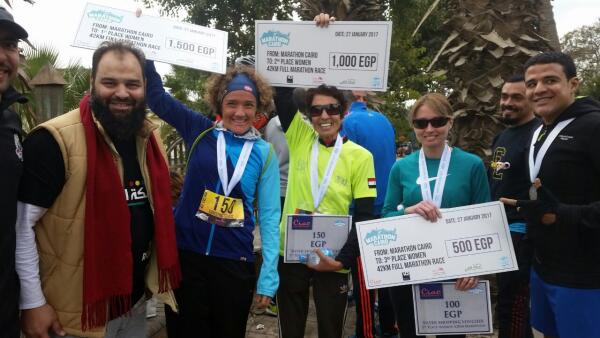 Zohra is in the middle in yellow. The race director is on the left. We had a couple of hundred local runners join us in Cairo.

After finishing Cairo we rushed back to the hotel, showered, checked out and headed to the airport for our next stop in Amsterdam, Netherlands.

Amsterdam was very cold. We ran around a long, narrow lake that was setup with lanes for crewing during the summer. The lake was frozen over and while we started the marathon in the dark, as the sun came up more and more ice skaters showed up to enjoy the day along with us. There were a couple of hundred local runners that ran with us but they started much later.

By the time our 4th marathon came around in Amsterdam I was feeling completely fine, with no soreness in my legs whatsoever. It's amazing what your body can adjust to. I ran a 3:45 in Amsterdam and placed first in our group. What I remember most about Amsterdam were the ladies at the finish line. They wrapped me in wool blankets and fixed me hot chocolate, sat me down, and kept bringing me every kind of delicious baked pastry you can imagine and many that you can't! 😊 And they wouldn't take no for an answer, not that I resisted too hard, everything was just so good!


Our next stop was JFK for marathon number 5 in Garden City, New York on Long Island. By this point I was completely out of touch with the news. It was quite a surprise to see all of the protesters and the huge police presence and wondering what it was all about. It was unexpected, and scary, and what I thought Cairo would be like but wasn't. Strange world.

My wife Daisy and several ASA wingmen joined me New York. It was SOOO wonderful having them with me. Peg flew up from Florida, Nicole drove up from Baltimore, and Mark and Christina Beaverson drove up from York. They brought signs and cake! And they ran with me. I was so humbled and touched by this, and emotional to say the least.

The marathon was 6 laps around a park and small lake and once again the Triple7Quester's started an hour ahead of the local runners so we could make our next flights. With all the energy of having my family and friends with me I ran my fastest time of the series with a 3:42 finish. It was such an honor running with my ASA family.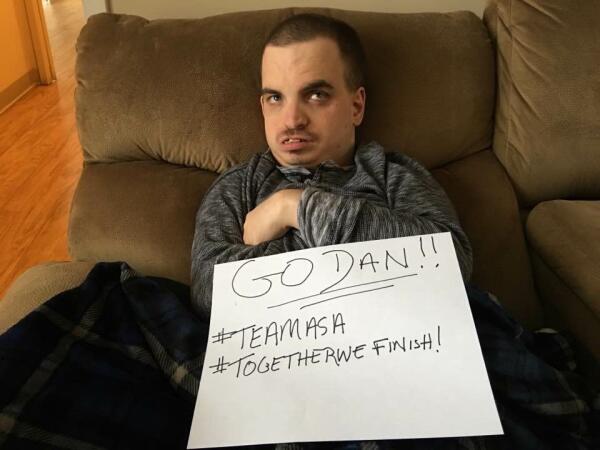 Our next stop for continent and marathon number 6 was Punta Arenas, Chile. Physically I felt fine by this point but mentally I struggled after New York. Punta Arenas was lonely with only a couple of other runners, and it had the strongest winds I had ever run in. It was brutal. The wind never felt like it was at my back but always seemed to be a quartering wind from the front. It was like running into a wall. The winds were so strong that whenever I lifted a foot it would flail around and kick the inside of my ankle or calf of my planted foot and I would almost trip. The course was a solitary, repeated, out and back along the Straights of Magellan. I struggled big time with this one and wanted to quit. But I kept thinking of the names of ASA Athetes I was carrying in my belt and they got me through this one especially. I ended up running a very surprising 3:49 and placed first in the group again.

That evening we were joined by 40-50 other runners who were going to run Antarctica with us. Steve Hibbs arranged a wonderful pasta dinner for everyone and then gave us a preflight briefing on how things would work.

Antarctica is a zero impact continent, meaning everything you take in with you has to be taken out, including number 1 and number 2. There would be a white bucket in a tent for number one that we would have to empty into a barrel, and a black bucket with a bag for number 2 that went into the poop shoot. Oh boy!

He said we wouldn't get the call until 6AM about whether the flight would be attempted or not, and if it was on we had to be dressed in our running gear for the flight over such that we could start the marathon as soon as we landed. It was a minute by minute thing and based on previous years, the chances were less than 50/50 we would make it on schedule.

After many more prayers we were blessed with good enough weather to go the very next morning and stay on track with our goal. We had shipped all of our Antarctica camping gear to Chile ahead of time, which included sleeping bags, parkas, balaclavas, boots, gloves, etc. And we had 5 days of hotels booked in Punta Arenas to allow flexibility for getting into and out of Antarctica. As it turned out we didn't need that buffer after all! We were heading to Antarctica on schedule!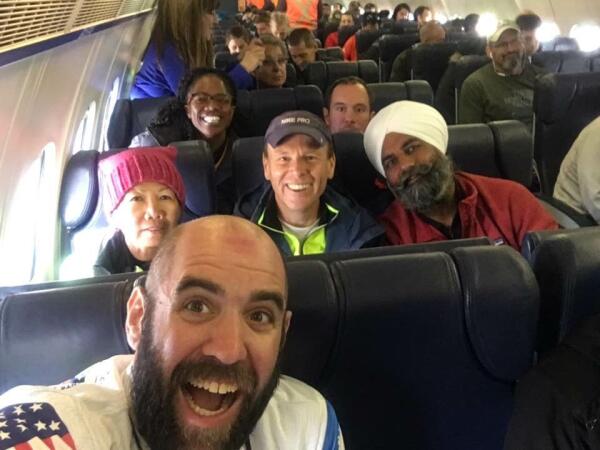 After we landed on the gravel strip on King George Island, Antarctica we had to walk about 1.5 miles to our base camp. We passed the Chilean, Chinese, and Russian outposts and marveled at the scenery of the glaciers and water.

Once we arrived at base camp, the DAP group setup the polar tents and the makeshift ports potty tents with buckets while all of the runners shed our parkas and fumbled to attach our bibs in the cold. It was snowing horizontally when we arrived with the winds but by the time the race started the sun was out and the winds had calmed.

The marathon was over very rocky and hilly terrain. It's summer in Antarctica and the permafrost is soft with little running water streams cutting across our path in several spots. The rocks were large and loose and I was always fearful of turning an ankle or knee running on them.

In terms of setting records, the only time that really mattered for our group was the final marathon in Antarctica. Dave and Steve set out to win the Triple7Quest and took off ahead of everyone else at the start. I just ran how I felt for each marathon. I didn't push myself, but I didn't take my time either. I just ran what felt comfortable for me for each marathon.  I stuck with this in Antarctica and didn't try to keep pace with them.

I'm glad I did because the hills and the rocks were unforgiving. I felt like I was tip toeing through the rocks afraid of hurting myself with every step. A run up the South Mountain (Mount Holly Springs, PA) with Fred Joslyn was not unlike Antarctica and was a good training run!

It wasn't long before I passed Steve and then Dave and I ended up running a 4:34 for my final marathon to win the Triple7Quest! Our entire group shattered the old 10 day record and all of us completed it in 7 days!

My official time was 6 days, 22 hours, 16 minutes, and 15 seconds!  Although I didn't attempt to set any records, nor did I fill out any of the paperwork to make it official, Steve Hibbs said it was a world record for running 7 official marathons with separate race directors, open to the public across all 7 continents flying commercial in under 7 days!

My hats off to both groups, the World Marathon Challenge that completed their journey 2 days before us and set all kinds of official world records and raised a tremendous amount of money for cancer research, as well as to our little Triple7Quest group who I grew to love through this journey.

I had the honor to run with Chau, our last runner around 10:30 at night in Antarctica while it was still light on her final 0.5 mile. There was a little yellow turnaround cone we had to run out to and back for that final segment and she picked that cone up and claimed it in victory. It was a scene filled with joy and tears as she crossed the finish line!
A huge congratulations to Dan Reeves! We are thrilled you shared your story with us!